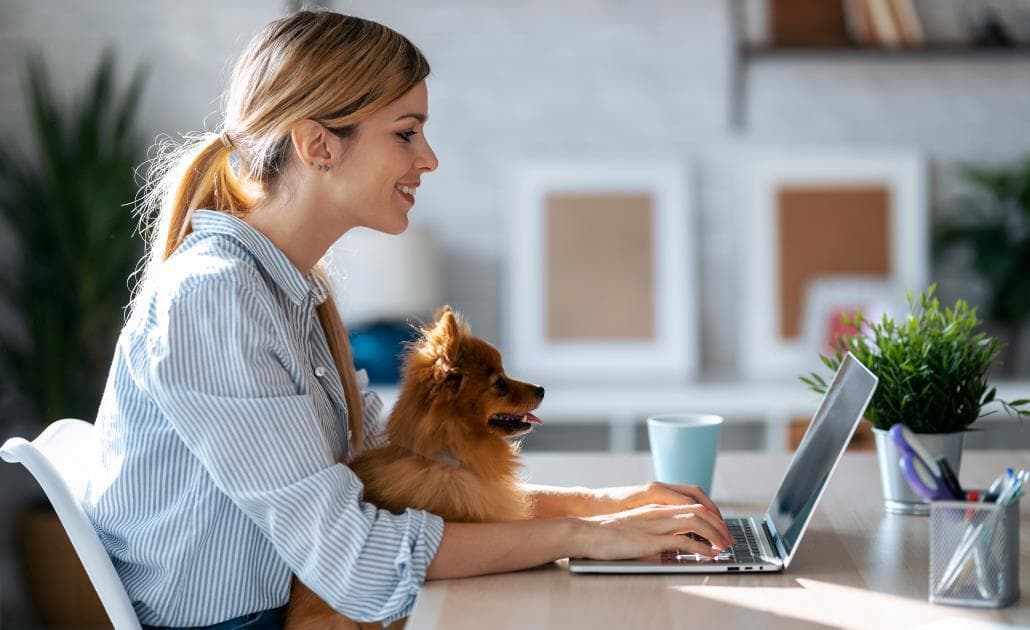 Historically, remote working opportunities have been few and far between in the world of veterinary medicine. After all, whether you're trimming a patient's nails, administering a vaccine, or performing surgery, there are certain parts of the job that undeniably require a real, human, physical presence.

But that doesn't rule out remote work completely. As the cloud continues to transform the veterinary industry, more and more clinics are finding ways to incorporate remote working into their business models, giving veterinary professionals the flexibility to work from wherever life takes them.
Is remote work a good option for your veterinary practice? Let's find out!
The benefits of remote working for veterinary professionals
For employees, the benefits of remote working mostly revolve around flexibility. Thanks to the growing adoption of cloud-based practice management software, veterinary professionals now have the tools to remotely manage business operations, access patient data, and carry out dozens of other clinic-related tasks that traditionally needed to be done in person.
Being able to handle some of their day-to-day tasks from home helps staff achieve a healthier work-life balance. However, remote working doesn't just benefit staff - it offers a number of business advantages, too!
Some of the key business benefits of remote working include:
Increased retention: Allowing employees to work from home can increase job satisfaction and reduce stress, which can lead to lower turnover and improved employee retention. It can also help practices attract top talent and stand out in a competitive job market.
Better service: Are things starting to feel a little squashed behind your front desk? Adopting a work from home policy can be a savvy way to increase your customer service team's headcount while freeing up valuable space in your practice.
Improve patient care: Cloud-based veterinary software allows your team to access patient information in real time, regardless of where they're physically located. Being able to remotely monitor a patient's treatment status or finish off clinical notes at home can help practices achieve greater continuity of care.
Which veterinary roles can work from home?
Some roles are naturally a better fit for remote work than others. Tailor your remote working arrangements according to the needs of your business, patients, and customers, while being mindful of how the roles in your practice are structured.
Veterinary technicians
While the hands-on duties of a veterinary technician usually require them to be physically present in the clinic, there may be some tasks that can be done remotely - particularly in smaller practices where technicians are also responsible for some administrative duties. Some examples of tasks that veterinary technicians can easily do from home include returning phone calls, answering emails, processing payments, and completing prescription medication refill requests.
Veterinarians
Writing clinical notes often gets relegated to the bottom of the to-do list in the hustle and bustle of daily veterinary life. In many cases, veterinarians feel compelled to stay late after work to complete their notes, recognizing that information gaps can increase the risk of miscommunication and make life more difficult for their colleagues.
Cloud-based practice management solutions help resolve this issue by enabling veterinarians to write clinical notes from any device with an Internet connection, including laptops, tablets, and smartphones. To further simplify the record-keeping process, ezyVet provides powerful custom picklists, which allow veterinarians to document patient histories more quickly and accurately than they could by hand.
Management team
Practice managers are often a good fit for remote work as their roles are usually more about logistics and business planning than hands-on veterinary medicine. Unofficially, many practice managers already do a lot of work out of the office, whether it's making phone calls, checking staff schedules, or taking care of IT issues. Therefore, implementing a remote working policy is sometimes just a way to formalize an existing work arrangement and ensure that your team has the tools they need to operate effectively from home.
Cloud-based veterinary software allows for additional remote management capabilities, enabling practice managers to handle just about every aspect of the business - including accounting, staff scheduling, marketing, and more - at home or on the go.
What are the challenges of remote working for veterinary professionals?
When considering a work from home policy, be mindful of the needs and preferences of your team. Everyone is different. While many people love the flexibility of working from home, others prefer the social and team culture aspects of working in person. Some people like being able to do the chores or pick up the kids from school in between their work tasks, while others dislike the merging of their home life and work obligations.
There's also the practical side of things to consider:
Will you provide employees with company laptops and/or smartphones?
Do your employees have a fast, reliable internet connection?
Do your employees have access to an ergonomic workstation at home?
Who will pay for the cost of your remote workers' cell phone and/or internet plans?
Do your employees have a quiet home environment that's conducive to productive work? Do they share their space with family members or disruptive roommates?
How will remote working impact team culture?
How will you measure the productivity of remote workers?
There are no right or wrong answers here, but it's important to think about these questions before implementing any changes. Be open with your team, talk through any concerns they might have, and use their feedback as a foundation for building a remote working arrangement that works for all parties.
Takeaway
Technology is changing the way veterinary practices do business. What was unfeasible a decade ago has rapidly become the norm as more veterinary practices embrace remote working through the use of cloud-based practice management software. Working from home provides employees with greater flexibility while giving forward-thinking practices a competitive edge in terms of attracting and retaining top talent.
Looking for a practice management system that empowers your team to work remotely? You've found it. Book your personalized ezyVet demo and find out how our innovative cloud-based veterinary solution could transform your practice.