Optivet Referrals is an independent referral hospital and one of the world's leading veterinary ophthalmology centers. Based in Hampshire, England, Optivet has earned a reputation for providing outstanding patient care and offers a wide range of specialist veterinary services, including ophthalmology, orthopedics, internal medicine, soft tissue surgery, CT imaging, and equine ophthalmology.

We caught up with the Optivet team to find out how they use ezyVet and Vet Radar to work more efficiently and achieve better patient outcomes.
Specialist services require versatile solution
Founded in 2006, Optivet has grown to a team of 75 veterinary professionals committed to delivering the best patient care possible, with a second site now in the pipeline.
As the hospital expanded, it became increasingly important to invest in a practice management system that would enable staff to communicate effectively between shifts and provide more accountability. However, as Veterinary Ophthalmologist and Founder of Optivet Robert Lowe explains, finding a solution that met Optivet's very particular needs proved to be a challenge.
"We've used a number of practice management systems in our time. But because we're a relatively niche business, it's not easy to buy off-the-shelf software that can do what you need to do," says Robert.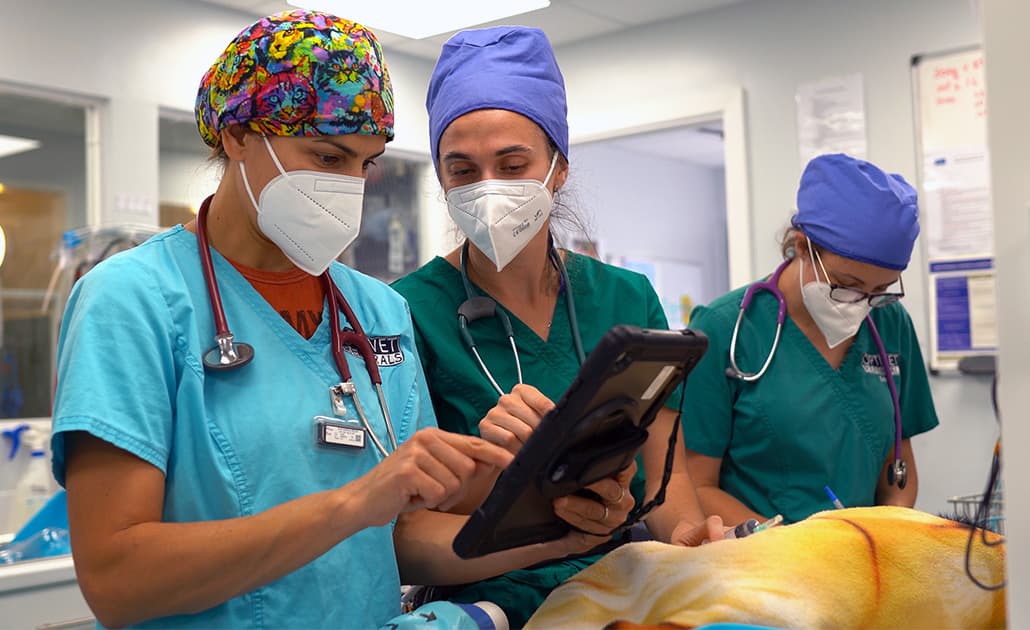 That need for versatility is ultimately what drew Optivet to ezyVet. As the world's leading cloud-based practice management solution, ezyVet is able to accommodate Optivet's off-menu requests, while the software's bi-weekly update schedule ensures that new useful features are always just around the corner.
"We wanted to keep improving the client journey, the patient journey, the relationship with our colleagues, and with our veterinary colleagues in the outside world," says Optivet VIS Director Simon Hester. "And we were pretty sure early on that ezyVet would help us to do that. That's what I was most excited about - the continuous development of the system."
Achieving greater continuity of care with Vet Radar
Migrating to ezyVet also enabled Optivet to tap into Vet Radar, an industry-leading patient care solution that extends from ezyVet. Whereas ezyVet is used to handle the day-to-day running of a practice, Vet Radar focuses on the care aspect of daily veterinary work.
"Vet Radar was a key reason for choosing ezyVet," Simon says. "We liked the idea that we could combine a practice management system with a hospital management system. And we loved the idea that we could track patients right through the clinical process."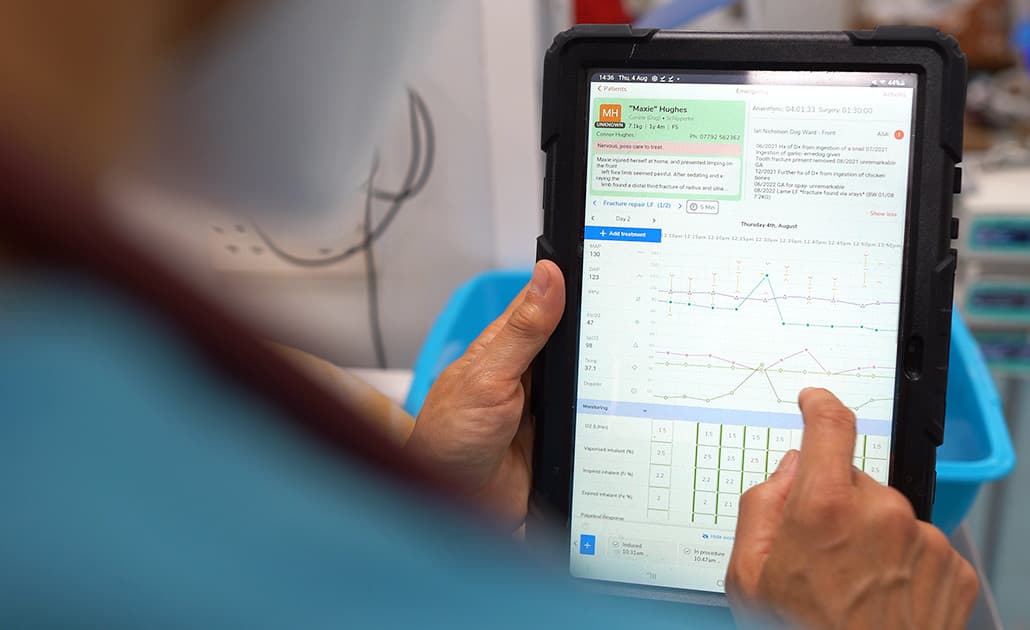 Vet Radar provides the Optivet team with a full range of real-time information, enabling every member of the team to remotely monitor the status of patients from any device, regardless of where staff are physically located.
"In the past, we were very reliant on a colleague having done the checks. You could go and look at a piece of paper, but it took time. We now know instantly what's happening, so the team can work much more effectively. And when we have less staff available than we might ideally want, we can still provide optimal patient care because you're able to network with each other much more easily," Simon says.
All treatments, procedures, and clinical notes made in Vet Radar are automatically sent to the ezyVet patient record, eliminating the need for double data entry, while a centralized whiteboard helps minimize the risk of miscommunication.
"It's great because the clinicians can access information from all around the practice without having to walk all the way down and speak to the person that's running the floor," says Optivet Senior Veterinary Nurse Sara Benton. "It's definitely more efficient. With Vet Radar, our clinicians can spend more time doing reports and consults now that they don't have to chase us around. They can literally look at the [electronic whiteboard] and see where the patient is in the system."