Upper Arlington Veterinary Hospital is a companion animal practice located in the heart of Columbus, Ohio. The bustling hospital offers a range of services that bridge the gap between general practice and specialty care, including wellness care, state-of-the-art diagnostics, and advanced soft tissue, orthopedic, and oral surgery.

Underpinning the hospital are ezyVet and Vet Radar, two veterinary workflow solutions that empower the team to work more efficiently, which leads to better quality of life for staff - and better quality of care for patients.
We caught up with the Upper Arlington Veterinary Hospital team to learn how ezyVet and Vet Radar enable them to drive efficiency, increase revenue, and achieve a better work-life balance.
Growing pains and the need for a future-proof solution
Upper Arlington Veterinary Hospital has grown dramatically since opening its doors in 2008, expanding from a team of three to a team of 45. The practice has earned an outstanding reputation in the community (4.9 stars on Google Reviews with a whopping 731 reviews!) for its commitment to quality medical care and compassionate service.
That scale of growth inevitably involves some growing pains. As Upper Arlington Veterinary Hospital expanded, it became increasingly apparent that its aging practice management system would be unable to meet the evolving needs of the practice.
"Our previous system was server-based," recalls Upper Arlington Veterinary Hospital Owner Dr. Adam Parson. "It always needed to be updated and would fail on occasion, which meant we required a backup server."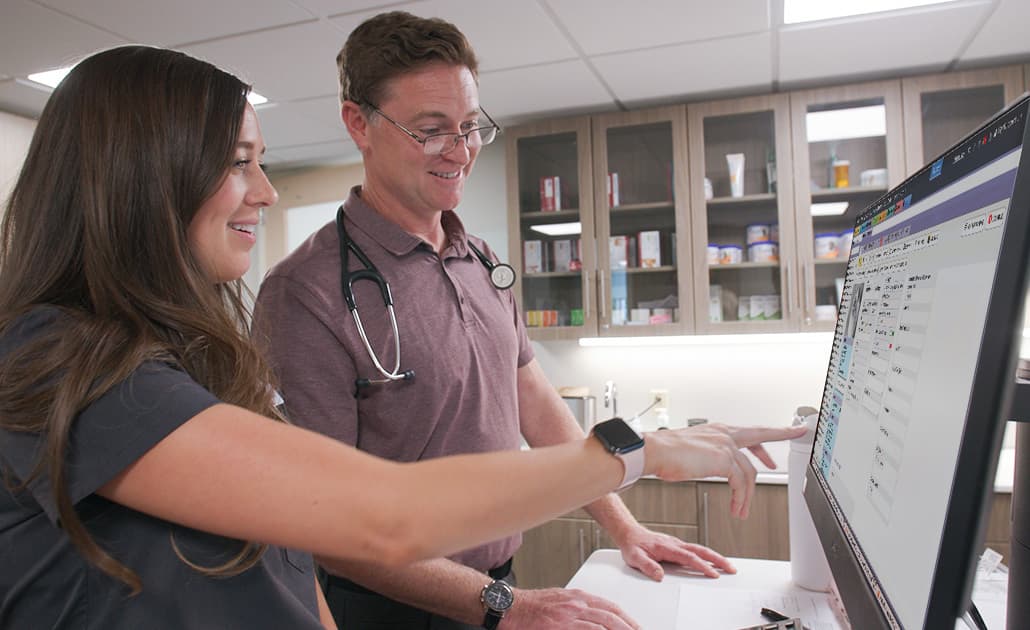 Reliability concerns were just one piece of the problem. The system was also cumbersome and inefficient. It didn't integrate with other software programs. There was no template functionality. Time stamps didn't exist. Maintaining medical records was a major time-sink that often saw staff stay late and the system's financial reporting capabilities couldn't keep up with the hospital's changing needs.
"In essence, we wasted a ton of time and it was exhausting," concludes Adam.
It was time for a change. Based on a recommendation from some colleagues in a veterinary management group, Adam decided to check out ezyVet. He was immediately drawn to the software's scalability and time-saving features.
"We chose ezyVet because it's cloud-based software. It's built on a platform that is versatile and adaptable to the future needs and technology of the profession. The interface is user-friendly for our staff. The medical record system is timestamped for accountability. It has a robust reporting option for our administrative team, allows for two-way communication with our clients, and provides two-way integration with multiple reference laboratories."
Smooth implementation in the middle of a pandemic
Migrating to a new practice management system can be challenging at the best of times. But when Upper Arlington Veterinary Hospital made the switch to ezyVet in April 2020, it wasn't the best of times - it was the peak of the pandemic. ezyVet's Implementation and Data Conversion teams worked closely with Upper Arlington Veterinary Hospital to mitigate the added complexities and uncertainties, and ultimately deliver a seamless remote implementation experience.
"Our initial implementation was fantastic," explains Adam. "We implemented remotely in the middle of the pandemic. We spent months following the recommended schedule created by ezyVet, placing four administrators on the project for three to four months before we launched. We had very knowledgeable employees at ezyVet who assisted us remotely for days after launching the ezyVet software."
Operational efficiency delivers greater work-life balance
For Registered Veterinary Technician Jaimie Hartline, record keeping was a constant headache with Upper Arlington Veterinary Hospital's former solution. The old processes involved a lot of paperwork, which meant sharing information both internally and externally was extremely time-consuming.
"It wasn't a surprise to be here two hours after we closed just to finish our client communication and our records," says Jaimie.
Thankfully, the days of staying late are largely a thing of the past since moving to ezyVet. By harnessing ezyVet's powerful time-saving features - things like templates, automated charge capture, discharge summaries, and more - the team has unlocked a new level of operational efficiency and greater work-life balance. Any data added to ezyVet is updated in real-time across the system, streamlining information sharing and ensuring that every member of the team is on the same page, regardless of where they're physically located or the device they're using.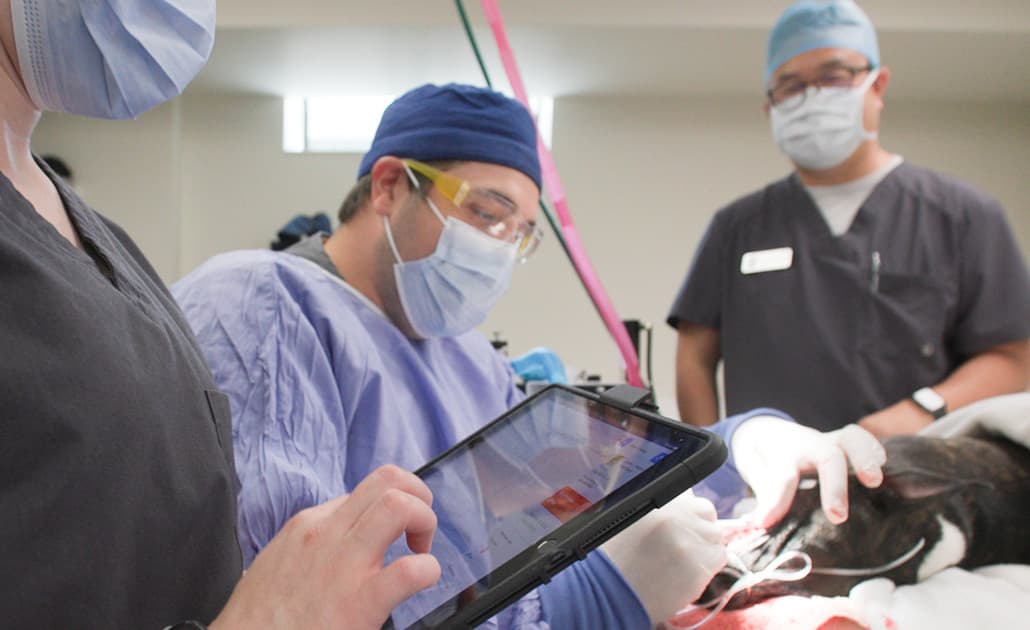 "Having ezyVet in our hospital has really allowed our staff to go home on time. It has decreased overtime hours and created a better work-life balance for everyone here in the practice. It has really, really added to the quality of our staff's day here at Upper Arlington Veterinary Hospital," says Adam.
Increased practice efficiency has also had a significant impact on the practice's revenue. ezyVet automatically adds billable products - including medications, diagnostics, and other clinical services - to the client's invoice, helping to reduce the risk of missed charges.
"ezyVet has allowed us to grow at 20% annually while keeping our expenses and our staff costs down to industry averages," says Adam.
Saving time on diagnostics
Another key benefit of using ezyVet is the ability to integrate with leading diagnostics providers such as IDEXX. Unlike Upper Arlington Veterinary Hospital's old system, ezyVet's two-way integration enables the team to send diagnostic requests and receive results directly within their practice management software.
"With ezyVet, we're able to request our diagnostics that go to IDEXX in two clicks," says Jaimie. "Another bonus is that all of the referral hospitals around us are also on this system, so it's made it very easy to just send records back and forth and then keep that patient's chart updated."
Streamlining the diagnostics workflows has eliminated manual data entry and removed the need to manage multiple systems, while diagnostic-related charges are automatically captured and added to the client's invoice.
Vet Radar maximizes clinical accuracy
Transitioning to ezyVet has also enabled Upper Arlington Veterinary Hospital to take advantage of Vet Radar, a state-of-the-art patient care solution that strengthens the practice's clinical processes.
The team has configured Vet Radar's highly customizable treatment templates according to the hospital's workflows. According to Upper Arlington Veterinary Hospital Registered Veterinary Technician Jim Quang, not only does this help increase clinical accuracy, but it also makes his workflows significantly more efficient.
"The customizable features available in Vet Radar are perfect. For example, we have a workflow that is set up for an aesthetic event. [It includes] a checklist of tasks that need to be completed before moving forward with the actual surgery. That's the most complicated part. It's not the actual surgery - it's getting prepared for the surgery. And now we have a very nice checklist customized to our practice."
All billable products and services used during surgery are automatically logged, which helps reduce the post-surgery admin work and minimizes the risk of missed charges. There are benefits for clients, too.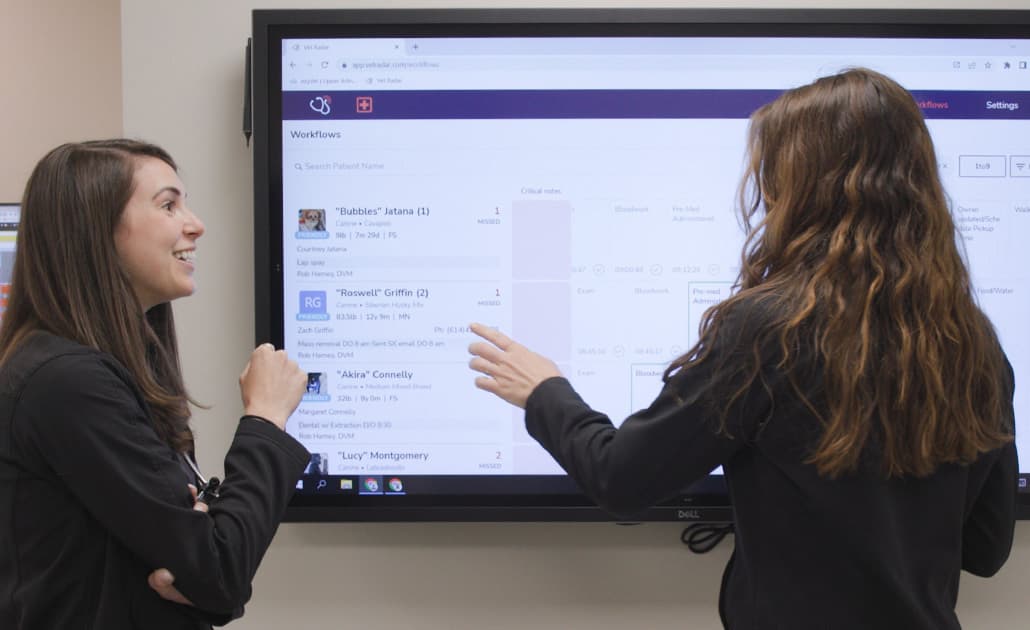 "With ezyVet and Vet Radar, our clients are able to see exactly what happened with a pet's anesthetic event," explains Jim. So they're able to see any complications, all of the charges, all of the drugs that we used, and what procedures that we're using as well. I think it makes them feel comfortable. It makes them feel that they know exactly what's happening with their pet."
Vet Radar's electronic whiteboard has also improved information sharing across the hospital by giving the team full visibility of the status, location, and treatment progress of every patient that walks through the practice doors.
"I love the whiteboard," says Jim. "It allows us to visualize the patients that are in the hospital so everyone knows about them. It's not just one person, it's not just the doctor. The entirety of the hospital is responsible for this patient, which brings the level of care to the max."
Discover what ezyVet could do for your practice
ezyVet plays a small but important role in helping Upper Arlington Veterinary Hospital deliver the very best in veterinary care.
Want to see what ezyVet could do for your practice? Book a demo today to discover how ezyVet could help your clinic save time, deliver better patient care, and achieve your revenue targets.