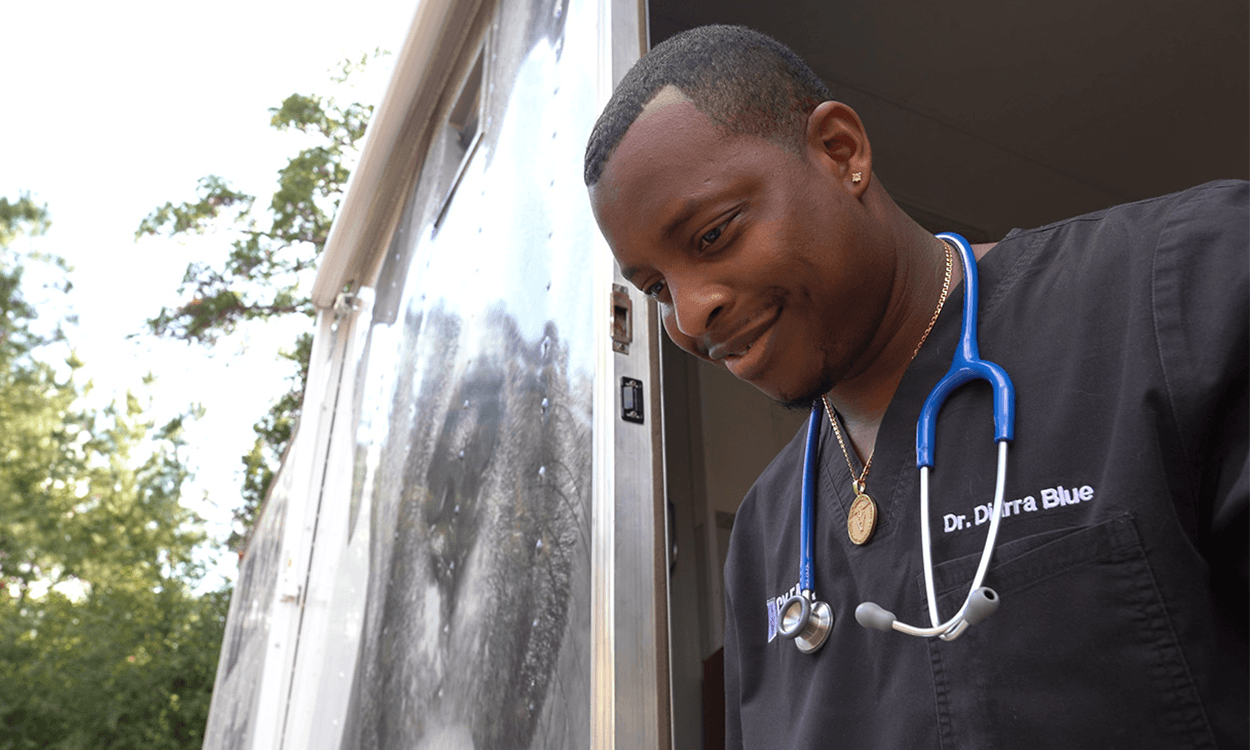 1. Dr Diarra Blue is a man on a mission

Somehow Dr Diarra Blue finds time to support his local community, expand Cy-Fair Animal Hospital, raise a family 👨‍👩‍👧‍👦 AND co-star on the hit TV show The Vet Life. He is a true role model for aspiring young vets and this is his story. 👈
2. "If it walks or you can carry it in, I'll see it!"
Dr Peter Bowie reckons the best thing about emergency medicine is that you never know what kind of patient will come in next. 👨‍⚕️ Dr Bowie uses ezyVet to manage the Pet Emergency & Specialty Center of Marin, streamlining information to and from other institutions.🚀 This is Dr Bowie's story.
3. Building onto the ezyVet API
Chief Technology Officer J.R had the mammoth job of finding the right software solution to integrate into CityVet's own practice management system. 💻 This is his story. 👩‍💻
4. Life as a Californian mobile equine vet
Horses are Dr Kelly Zeytoonian's passion and career 🐴 but working as a mobile vet, there's typically no internet access available. Being able to use ezyVet remotely helps Starwood Equine manage rural visits and emergency response work. This is her story. ☀️
5. Simplifying a messy software jumble (in sunny Orange County🛥️)
Dr Tony Cambridge at Veterinary Surgical Specialists sought a flexible solution that would automate a jumble of diverse lab results into a single clear medical record. 👉This is his secret. 🤫
6. Quitting the veterinary industry
After several years of only working night shifts and weekends, a tired Helen was seeking a "normal routine". 🙋‍♀️ She wanted something that challenged her to grow but let her keep working with animals. This is where life took Helen next. 🚪
7. Out with the old, in with the new
Marquette Veterinary Clinic ✨ had a massive 2020 upgrading to ezyVet AND relocating to a new building. The Michigan full-service team knew that to keep up with the ever-evolving expectations of employees, customer service and patient care, they needed to both upgrade their 60-year-old facility AND overhaul their Veterinary Practice Management software. This is what they've accomplished in 1️⃣ year with us. ❤️
8. How to source a 50% increase in client reviews in 60 days
Texas' Penny Paws places great importance on sourcing client feedback, good or bad. They make a big effort to obtain client reviews, with hundreds of reviews collected over the years. 👩‍⚕️😃🐱 Here's how Kat Basye of Penny Paws Animal Clinic Richland Hills achieved a 50% increase in client reviews in just 60 days.
9. ezyVet unveils its stunning new office
2020 has been a topsy-turvy year but we are getting pretty excited about our stunning new office! Aside from sweeping harbor views, the space will contain its own gym, rooftop terrace, recreational area and be pet-friendly. 🏗⛵️🌎 This is what it will look like.
10. Dr Lu Fenny joins the ezyVet family
Australian veterinarian Dr Lu Fenny and the Holistic Vet at Home joined the ezyVet family in June. As a mobile vet, her entire practice needs to tag along to house calls and outdoor adventures. That's Dr Lu with a quokka above - a friendly marsupial native to her region of Western Australia. 🦘