Dr. Diarra Blue is a busy man on a mission. Not only does he find time to support his local community, open a new location for Cy-Fair and raise a family, he's also one of the stars on hit TV show "The Vet Life" and a role model for aspiring young veterinarians. We caught up with Dr. Blue on how ezyVet helps with managing his practice and supporting his long-term plans.

How does Cy-fair Animal Hospital fit into the community?
Together with fellow Cy-Fair owners, Dr. Michael Lavigne and Dr. Aubrey Ross, we believe in giving back to the communities we came from. Our goal is to improve what we have inherited, making things more beautiful and beneficial. As part of our community initiatives, we provide low cost spays and neuters all around Houston, Texas, in our mobile trailer. I also have contracts with my local county to provide these affordable services at local events. Having ezyVet makes this very achievable as I can just hotspot off my phone, load up the system and be ready to go.
Other things we do for the community include working with students, mentoring them and giving them hands-on industry experience. We regularly invite young adults to come into our practice to see what being a vet looks like. We have met a lot of people who once had the ambition to become a veterinarian but weren't able to do so, as they lacked guidance. I myself have always wanted to be a vet ever since I was two years old but didn't get exposed to the profession until I got to college.
Tell us about your TV show, 'The Vet Life'.
One of the best things our show does is highlight the essence of veterinary medicine alongside the 'hearts' of its people. It's not just Dr. Doolittle; there are different sides of being a vet. The show has been able to capture the attention of audiences who not only love animals but want to help animals, whether through volunteer work or becoming a DVM.
We're able to give young minds a look into the life of veterinarian, to plant the idea for them to think: "Hey, this is something I could do. If these guys could do it, so can I!" Recently, we had a huge fan of our show come all the way from Portland, Oregon, for a visit on her birthday. She came into Cy-Fair with a Tuskegee University shirt on and I got excited as that is my Alma Mater. It was clear to me that she had probably chosen to enroll there after learning about my college from the show. Young people are impressionable so we want to show them that a future in veterinary medicine could be beneficial not only for themselves but for the world. You never know what the next veterinarian may do for the world.
Veterinary medicine is, in my opinion, one of the greatest disciplines in the world. A lot of people don't realize that veterinarians do more than just look after your fur-babies and companion animals. It's a veterinarian working in government entities, making sure that the food we consume is safe, or putting strategies in place for us to live the lives that we live without passing and spreading diseases. Any of the 'alphabet boys', as we say, such as CDC, USDA, NIH and WHO all have veterinarians playing a major role in their organization.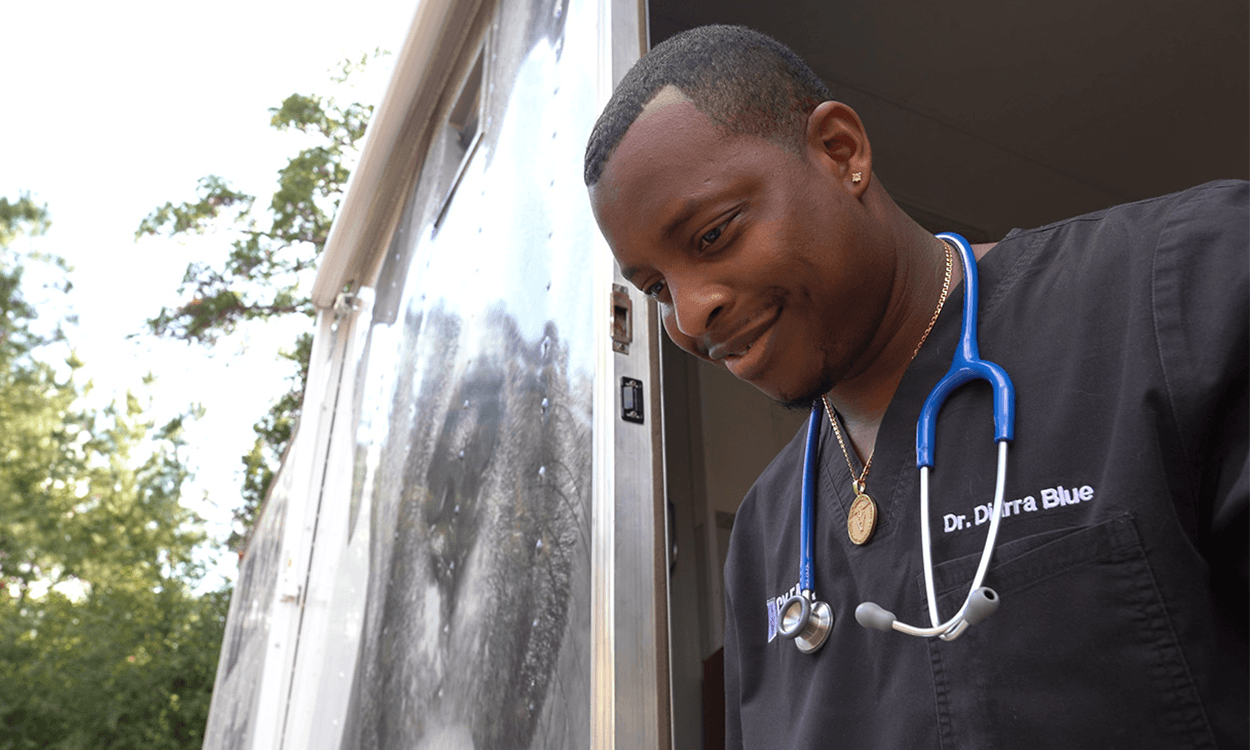 What do you like to do in your free time?
I don't get a lot of free time, so I appreciate it and spend it wisely when I do. I have always been told: "An idle mind is a devil's workshop.", so I usually do something work-related even when I'm not at work. I like to be in my entrepreneurial spirit all the time. I hold meetings with businesses. I make schedules to try to get the best deals for my hospital so that we can increase revenue to help us grow and increase the quality of life for our staff. I work on the Diarra Blue Education Initiative – a non-profit supporting students with ambitions to become a veterinarian.
Other than that, I spend my free time as family time with my wife, two sons and daughter. My favorite hobby now is cooking. I cook better than my wife and she'll tell you that. She does everything else better than me, but cooking, that's me and there's no argument at that!
What are your biggest learnings from being a business owner?
As an entrepreneur, I've learned that having the right people to do the right job is very important. I could have the right person, but in the wrong seat. This is applicable to all other situations as well, like software. We had a software prior to ezyVet that wasn't a bad software, but it was in the wrong seat for what we were trying to do. We wanted to expand by opening a second practice and soon a third. The software we chose needs to have the bandwidth to accomplish this.

What are your favorite features of ezyVet?
As a practice owner and veterinarian for 11 years, I've seen different phases of software systems and realize now that being cloud-based is the way of the future. With ezyVet, I can reach back into the practice in real time when I'm not physically there. This is so important as a practice owner, as we're constantly worried about the status of patients and the business. ezyVet allows me to view live updates of what's happening around my practice, communicate with clients from the system, run reporting and analytics, all from the comfort of my own home or out on the road.
Although there is a huge learning curve as you transition into ezyVet, once you get it, you understand that everything you do builds into the records. This eliminates the need to double back to add more notes, which makes everything efficient. Furthermore, ezyVet integrates with our other in-house equipment such as Smartflow, Abaxis and Antech, so that information syncs directly into our patient record.
My other favorite thing about ezyVet is the open, ever-changing, ever-adaptable landscape and architecture of the software. Every month, my ezyVet site receives automatic updates which I don't have to do myself. It reminds me of the iPhone updates, which I love, as there are always continuous improvements to its capabilities regardless of device type.
What do you see in ezyVet's future?
I see ezyVet getting much more interactive than it is now – how awesome will it be when doctors are able to reach out to clients through the system? Telemedicine is now taking off and becoming a real thing. I have clients who have moved out of Houston or are vacationing but want to stay in touch, which is all possible through this video technology. This tele-consult could be recorded and included as part of the medical record.