JR Mayer and Dr Erin Tate were tasked with finding a new practice management solution that could connect to CityVet's own software, helping grow their 13 specialty clinics and 300-strong team. What caught their eye with ezyVet was its strong API structure, which allowed them to turn the software into what they needed it to be. We talk to the Dallas duo about their transition to a flexible new system and how they are now integrating in ways that make the most sense to them.
Why did CityVet choose ezyVet, JR?
Our previous software wasn't user friendly and was very time consuming when we needed to enter notes and communications. It was critical to find a solution that did it all for us but just about everything we looked at was missing some portion – the boarding aspect, the way medical records were handled, the import of graphics and radiology.
When it came to ezyVet, one of the things that tuned us in the most was the fact there was such a strong API structure, allowing us to connect with any system.

How have you leveraged ezyVet's API?
Once we determined all of the features and functionality that we were missing in our current practice management software and realised that ezyVet was going to fulfill those roles, we were able to integrate our system into ezyVet and make sure it accomplished everything we needed going forward with.
From the time we got started, we were provided API documents that were very clear and explained the technical aspects of the software and how to use it. Through the API documents, we realised the full potential of ezyVet and were able to accomplish the things we needed to make the software perform. We effectively adapted ezyVet to fit our unique business needs.
How did the transition to a new system go for you?
The switch over to ezyVet from our previous software was a seamless experience. The team had been through other software switches in the past that did not go well but this one was smooth and easy. It helped that many of ezyVet's Frisco based implementers were former technicians and their knowledge of the system came from a vet tech background. That made the process smoother from start to finish. They already understood how the software works, how it needs to work in a clinic, and it really felt like they were experienced.
When we ran into challenges and hurdles that we thought were going to be problems, it just took a phone call to the ezyVet team and our account manager to basically talk us through solutions and ways to get past them. That was huge.
The learning curve too was very short for the team. It made it fun and breezy to just jump right in and start with the new software right away.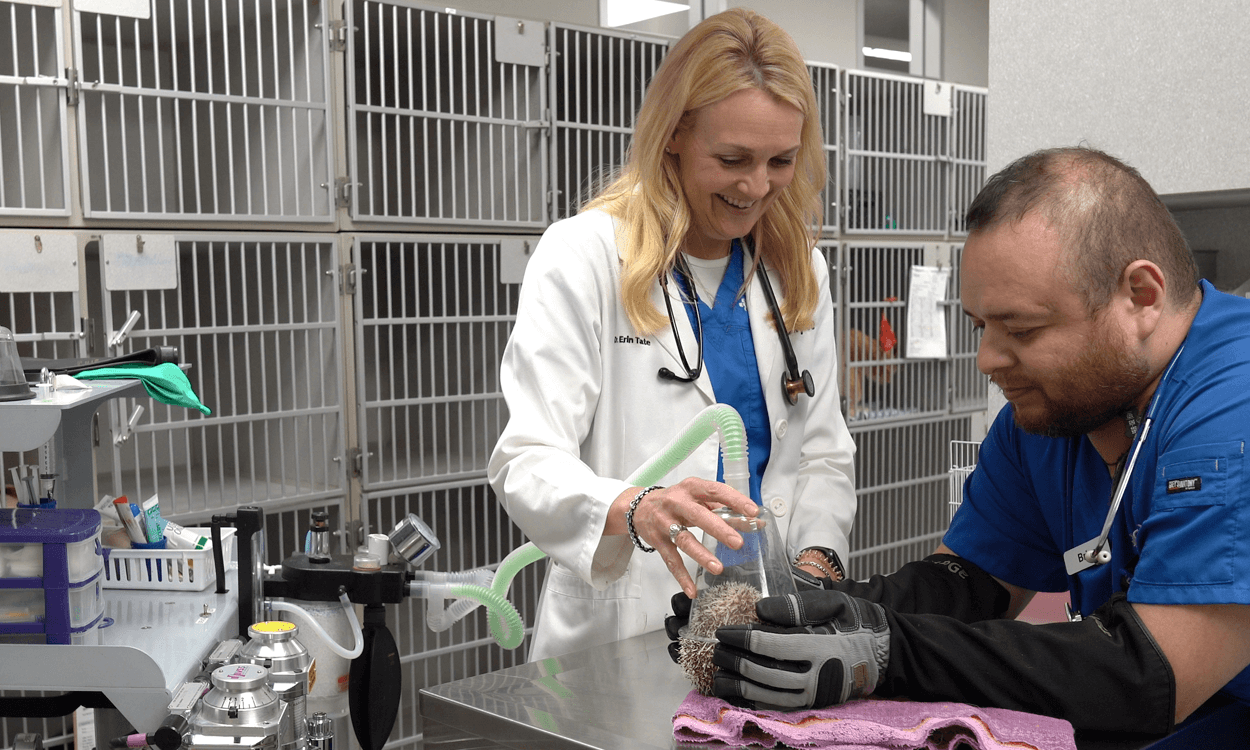 Did everything go as you had expected?

Not everything goes as planned during the implementation phase. We ran into technical hurdles with some of our label printers and different technical devices that didn't function the way we expected them to. When we started having difficulties in week one of our implementation, ezyVet was there to provide us a solution quickly, and cost affordable. That allowed us to get right back on track with where we needed to be during our implementation phase.
When several of our outdated technology pieces, including label printers, items that we've been using for years and years, struggled with the new technology, ezyVet was there. ezyVet had solutions to all the problems we encountered during the process, so by the time we completed our seven-week roll out, all our core items that needed to work worked.
Tell us about how you've connected your own software to ezyVet
What we were most excited with ezyVet is that, unlike all other software we evaluated, it has not stopped innovating and growing over time. With our previous software, there were always key features missing. When we went to evaluate ezyVet, we determined quickly that many of the things that we were having to build ourselves are built into ezyVet. We were able to simply utilise those features and peel ours away from the system. For those other features that are still not a part of ezyVet, we were able to use our own customer loyalty programme software seamlessly through the API to connect directly and grab the data we needed.
What advice can you give to other veterinary practices considering switching to a new software?
If I were to talk to the Head of Technology at another veterinary company, I would probably just recommend skipping the step-in process of looking at a lot of the competitors out there. ezyVet is paving a path towards flexible technology which allows companies to integrate in the way that makes the most sense to them. ezyVet made the lab integration process much better for our facilities and doctors, which has translated into better results for our clients.
This software is fast and user friendly, better and much more efficient than big veterinary software companies' in practice for twenty years. It is leaps and bounds from the traditional veterinary software that we've used. Our integration will make it a lot easier as we grow and expand our practices to know what one patient is doing across town or across the country, all within one software system.
I'm looking forward to the future working with ezyVet, allowing my business to grow and expand and increase revenue more easily with a user-friendly software that allows me to see more patients and spend less time dealing with the headaches of the past.