Back in 2000, Halifax Veterinary Centre made history by becoming the first clinic in New Zealand to earn BESTPRACTICE accreditation from the New Zealand Veterinary Association.
Today, the companion animal practice continues to build on its legacy, combining compassion, technology, and deep clinical expertise to deliver world-class veterinary services and products to pet owners throughout the Nelson region.
We sat down with a couple of members of the Halifax Veterinary Centre team to find out how they use ezyVet and Vet Radar to save time, drive business performance, and achieve better patient outcomes.
Continuous improvement key to success
For Halifax Veterinary Centre Co-Founder and Veterinarian Hans Andersen, continuous improvement is the key to success. After more than 44 years in the industry, you might think that he'd be a little set in his ways, but Hans continues to be an innovator, seeking out new ways to improve and strengthen the clinic's processes.
"Probably the most unique thing about Halifax was that we could realize our dream; that dream of becoming a BESTPRACTICE accredited hospital," Hans muses. "But how do we keep getting better? How do we develop good protocols? How do we make sure we adhere to them? How do we make sure that we have the right feedback loops that keep delivering quality?"
Halifax Veterinary Centre's commitment to continuous improvement permeates all areas of the clinic - including its choice of practice management software. While the team was initially quite content with its former system, workflow issues gradually began to surface, which required some time-consuming workarounds.
"Nothing flowed well," Halifax Veterinary Centre Veterinary Nurse Chrissie Short recalls. "When we were in surgery or in the hospital, it was all paper based. Everything had to be written down, including the paper cage charts. At the beginning and end of each day, we had to manually transfer the paperwork to the computer, which obviously took such a long time."
Deep integration eliminates double handling of data
In April 2021, Halifax Veterinary Centre made the switch to ezyVet and Vet Radar and almost immediately noticed a difference in terms of operational efficiency. The clinic installed tablets in each area of the clinic, which staff could use to enter notes, prescribe medication, and track patient progress.
Data flows seamlessly between ezyVet and Vet Radar, ensuring that all relevant information - including patient notes, admission forms, pre-anesthetic blood tests, invoice summaries, discharge notes, and more - could be easily accessed without requiring any double entry.
"There's this seamless transition between ezyVet and Vet Radar. That was an important part of our decision to go with Vet Radar. At the time, Vet Radar was still new, but we just jumped in and launched the two products together. It's mostly our veterinary nurses who use Vet Radar, and it's made their jobs so much easier and smoother," Hans says.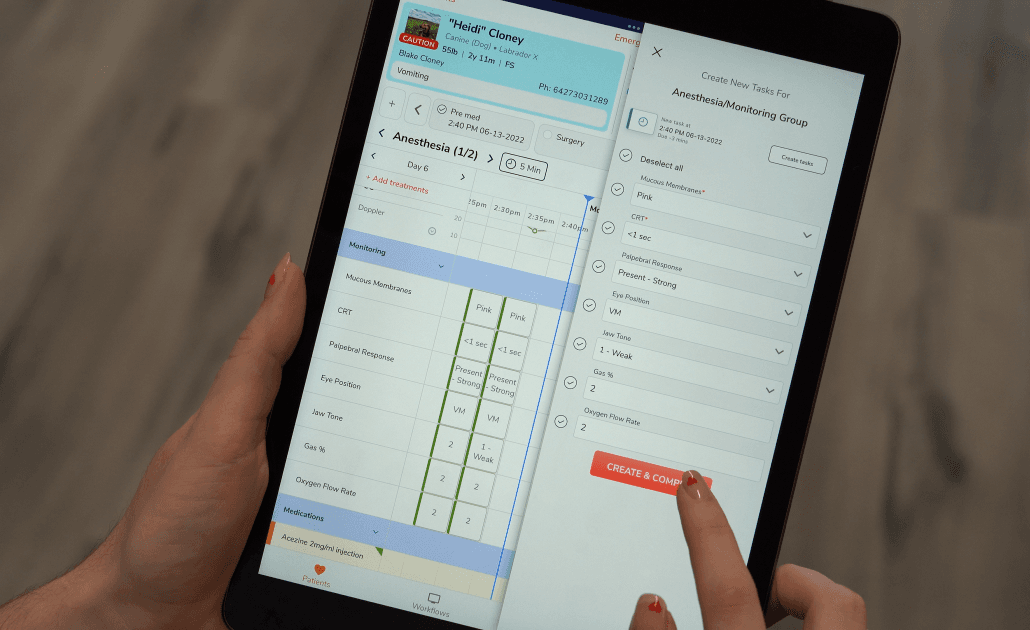 In addition to helping staff save time on administrative tasks, Vet Radar has also strengthened the clinic's patient care protocols. According to Chrissie, Vet Radar's customizable anesthesia monitoring sheet has enabled staff to better administer, monitor, and charge for fluids used during a procedure.
"You can tailor the anesthesia sheet to your needs. If you want to add something like capillary refill time or a liter of oxygen or the percentage of Isoflurane - whatever the procedure calls for, you can choose what you want to display on the chart. You can see the flow of what's happening in real-time. It makes it so much easier to know where the anesthetic is going and I really like that," Chrissie says.
Electronic whiteboard unifies team communications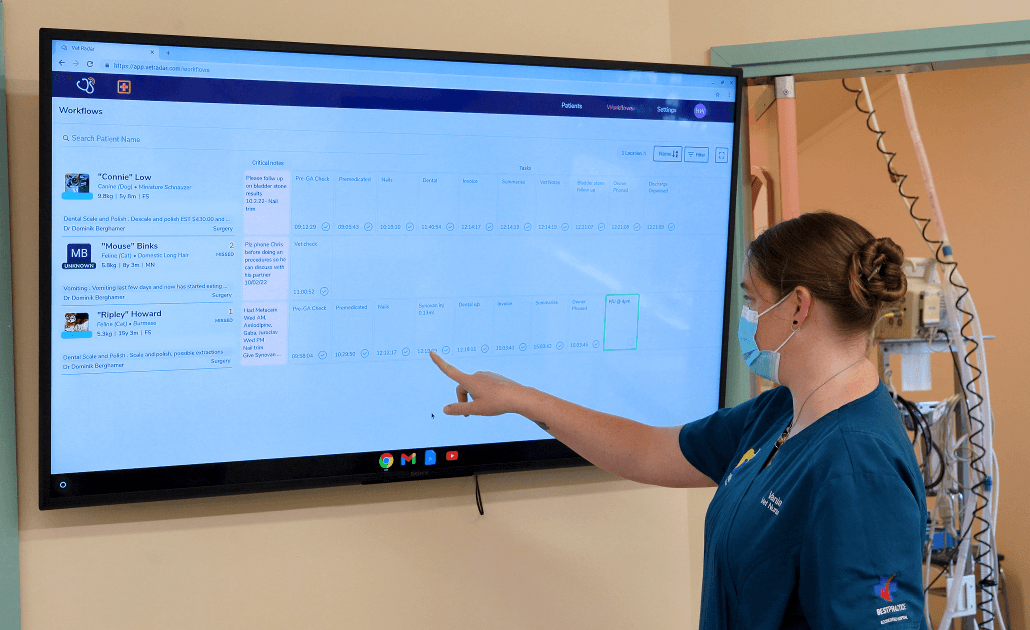 Like many practices, one of the key challenges for Halifax Veterinary Centre is keeping its workflows organized and transparent. Historically, traditional dry-wipe whiteboards were useful for displaying the basic details of hospitalized patients, but the information couldn't be accessed if staff were in different rooms, which meant there was always a slight lag in the exchange of information.
These days, team communication is stronger than ever thanks to Vet Radar's electronic whiteboard, which provides the team with complete visibility of a patient's treatment journey, regardless of where staff or patients are physically located.
"With Vet Radar, the person at reception talking with the pet owner can access all the patient information without leaving the front desk," Hans explains. "They can tell the pet owner, 'Oh, the vet has just finished scaling Fluffy's teeth,' or, 'Fluffy's temperature is normal now, but it was up at 40.2 degrees just three hours ago.' It's all updated in real-time and everybody in the clinic across our 15 or 16 devices can access the same information."
ezyVet and Vet Radar haven't just improved internal communications - they've strengthened Halifax Veterinary Centre's client-facing communications, too! ezyVet's automated text-based reminders have helped greatly reduce resource-intensive phone calls, freeing up staff to focus on more important areas of their work and driving client compliance - both of which directly contribute to better patient outcomes.
"With our previous software, we did a lot of phone calls and emails. Although it was nice and personal, the time it took was huge. One of the things I love about our new system is that we can automate a lot of our communications. We now send a lot of our communications via text, which most of our clients prefer - especially booking reminders. It's more convenient for our clients and it helps with compliance."
Enhancing the client experience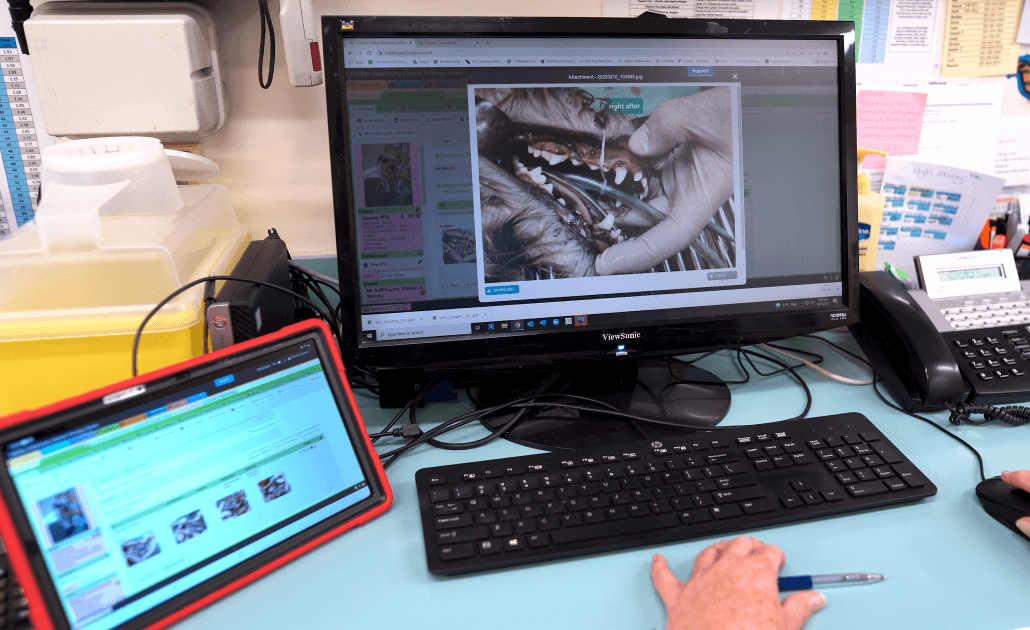 While delivering the best patient care possible is the number one goal for Halifax Veterinary Centre, the team also recognizes the importance of providing a positive customer experience. The clinic makes effective use of ezyVet's variable-driven templates to automatically personalize customer-facing communications, which helps create a more authentic client experience and strengthens the perceived value of the practice's veterinary services.
"ezyVet is really flexible, almost infinitely customizable," Hans says. "And the more work you put into that customization in terms of the embedded documents, discharge summaries, or disease notes, the more personal the experience feels to the client. The sense of personal value that the client gets from you is so much greater than if you were just providing some sterile, pre-printed document."
The team also uses photography to support the client experience. During a procedure, staff use Vet Radar to take before, during and after photos. Not only of the patient, but also of the state-of-the-art equipment that's involved with the procedure. The images are then attached to the patient record, printed, and given to the client, which helps the clinic capture some of the behind-the-scenes value that would otherwise be invisible.
Transform your practice
Even in a BESTPRACTICE accredited hospital, there's always room for improvement. By upgrading its practice management system, Halifax Veterinary Centre was able to find new ways to work more efficiently, communicate more effectively, and ultimately deliver an even greater standard of patient care.
Want to know what Vet Radar could do for your practice? Schedule a free demo today to find out.