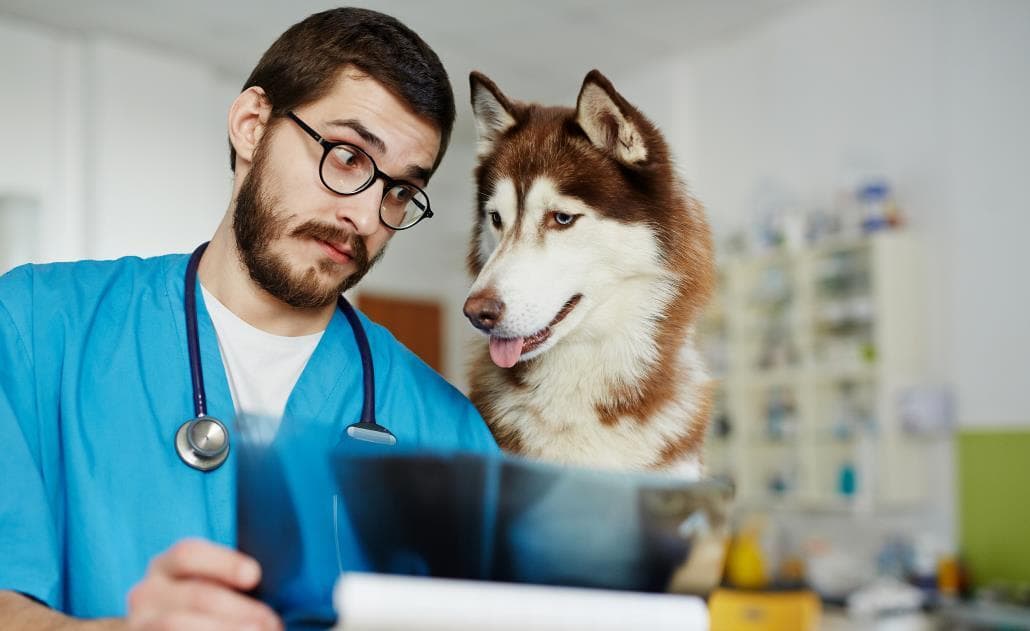 The days of manually processing diagnostics are over. ezyVet offers a broad range of diagnostics integrations that allow you to send, receive, and manage all of your lab requests directly from within ezyVet.

Read on to learn more about how ezyVet diagnostics integrations work and how they can add value to your veterinary practice.

What is a diagnostic integration?
A diagnostic integration is an application designed and developed by an external diagnostics provider. The diagnostics provider uses the ezyVet API - a set of functions that enables data transmission between two separate applications - to connect their software to ezyVet. The integration allows data to flow automatically between ezyVet and the third-party diagnostic software, which enables you to manage your diagnostic workflows without leaving ezyVet.
Whether you handle your diagnostics in-house or externally, ezyVet's diagnostic integrations allow you to:

Automatically populate diagnostics request forms.
Send diagnostic requests to diagnostics services companies and devices.
Receive diagnostic test results within ezyVet.
Gain visibility of your patients' diagnostic results without leaving ezyVet.
Automatically add diagnostics tests to the client invoice via bundles and billing triggers.
To top it off, ezyVet diagnostic integrations are free to use. Tap into the next level of operational efficiency without worrying about any additional overheads. For more information, check out the full list of ezyVet diagnostics integrations.

What are the benefits of using a diagnostics integration?
1. Simplify your diagnostics workflow
In any busy veterinary practice, efficiency is the name of the game. Leveraging technology to automate manual tasks can help you save time on repetitive daily tasks and give you the freedom to focus on the more important aspects of veterinary care.
With a diagnostics integration, there's no filling out forms by hand, fiddling around with PDF files, emailing providers back and forth, or finding time to upload faxed results. The entire diagnostics process is handled within ezyVet in just a couple of clicks, turning what might normally be a 10-minute ordeal into a breezy 30-second workflow. This can potentially help you save hours each week, depending on how many diagnostics requests you handle at your practice.
2. Reduce the risk of user error
When resources are stretched thin and staff are juggling multiple tasks, it's inevitable that the occasional mistake will occur at some point during the diagnostic process. Entering incorrect patient information while making a diagnostic request, for example, can lead to inaccurate test results, while forgetting to attach test results to the patient's record might mean that the vet can't access the information required to make a diagnosis.
Diagnostics integrations can help you strengthen your diagnostic workflows and minimize the risk of error. ezyVet's diagnostics integrations takes human error out of the equation by automatically pulling relevant diagnostic information directly from ezyVet, ensuring greater data consistency across the practice and enabling you to make better clinical decisions.
3. Capture every lab test charge
Every missed charge is a missed opportunity. Failing to capture billable products can have a significant impact on a practice's bottom line - and diagnostic tests are one of the most elusive offenders. About 17% of lab tests go unbilled, according to the American Animal Hospital Association, which means your practice could potentially be leaking thousands of dollars every single year.
ezyVet's diagnostic integrations minimize missed charges by automating your invoicing processes. All lab test charges are automatically captured and added to the client's invoice in ezyVet, eliminating manual data entry and putting more time back into your day.
Takeaway
Diagnostics integrations allow you to transform ezyVet into a one-stop diagnostic resource. Send diagnostic requests, automatically capture charges, and access diagnostic results directly from within ezyVet.
Thinking about incorporating a diagnostics integration into your practice? ezyVet offers integrations with all the major diagnostics providers, including IDEXX, the world leaders in pet healthcare innovation. Check out the full list of ezyVet diagnostics integrations.