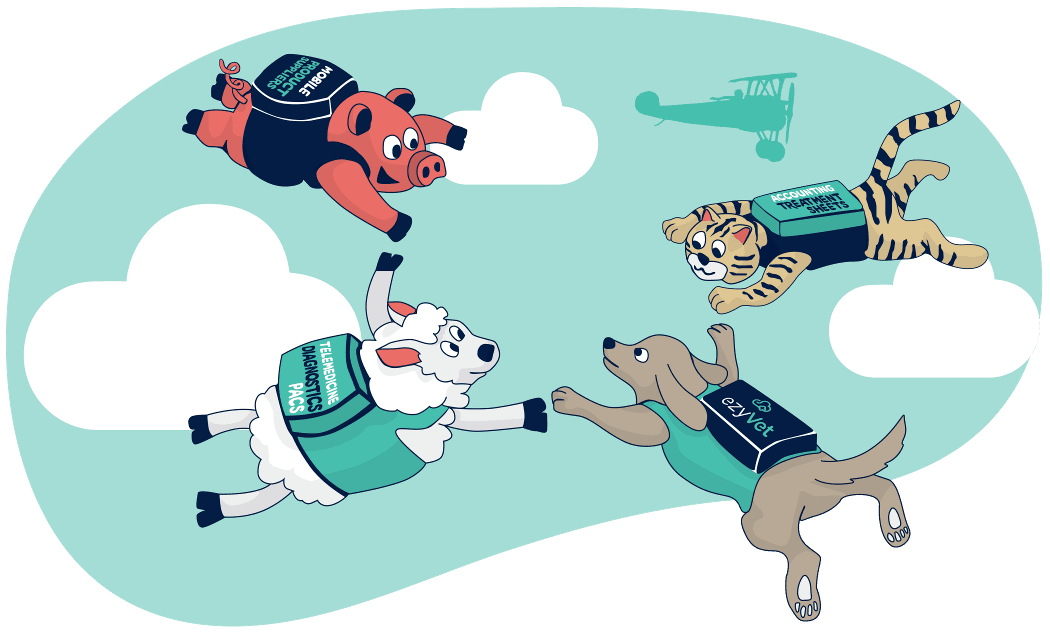 Straight out of the box, ezyVet comes loaded with more features than you can shake a stick at. From appointment scheduling to inventory management and everything in between, ezyVet gives you the tools you need to manage just about every aspect of your veterinary practice.
However, we also recgonize our limitations. Given the incredible breadth and depth of the veterinary industry, it's simply not possible for one company to offer a solution that meets the specialist needs of every single veterinary practice.
That's why we partner up with other industry experts who specialize in the other, equally important areas of running a veterinary business. With our powers combined, we offer a broad range of integrations that allow you to add extra functionality to ezyVet and create a practice management system that fits your specific business requirements.
In this blog post, we'll talk about what integrations actually are, how they work, and how they can add value to your veterinary practice.
What is an integration?
An integration (sometimes referred to as a third-party tool) is a piece of software developed by an external ezyVet partner, who uses the ezyVet API to connect their application to ezyVet. An API (or Application Programming Interface) is a set of programming code that essentially allows two applications to talk to each other.
Data is automatically exchanged between ezyVet and ezyVet integrations, which keeps information consistent across the system and ensures a smooth user experience. By using integrations, you can combine different tools with ezyVet to form a powerful, tailor-made solution that suits your particular business needs.
Note: The use of unofficial integrations can leave your business exposed to malicious cyber activity. For more information, see this blog post.
Why would you use an integration?
Integrations allow you to simplify complex business processes and add powerful new functionality to ezyVet. Integrations can be used to improve operational efficiency, streamline diagnostics processes, drive revenue, automate accounting functions, and a whole lot more.

Below is a quick summary of some of the most popular integration verticals and how they can add value to your business:

Send purchase orders from ezyVet to your preferred supplier.
Receive invoices and inventory directly into ezyVet.
Receive automatic price updates.
Send, receive, and manage external diagnostics from ezyVet.
Easily share diagnostic results.
With industry leaders like IDEXX offering their machinery for free to new veterinary practices, diagnostic integrations are an effective way to establish robust diagnostics processes from the get-go.
Order diagnostic imaging requests directly within ezyVet.
Get x-ray and DICOM images automatically transferred to the patient's record.
Ensure charge capture when ordering images.
Reduce duplicate patient entry.
Provide clients with contactless payment options.
Offer flexible payment plans.
Eliminate double entry and manual reconciliation.
Increase average transaction value and boost client conversions.
Automatically sync financial transactions made in ezyVet.
Get better visibility of your financial records.
Take control of accounts receivable.
Submit clinical notes and invoices directly to the claims team.
Eliminate paperwork.
Dramatically speeding up processing time.
Easy and accurate reporting for balance reconciliation
Insurance payments are made directly to the practice, so clients don't have to wait to be reimbursed.
Check out the full range of ezyVet integrations
ezyVet currently offers more than 80 integrations from some of the largest and most reputable names in the veterinary industry and beyond - and the number is always growing. These integrations cover many verticals, including:
Accounting & Finance.
Analytics.
Client Management.
Diagnostics.
Dictation & Speech Recognition.
Digital Imaging & PACS.
Home Delivery.
Insurance.
Inventory Management.
Microchipping.
Product Suppliers.
Payment Solutions.
Reference Labs.
Telemedicine.
Whiteboard & Treatment Sheets.
We offer a broad range of integrations to give you the tools you need to customize ezyVet to your own unique business needs. To start building your own tailor-made practice management solution, check out the full list of ezyVet integrations.