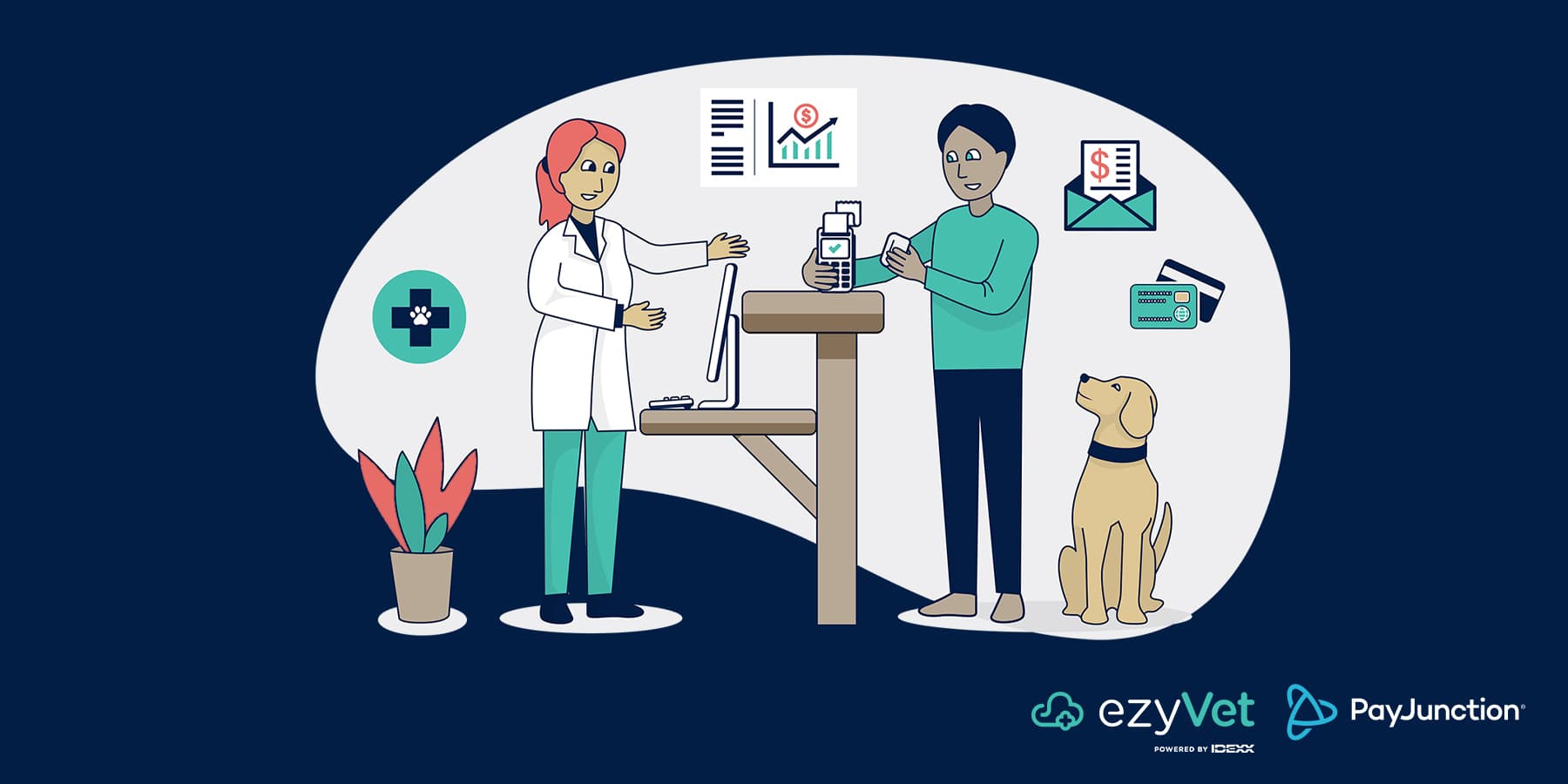 Recent advances in medicine, diagnostic technology, treatments, and therapies have helped veterinary practitioners stay on top of their number one goal: managing the health and well-being of their patients. When it comes to managing administrative tasks, such as payment processing, staff often have to rely on outdated technology and paper-based processes. It is not uncommon for practices that use an unintegrated payment terminal to find managing payments and reconciliations inefficient and time-consuming.
It's never too late to upgrade to a modern system for accepting payments so you can take payments anywhere, reduce errors, and improve the customer experience. Our US payment partner and industry leader payment PayJunction shares the three important things you need to consider when evaluating payment providers:

Integrated payments
Omnichannel acceptance
Transparent and ethical pricing
1. Integrated payments boost productivity 💪

There are no two ways about it; stand-alone payment terminals are inefficient. Amounts need to be entered separately, first into the practice management system and then on the device. Paper receipts get printed and stapled to invoices, transaction information is re-keyed back into the software, and batch reports must be printed from each of the terminals and manually tabulated every day during the close process.
These time-consuming processes can result in mistakes and keying errors, which complicate end-of-day balancing and reconciliation. Plus, the tedious task of manually tracking down invoices and credit card receipts associated with a client's payment history takes staff away from client-facing activities. These productivity killers are multiplied for practices with more than one location, or that operate facilities for boarding and daycare.
An integration allows payments to be initiated using ezyVet, and for all transaction information to flow into patient records and accounting systems. Reconciliation is a breeze; staff simply run ezyVet's end-of-day wizard and the PayJunction batch report. If they match, that's it.
In a recent survey of ezyVet customers who use PayJunction's integrated payments, more than 75% of respondents agreed that an integrated solution saves time and money.

2. Omnichannel acceptance improves the customer experience ✨
The COVID-19 pandemic accelerated the adoption of service models including curbside and telehealth, as well as the use of contactless and mobile payments. PayJunction integration allows ezyVet users to accept payments taken in person, online, or via a remote request and consolidates all payment activity for reconciliation and reporting.
Paying in person can be done quickly with the simple wave of a contactless credit card, phone, or wearable on PayJunction's ZeroTouch Terminal. The customer-facing device eliminates the need to pass cards between staff and clients. It even allows the card details to be captured at check-in, which expedites the discharge process since the card does not need to be presented again.
PayJunction allows practices to securely store payment information associated with customer records in the cloud. This makes it easy to collect one-time, installment, or recurring payments for services such as prescriptions, doggy daycare, grooming, and wellness plans. ezyVet's remote payment feature streamlines curbside servicing by sending an invoice via email or text. It eliminates the frustrating process of phone tag when trying to collect payments after an appointment.
Learn how Veterinary Specialty Service of St. Louis improved their curbside operations by receiving nearly 90% of their payments online.

3. No strings attached transparent and ethical billing practices 🌞
A common but costly mistake is the assumption that the best payment provider is the one that offers the lowest rates. Unfortunately, many unethical providers who lead with a "bottom-of-the-barrel" pricing promise add on extraneous fees, expensive early termination penalties, and unnecessary charges for EMV or PCI compliance.
The best merchant services providers offer transparent pricing, with clearly defined rates and terms that allow you to easily understand what you're paying. Make sure your provider has readable merchant statements so you can avoid falling prey to unethical billing practices. Avoid providers that lock you into a contract or charge you fees for setup or cancellation.
PayJunction, like ezyVet, prides itself on its award-winning customer service and its culture of building long-term relationships rooted in mutual trust. Transparent interchange-plus pricing is offered based on the actual rates charged by the card brands, not a padded and confusing bundled rate.
Unethical billing practices are tough to spot with an untrained eye, but ezyVet customers can reach out to PayJunction's experts who will be happy to review your current merchant statements to see if you're being charged fake fees and padded rates.
Learn more about PayJunction's integrated payments features and request a free statement analysis. You may even qualify for a free terminal!