Demeanors create a safe and stress-free environment
From curious Cocoa to happy Honey, stay on top of any type of animal behavior with ezyVet's new demeanors. A visit to the vet can be a stressful, anxiety-ridden experience for the pet, which may cause them to react differently to how they would at home. This is a workplace hazard veterinary staff deal with on a regular basis as patients can strike, claw, bite or scratch at any given moment.
Introducing demeanors
We learned from our customers that more accurate terminology was required to label a patient's behavior, so we've prioritized providing customizable functionality to give you ultimate control. With guidance from our valuable Confidence Testing group, we reworked what was previously known as Attitudes Statuses to increase flexibility for a wider range of uses.

Better prep, better patient care
There are eight additional standard demeanor options to choose from, and the ability to customize your own using a range of icons and colors. With this added flexibility, you can effectively communicate the next course of action any way you prefer.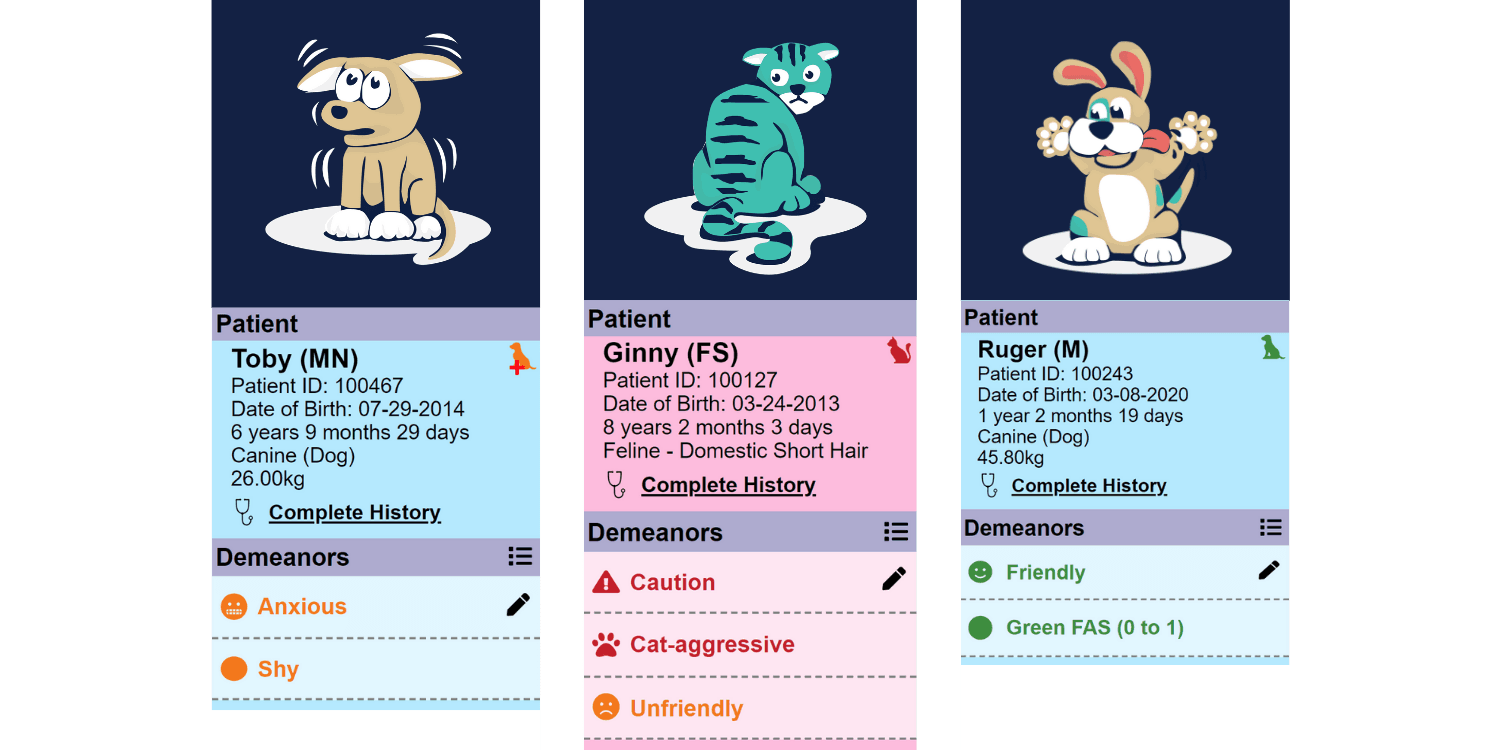 How demeanors enhance your workflow:
Improve workplace safety by giving your team a heads up on what to expect when handling the animal
Brief, concise demeanors saved in the patient's record will enable staff across all departments to be on the same page
List multiple behaviors in the patient or clinical record, eg. 'Aggressive', 'Bites', 'Dislikes Cages' as well as identify key health concerns such as allergies to food or medication
Bring in your practice's own naming conventions by building your own custom demeanors
Keep a positive client experience by hiding demeanors from the view of sensitive clients
How customers are using demeanors
Many ezyVet customers already have patients with more than one demeanor assigned. The 3 most popular are:
Anxious
Shy
Muzzle Necessary
And customers have loved the customization and have created their own unique ones. A few of our favorites include:
Spicy
Sassy
Gives Kisses
Likes Treats
Better with owner/Better without owner
Fear Free
An additional benefit of Demeanors is that it will make it easier to manage a Fear Free clinic. In fact, we've included the Ladder Spectrum of Fear, Anxiety & Stress (FAS) in the line-up of standard demeanors.
The Demeanors are absolutely fantastic! It fits really well with the Fear Free aspect of our clinic. It's very nice to have all of the options offered to label our FAS patients. We use it in conjunction with the alerts feature to keep track of triggers and handling preferences of our patients.

Darren Houser, CVT, Alpine Animal Hospital
Creating a safer workplace and better patient care
Knowing a patient's triggers and reactions in the consult room allows you to pre-empt and adopt the appropriate manner to gain their trust. Take control over building a positive stress-free environment that works for both staff and patients.
What do your practice use on cages to maintain safety in the clinic?
Continuing reading to find out how you can get your own printable cage cards