Two By Two Veterinary Centre is an independent veterinary practice nestled in the heart of Finchley, North London. Founded in 2017, the practice has blossomed from a one-man operation into a full-service, 12-person strong veterinary team dedicated to delivering the highest standards of patient care.
Throughout this period of growth, the practice has remained staunchly committed to meeting the needs of the community, working alongside the RSPCA to provide subsidized charitable rates and participating in the C4 scheme, which provides free cat neutering services to eligible pet owners in London.
We sat down with a few members of the Two By Two Veterinary Centre team to learn more about how they use ezyVet to reduce their manual workload and achieve better patient outcomes.
Reasons for choosing ezyVet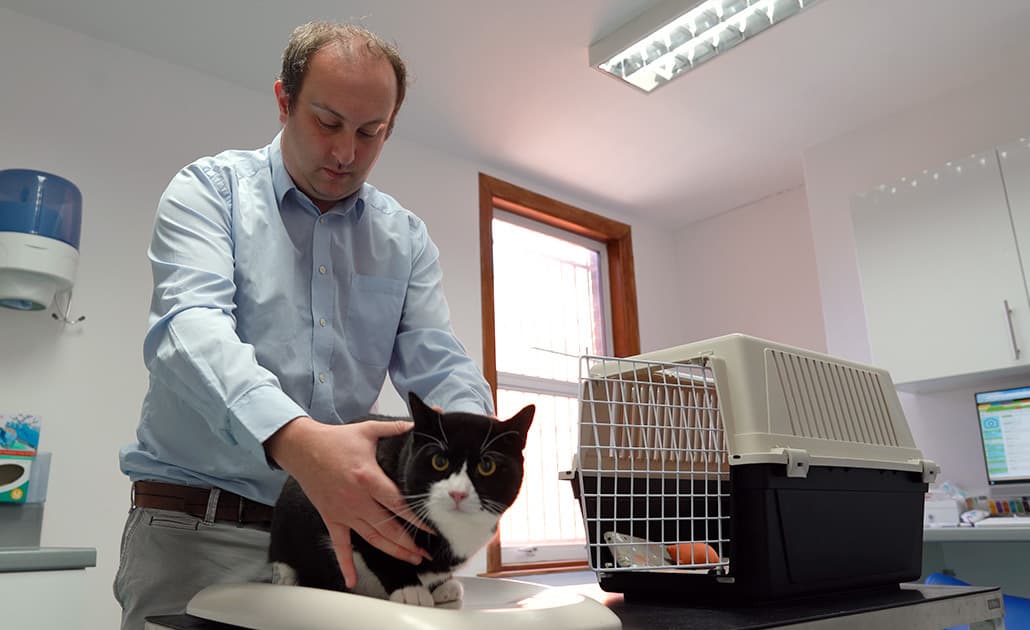 When he was three years old, Dr. Andrew Monchar, Clinical Director of Two By Two Veterinary Centre, became best friends with a golden retriever while on a family holiday in Wales. The experience sparked a lifelong fascination with animals - and the rest, as they say, is history.
After graduating from the Royal Veterinary College, Andrew worked as a locum vet in various clinics where he was exposed to a range of practice management solutions and gained valuable insight into the systems and processes that helped - or hindered - the daily life of veterinary professionals.
"As a locum vet, you're expected to come into a practice on day one and sit there and work," Andrew says. "So, you have to come au fait with the general manner of working and the different software packages that are out there. I've worked with some very good ones, both cloud-based and server-based. I've worked with some disastrous ones as well - very, very basic ones."
With that experience under his belt, Andrew was in a good position to make an informed decision about the software he'd use to run his own practice when he opened Two By Two Veterinary Centre in 2017.
At the time, server-based systems were the de facto choice for most practices in the U.K. But that didn't necessarily make them a good choice. Server-based practice management systems were clunky, difficult to maintain, and seldom updated. Above all, they were expensive, particularly for a new veterinary clinic trying to go head-to-head with the corporate practices in the area.
"At that point, server-based software would have cost me tens of thousands of pounds on day one just to get it up and running. ezyVet was much more affordable. It wasn't even in the same league and so that was a big factor in our choice."
In addition to cost efficiency, a big drawcard for Andrew was ezyVet's scalability and ability to grow the practice - ideal for an aspiring practice owner with plans for future expansion.
"I had an eye on expansion from day one. Part of the plan was to have a couple of small satellite branches, and I was aware that ezyVet could scale, so [the system] would look the same across one small site as it does for one large hospital or maybe even multiple small branches. That was one of the main attractions of ezyVet."