Since 1958, Marquette Vet Clinic (MVC) has striven to provide cutting-edge veterinary care to all patients, while preserving their commitment to the human-animal bond.
Based in Michigan's largest Upper Peninsula city, MVC is a full-service hospital, that offers general, emergency and specialty veterinary services to Marquette and its surrounding animal community. On top of this, head veterinarian and owner, Dr. Edward Brauer, shares his 30 plus years of medical expertise through his externship program, offered to senior veterinary students.
After their recent move to a new purpose-built facility, we caught up with Office Manager, Shelley Brauer, to learn more about how ezyVet was part of the dynamic duos plan to modernize their clinic and the success they're seeing today.

The search for a modern solution
Shelley knew in order to keep up with the ever-evolving expectations of employees, customer service and patient care, MVC needed to not only upgrade from their 60-year-old facility, but also overhaul their Veterinary Practice Management software. Although having a paperless practice was becoming the industry norm, Shelley's biggest challenge was convincing Dr. Brauer, a self-confessed 'dinosaur', to make the move to a cloud-based solution. Throughout his 30-year career, Dr. Brauer had relied on pen and paper for his clinical records and was wary of having this online.
Shelley's push to upgrade was prompted by the realization that new graduates coming from the nearby Michigan State University for externships were being taught with the latest tools and technology and noticed that a lot of other veterinary schools were doing the same. Shelley knew that if MVC wanted to attract top talent, they needed cutting-edge technology to stay ahead of the game. Shelley and the team evaluated new solutions and chose ezyVet in 2019.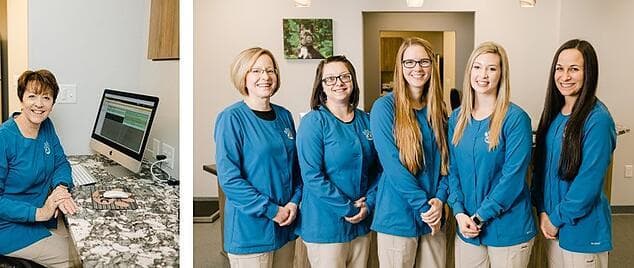 Transitioning to ezyVet
In the weeks leading up to their onsite implementation, Shelley made sure she did the hard yards to set her team up for a seamless transition. Most importantly, she set ample time aside for Dr. Brauer to practice on their demo site to familiarize himself with ezyVet before they 'went live'. Having an ezyVet expert onsite for a week to answer questions was especially helpful.

The first three months saw the largest adjustment for staff, as they were used to having a physical patient file. Staff had to adjust their mindset on ezyVet workflows being patient based, rather than client based as their old system had been. Still, from the outset it was clear efficiencies were being created.
The majority of other Veterinary Practice Management solutions separate the clinical record and the invoice, but MVC were now able to rapidly generate invoices through automating the billing process, for example when they booked a consult, the consult fee was automatically added to the invoice. Having patient files online, also gave them everything at their finger tips; gone were the days of having to physically locate a patient chart and attempt to read the doctor's handwritten notes.
The team at MVC were impressed their ezyVet site could be open on multiple browser tabs, at the same time, allowing their updates to sync in real time. They also sped up the clinical exam process by putting ezyVet Templates to good use and making their own pick-lists that automatically enter all the information you would normally have to tediously input every time (e.g. physical exam findings and vaccine details).
Moving their paper based clinical records online with ezyVet, meant they were able to improve referral communications by creating well structured clinical summaries with the information they chose to include, compared to sending the entire clinical record and inundating the referring clinic with too much information.
Marquette Vet Clinic Today
Part of the plan to upgrade and modernize their clinic, was a new purpose-built facility. In October 2019, six months after their ezyVet installation, MVC completed their move to the new building. As with any big project, there were a lot of moving parts to be across, but ezyVet was not one of them.

"There wasn't much to worry about moving for ezyVet. I just hooked it up and it was ready to go!" said Shelley.
One year in with ezyVet, MVC has been able to improve their client communications, driving financial outcomes and completely changing the way they operate. New clients were in the past a particularly tricky group, with the highest number of no-shows. Implementing ezyVet's SMS appointment reminders has reduced the rate of no shows by 75% and eliminated 30% of their mail outs, saving them between $50 to $75 per month. They set up ezyVet's integrated Customer Portal, which now has approx. 30% of their client base logging in to access their clinical records, financial history, make appointments and order key products online. Furthermore, they integrated their Sound Digital X-ray and Ultrasound system with ezyVet, which allows them to better serve their clients and patients.
"It has completely changed the way we operate."
Shelley looks forward to working on their inventory management and expanding her ezyVet knowledge through Support webinars and attending ezyVet's user conference, Unleash. As for Dr. Brauer, he has adapted to a cloud-based system much better than expected with support from Shelley and the ezyVet Support team. With a new state of the art facility and latest technology, MVC is now well equipped to stay ahead of the game and attract top talent.