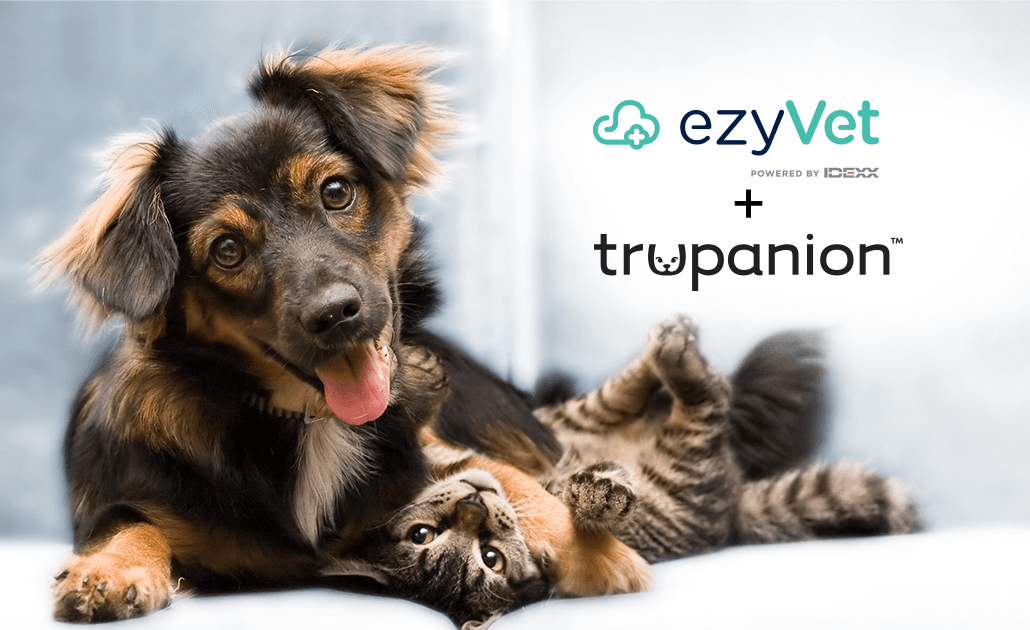 We're proud to announce a brand new integration with Trupanion, one of the leading providers of pet medical insurance in North America.
ezyVet is the first practice management software in the world to be fully integrated with Trupanion. The integration enables veterinary practices to manage insurance claims directly within ezyVet, helping to streamline the claims approval process and drive clinic revenue.
Best of all, Trupanion is 100% free for veterinary practices to use. Tap into the tools you need to create a better insurance experience for your clients, staff, and patients without any additional business overheads.
Discover how the Trupanion integration can add value to your practice.
What are the benefits of the new ezyVet Trupanion integration?
Trupanion is fully integrated with ezyVet, which means practice staff don't have to leave the ezyVet platform to process claims through Trupanion.
Speed up the insurance claims process
As a veterinary professional, you know first-hand that dealing with insurance claims can be an extremely time-consuming process.
Trupanion streamlines the claims process by eliminating the need to print and email invoices and medical records. You don't even need to switch applications on your device - the whole process is handled within ezyVet, helping both you and your clients drastically reduce manual administrative processes and minimize approval turnaround times.
About 85% of Trupanion claims paid directly to your practice are settled within five minutes! That means no following bank transactions to check if claims have been paid and no more fielding calls from antsy clients asking for updates on their reimbursements.
Provide clients with an extra layer of assurance with insurance pre-approvals
Treatment decisions in veterinary clinics are often influenced by cost. Even if the patient is insured, some pet parents are still reluctant to commit to expensive procedures because they're not confident that the treatment will be covered or that their insurance provider will reimburse them promptly.
Trupanion gives your clients a higher level of financial security so they - and you! - can focus more on optimal treatment options and less on finances. Trupanion can pay its portion of claims directly to your practice's bank account within minutes, eliminating concerns with the reimbursement process.
Increase your insured client base with just a few clicks
As for clients who are not insured, your team can encourage them to sign up for Trupanion's Exam Day Offer (EDO). This pet medical insurance program is designed to show uninsured pet owners the value of having pet insurance to help cover the veterinary costs of treating unexpected illnesses or injuries over a no-obligation, 30-day period*. (*offer differs in NY state). Each pet under the age of three who comes in for a wellness-type exam can seamlessly receive this offer.
During a pet's visit, you can simply share a patient's information with Trupanion with the click of a button (no paper necessary!) and Trupanion will take care of the rest.

Here's what the workflow looks like in practice:

A client comes in for a consultation with an uninsured pet.
Upon seeing the automated pop-up, Your staff member speaks to the client about the importance of pet medical insurance.
The pet parent gives their approval to send their information to Trupanion.

Your staff member sends the information to Trupanion from ezyVet directly.
If the patient fits Trupanion's eligibility criteria, Trupanion sends an EDO to the pet parent.

The EDO status will show in the patient's clinical record.
The most convenient way for your team is to send the offer when it appears automatically for each eligible pet. You choose the appointment status and appointment types that work for your hospital. In this example, the Admin settings are set for In Waiting Room statuses for a general consult. Common exam types such as Wellness Exam, Annual Exam or Puppy/Kitten exam can be used to trigger the EDO notification. Your team will be prompted to fill in any missing details and map the patient species and breed.
The second way to bring up the offer is to right-click on the patient in the ezyVet Calendar.
Calendar > Insurance Offers > Trupanion > Exam Day Offer.
Increase practice revenue

A larger insured client base translates to greater revenue potential. Trupanion's speedy claims and pre-approval processes assure clients that their pet's treatment will be covered and allows clients to make the best medical decision for their pets, regardless of cost.
Clients with Trupanion-insured pets make 65% more visits to veterinary practices and spend 80% more*, helping practices increase revenue while providing a superior level of patient care.

*Compared with non-Trupanion insured pets based on Trupanion internal data.
What is Trupanion?
Trupanion is a leader in medical insurance for cats and dogs throughout the United States, Canada, and Australia with over 650,000 pets enrolled. For over two decades, Trupanion has given pet owners peace of mind so they can focus on their pet's recovery, not financial stress. Trupanion is committed to providing pet owners with the highest value in pet medical insurance with unlimited payouts for the life of their pets. With its patented process, Trupanion is the only provider with the technology to pay veterinarians directly in seconds at the time of checkout.
How to enable the Trupanion integration
Ready to reduce admin time, provide excellent service to your clients, and drive practice revenue without spending a dime? Get in touch with us today to get started with Trupanion.
Please note the Trupanion integration is available for ezyVet customers based in the United States and Canada only.