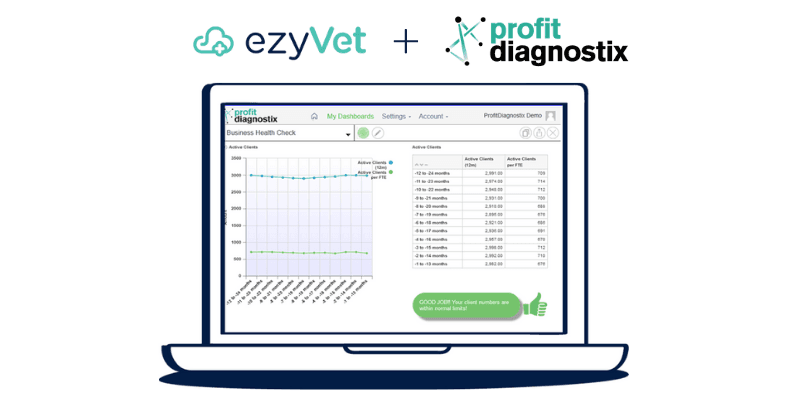 Running a profitable business is hard. Running a profitable veterinary business is even harder. Business owners can be overwhelmed by the multitude of reports available from either their practice management system or accounting system. While reports are easy enough to obtain, the challenge is identifying what the next steps are for your business and where key focuses should be to drive profitability based on said data.
That is why we have partnered with Profitdiagnostix, an automated system created by accounting experts that brings together data from both your ezyVet and your accounting system to produce accurate and timely performance reports, benchmarks and KPIs.

One of the important features of Profitdiagnostix allows a practice to see how they compare against national veterinary industry averages. Another great feature is the ability to monitor individual staff productivity and keep them informed of their progress. With financial guidance and direction provided, practices will be aware of what to improve on and be set up for business success.

Why business owners love Profitdiagnositx
Guidance from accounting experts and advisors familiar with the veterinary industry
Benchmark yourself against national averages and anything you invoice
Calculate and compare how your COGS, wages, expenses, and profitability stack up against similar practices in your region
Measure staff performance and productivity
Obtain clear financial reports and projections
Hassle-free set up; full support is provided with setting up the integration on both ends
How does the integration work
Your ezyVet site and accounting data will drop into one system (Profitdiagnostix) that will produce insightful reports, benchmarks and measurements against any product or service target you set. The accounting connection is overseen by registered accountants and professionals.
Get started
To sign up for your free 30 day trial, sign up here. The team at Profitdiagnostix will help you get set up on both ends.
You can find the instructions to connect the integration here.