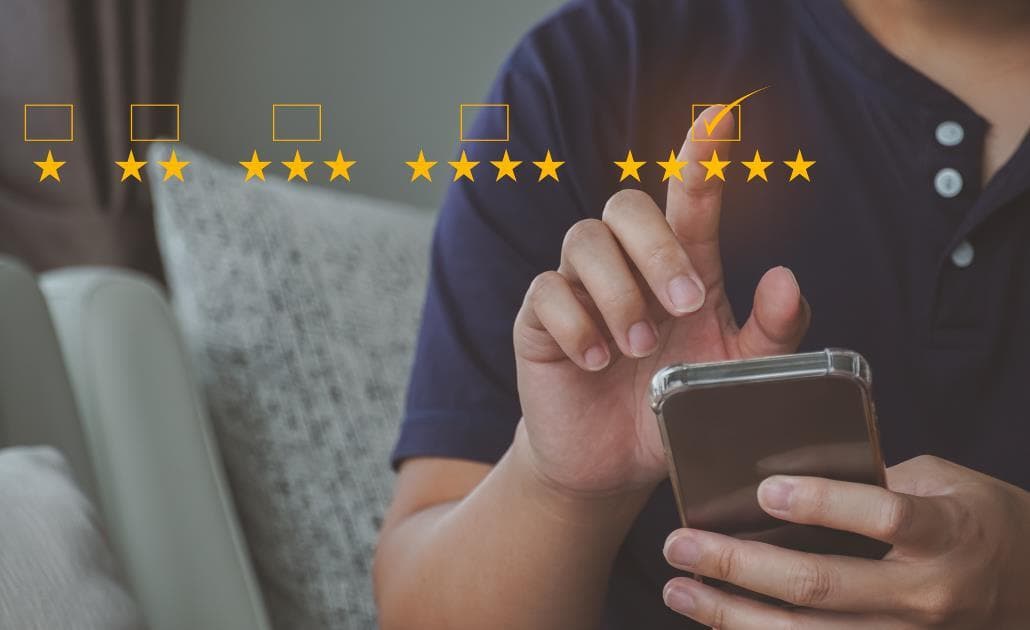 If you want your veterinary practice to stand out from the crowd, you're going to need some Google Reviews.

Read on to learn more about why a healthy collection of Google reviews is important for your business and what you can do to encourage your clients to leave more reviews.
Why are Google reviews important for veterinary practices?
Word of mouth remains one of the most powerful marketing tools, particularly in the veterinary vertical where clients are putting the health and wellbeing of their beloved furry family members in the hands of a stranger.
These days, word of mouth spreads faster than ever thanks to the widespread popularity of online reviews - and there's no bigger online review platform than Google.
A Google review is a voluntary online review that people write about places they've visited. It provides an easy way for customers to express their opinions of your veterinary clinic via a simple rating system (with a maximum of five possible stars) and a comment box where users can share details of their experience with your business. The reviews are then displayed next to your Business Profile in Google Maps and on the Google search engine results page.
For users, leaving a Google review is a quick and painless process, but the impact it can have on your business can be significant. Here are just some of the reasons why Google reviews are important for your vet clinic:
Build trust: Google reviews can help you build trust among potential clients. Research indicates that about 90% of customers read online reviews before visiting a business and 88% trust online reviews as much as personal recommendations. The more reviews your vet clinic has, the more confidence your clients have in your business - and the more likely you are to attract a new customer.
Improve your visibility on Google: Search engine optimization (SEO) is the science of improving the visibility of your site when people search for products or services related to your business on Google. Google factors reviews into its ranking algorithms, which means the more reviews you have, the higher your website will rank on the search engine results page and the more visible your business will be.
It's free: There are no fees involved with using Google Reviews (both as a business and as a reviewer). Positive reviews serve as free advertising for your veterinary clinic on the largest and most trusted review platform in the world.
Improve the customer experience: Knowledge is power. Use Google reviews as a source of unbiased feedback to gain valuable insight into how your clients truly feel about your business. Negative reviews can help you identify potential opportunities to improve the customer experience, while positive reviews can be useful for pinpointing and drawing attention to areas of your business that are performing well.

8 tips to get more Google reviews for your veterinary clinic
Most people will be more than happy to leave a review for your business - sometimes, all they need is a bit of encouragement. Below are eight proven strategies for getting more Google reviews under your belt:
1. Verify your business
Before you can start soliciting some reviews, it's important to claim and verify your Business Profile on Google. Claiming your Business Profile allows you to add and manage how your business information shows up across Google, while verifying your Business Profile ensures that your veterinary practice is eligible to show up on Maps, Search, and other Google services, and that you can respond to feedback.
2. Know how to share a review link
Your clients could leave you a review by searching for the name of your business and sharing feedback via Maps or the search results page, but to make their life even easier you can send them a link directly to your reviews page.
To create a review link:
Go to your Business Profile.
Click Customers > Reviews > Get more reviews.
Share the link with your customers directly or use the sharing options provided.
3. Just ask!
The simplest way to get more Google reviews is also one of the most effective: just ask! When you're checking a client out, ask how their appointment went. If you get the impression that it was a positive experience, segue the conversation into the value of Google reviews and how their feedback can help other pet parents make a more informed decision about their choice of vet. Be prepared to guide the client through the process if they need a hand.
You can make life even easier by leveraging our integration with Customer Radar, a customer feedback platform that automatically invites your clients to provide feedback after their appointment.
4. Leave a link in your regular communications
You can leverage your regular communication channels to follow up with happy clients and ask for reviews. Communication channels vary from clinic to clinic but may include:
Text messages.
Email. This might be a large-scale campaign to generate more reviews, or a targeted email sent to a specific customer. To passively capture more reviews, consider adding a review link to the team's email signatures.
Receipts. Add a review request at the bottom of your receipts and use a URL shortener like Bitly so it's easier for clients to type out the link.
Appointment reminder cards.
ezyVet comes loaded with powerful automated client communication tools that make it a breeze to stay in touch with your clients. To see these communication tools in action, book a free demo.
5. Respond to clients who leave reviews
People are less likely to leave a review if they think their words are going to fall into the digital abyss, never to be seen again. To encourage clients to leave more reviews, always respond to feedback - including both positive and critical comments.
Taking the time to reply to reviews signals that you care about the customer experience and encourages clients to leave their own feedback. Think of this as an opportunity to engage with your clients, show your appreciation for their feedback, and perhaps even get some ideas on how to improve your business.
Remember to always keep it professional - 82% of consumers will intentionally look for negative reviews to see how a business handles criticism.
6. Emphasize how easy it is to leave a review
You know how easy it is to leave a Google review - but your clients may not. Some clients may be under the misconception that sharing feedback is a difficult or time-consuming process, which may deter them from writing a review.
The solution here is simple: emphasize how easy it is to leave a review. Walk them through the process if needed and let them know that it's perfectly okay to leave a one- or two-sentence review if they're feeling a little laconic. And if they're really struggling to articulate their thoughts, there's always the option of leaving a star rating without writing anything at all.
7. Share the review link on your social platforms
Social media can be a reliable source of Google reviews. Every couple of months, simply write a post asking your followers for reviews and emphasize how much you value their feedback. Below is an example - feel free to use it on your social channels.
"If you've got two minutes to spare, we'd really appreciate it if you could leave us a Google review! Your feedback helps other pet parents who are looking for a vet AND it helps us grow as a business.
You can leave a review here: <link to your Google reviews page>. Thanks!"
Sharing positive reviews and testimonials with your social media audience can also encourage other happy clients to share their own reviews. Be sure to get consent from the author of the review before publicly sharing it.
8. Don't incentivize reviews
Don't fall into the trap of incentivizing reviews. While it may be tempting to offer your clients a little reward or discount in exchange for a review, Google tends to frown on this sort of behavior and may relegate the search rankings of businesses that it believes are incentivizing reviews.
The risk of getting caught might be low, but it's good practice to err on the side of caution and stick to collecting genuine reviews the old-fashioned way - with gentle reminders and great customer service.
Takeaway
Google reviews can help you build trust, attract more clients, and improve the online visibility of your veterinary practice. Whether you ask for feedback in person or digitally, incorporating review requests into your communication processes is the key to rapidly building up a stockpile of positive Google reviews.