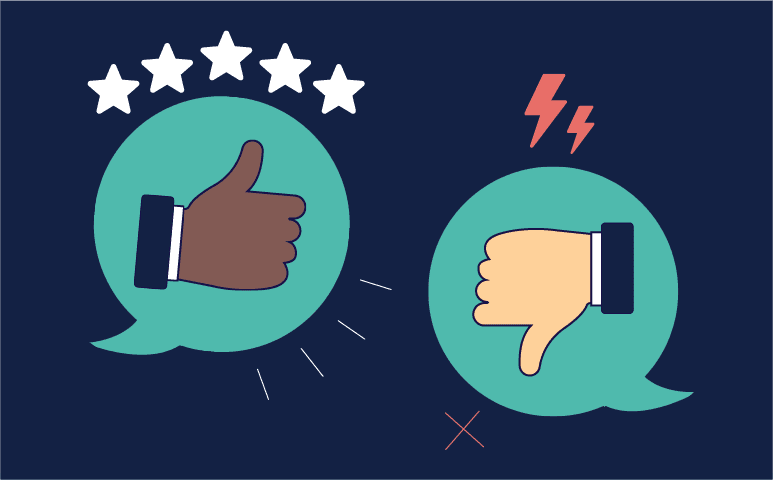 Emotions can run high in a veterinary setting, and can spill over onto online business reviews. It only takes one negative review to put a damper on your day, and more energy dealing with this than ten positive reviews put together. The good news is that although people tend to seek out negative reviews, they often look at how the business responds too. Here are a few tips to help you keep focused on what's important when it comes to dealing with online reviews.
Tip #1 - Prepare for the inevitable 📋
The first step is to claim all online business accounts and listings. The reality is online directory sites such Google, Yelp, and Facebook can still collect reviews on your practice even if the listing isn't claimed. Although you have no control over who can leave a review, you have control over being notified of when they do and responding accordingly in a prompt and concise fashion.
From here, dish out page admin access and set a protocol for the page admin(s) to follow. Having a clear process outlined from the beginning makes it easier for the team to know how to handle the negative or positive review, what to respond with, and whether it needs to get escalated to the manager.
Tip #2 – Segment the type of review
Breaking up reviews into main categories or themes will help craft out the best ways you respond to them. We found that veterinary practices generally receive 3 types of negative reviews:
The reviewer is not your client at all
Usually, these take form in general comments about opening hours or a low star rating with a vague mention of service given without an explanation.


Emotional rants or outbursts
This is not common after an unnerving event, e.g. euthanasia, or COVID-19 related protocols.


It's about the bill
Most of the time, it's unsurprisingly about the money.
Tip #3 – Proactively protect your practice against negative reviews 🛡️
Praise-to-Criticism Ratio is key, meaning if most of your online reviews are positive, any negative ones would be few and far between. A Harvard Business Review study found it takes at least 6 positive feedback to offset a single negative one.
Be proactive with getting good or bad feedback, before it makes its way online. Create a process to request feedback and reviews from customers, or better yet automate this process with a service like ReviewTree


Tip #4 – Follow these Do's ✔️ & Don'ts ❌ when drafting your response
Do's ✔️
Take an empathetic approach, put yourself in their shoes
Thank them for taking their time to share their concerns
Politely call out any non-clients ("I can't seem to find your record in our system…" ) and put the onus back on them to contact you to discuss the issue
Try to take the conversation offline
Be willing to take responsibility and try to make things right
Ask for a second chance
Keep in mind that you are writing as much to the people reading your response as you are to the person who wrote the review
Don'ts ❌
Don't take it personally
Don't go on the defensive
Don't attack the person
Don't fill your response with details to 'make your case'
Don't ignore the review, no matter how unreasonable


Tip #5 – Legal action is not worth it
In extreme cases, businesses can opt to build a case for defamation against the reviewer. However, this is not recommended as the extensive cost, time and mental energy needed to reach the desired outcome is usually not worth it. The focus would be better spent on encouraging supportive clients to leave positive reviews and building relationships with new ones.
Tip #6 – Finding the 'Positive' in the 'Negative' 👍👎
A well-worded response to a negative review can be turned into a positive. Remember, a public response can be seen by a potential client so here's your opportunity to show how you handle criticism. Utilize any commentary about practice operations as a chance for process improvement. Take any feedback about staff communication onboard and provide additional customer service skills training if necessary.
Tip #7 – Don't forget to deal with the good reviews too 🎉🎈
Try not to take the positive reviews for granted and be sure to respond to these too. Boost morale by passing on great feedback at staff meetings and give recognition to star performers. Sharing good feedback as testimonials on your business website or social media also helps promote the good work your team does.
Online reviews will continue to occur as long as clients see this as an avenue to share their thoughts or voice their concerns. Consumers tend to trust negative comments as being more useful so use this to your advantage by showing how you handle difficult situations positively. Acknowledgment that they have been heard, no matter the sentiment, is key to taking control of the narrative and using it to your advantage.