The Ohio State University College of Veterinary Medicine is one of the leading veterinary colleges in North America. Founded in 1885, the college has graduated almost 10,000 DVM, MS, and PhD students, and is currently home to 720 professional students, 160 faculty members, and almost 1,000 ezyVet users.

At the nucleus of the college is the Veterinary Medical Center, a state-of-the-art facility comprised of six hospitals, including the newly completed Frank Stanton Spectrum of Clinical Care. Collectively, the center provides 18 small animal and 14 farm and equine clinical services, a full clinical diagnostic lab, diagnostic imaging services for small and large animals, and a full-service veterinary pharmacy filling more than 45,000 client prescriptions annually.
We caught up with a few members of The Ohio State University College of Veterinary Medicine to find out how they use ezyVet to work more efficiently and deliver gold-standard care.
Cloud-based system offers instant access to clinical information
To provide the highest standards of patient care and student education, the Veterinary Medical Center is constantly pushing the boundaries of technology - and it's that quest for innovation that inspired the transition to ezyVet in August 2020.
"Being at the forefront of technology is really important," explains Jordan Barson, Assistant Director of Hospital Information Management at The Ohio State University Veterinary Medical Center. "The hospital as a whole is very technologically savvy. It's vital that we have the latest and the greatest and that our clinical teams have the best tools possible."
Efficiency is important in any veterinary environment. But when you're running one of the largest veterinary hospitals in the United States and examining 60,000 patients annually, operational efficiency isn't just a nice-to-have - it's absolutely critical. To achieve that efficiency, the Veterinary Medical Center needed a practice management system that could unify the hospital's departments, cater to a highly varied caseload, and meet the needs of faculty and staff alike.
That's a big ask. Prior to ezyVet, the college ran on a partially paper-based system. With this system, it wasn't always easy to access patients' clinical records or exchange information between departments, which often caused operational bottlenecks as staff scrambled to retrieve paper records.
"We were limited in the information that was included in the clinical record," says Veterinary Medical Center Radiologist Dr. Eric Green. "Much of the information was written down on paper, and so we did not have access to that from the radiology department."
ezyVet has helped tear down these information silos. Eric has found that ezyVet provides seamless access to patient records, empowering him and his team to work more efficiently.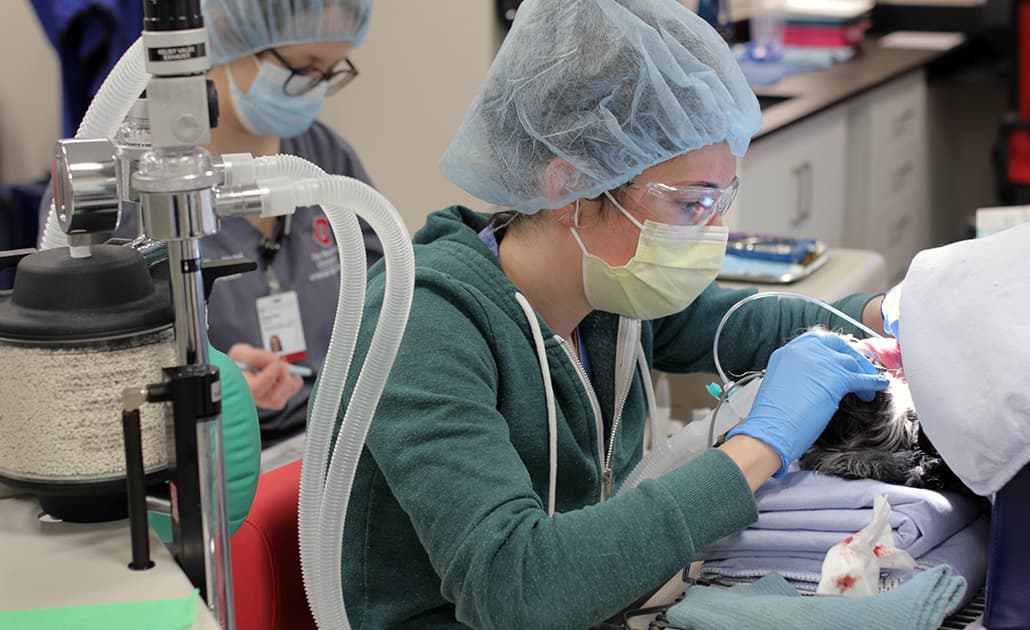 "I think that ezyVet has streamlined our operations in that there's no longer a need to search for a paper record. Everyone has access to all of the medical record information. It makes the continuity of care much better and allows us to really provide a higher level of care for our patients."
Better access to information also means better learning outcomes for students. Because students can now access a patient's complete medical history in one place, they're better equipped to make more informed clinical decisions.
"ezyVet has helped us elevate our expectations of students," says Leanne Lilly, Assistant Professor of Clinical Behavioral Medicine at The Ohio State University Veterinary Medical Center. "There is now no reason for them not to review everything that we have because it's all in the same place, instead of some of the records being on paper. I think that's actually really helped us turn students into better prepared clinicians."
Gaining exposure to ezyVet at school also helps students prepare for the transition between college and career. Because ezyVet is so widely used in general practices, using ezyVet at the Veterinary Medical Center enables students to get familiar with the same systems and processes that they could very well end up using after graduating.