In their own words, Dr. Tony Cambridge, BVMS & Diplomate ACVS and Emily Chang, RVT share how they turned a difficult situation into a thriving success with the help of ezyVet and SmartFlow.

Dr. Tony Cambridge: The reason for VSSOC's success and support from our veterinary community comes down to us giving everything for each and every patient. When a patient arrives to us, we work our hardest to get a solution for that patient, whatever is within the client's budget and constraints. We don't want to close the door, turn them away or say this can't be done (obviously within reason).
When we all got the news that the world was taking a shift and a futuristic pandemic was now the new reality, our first sense was that the world would cease to turn and everybody would lock down. We worried about how we could maintain our facility and our staff. But the reverse happened; we became inundated with phone calls and people wanting to come in. Maybe it was due to general practices and other specialists in the area remaining closed, or because people were stuck at home and spending more time with their pets. Whatever it was, we went from 8-12 surgeries a day to 15-20 surgeries a day. We had to triple our efficiency and fast.

One Saturday morning, Dr. Sebastyen decided that we will no longer have people come into our building. I thought, "WOW, that's a bold step.". That was the new normal from that day forward, despite logistical problems at first with the need to communicate to clients on the changes to expect. Previously, we would have communicated with everyone individually via telephone. But thanks to ezyVet we could quickly send out a bulk email addressed to each customer personally with specific information about their pet and instructions to prepare for their appointment.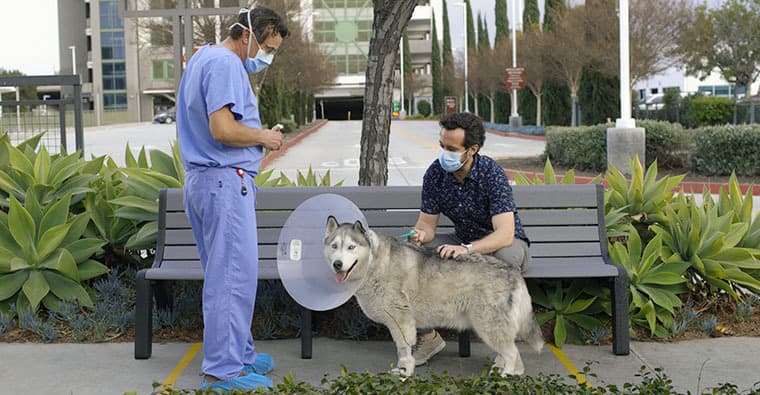 Dr. Tony Cambridge: Conducting patient consults outside was another great way we tripled our time spent on customer care. Patients were much more relaxed waiting outside on a park bench with their owner in the California sunshine. No more waiting inside for a room to free up! This is something I want to continue indefinitely.
As we perfected our curbside consult operation, we started optimizing SmartFlow in ways that would benefit the current circumstances. For example, we altered fields that were previously used for allergies to determine which car park the patient was in. Having this set up in conjunction with ezyVet was a great way to keep an overview of our swarming hive. A few months in, the developers from Vet Radar gave us a call as they were really interested in what we'd done. They told us they would incorporate these extra features into Vet Radar straight away. It's a great feeling to be heard, to know that they are moving with the time and I look forward to giving Vet Radar a go.

Now that we don't have clients in the building the phones started ringing more and more. At one point we were answering up to 600 calls a day. Fortunately, with ezyVet our cloud base practice management software working in conjunction with our cloud-based phone system meant that we could have people working from home answering the calls. Some people were anxious about coming into work, and some of our staff lived with vulnerable family members, so this was the perfect solution for retaining staff and keeping on top of our heavy workload. I don't know how we could have managed operations without the remote staff.
Other software we used in the past only allowed one person access to patient records at a time. In our current setup with ezyVet, we could have up to 5 people accessing the same patient record simultaneously. One may be working on invoicing, one could be looking at where the patient is in the process, one may be adding in medical notes, and one may be sending an x-ray to that record.