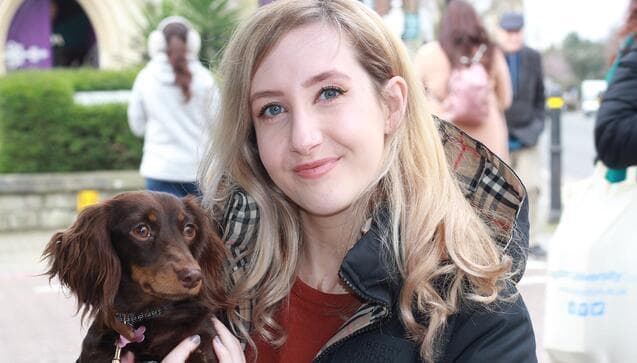 Welcome to What's Quacking! A meet-and-greet series with our awesome humans. Get to know the people at ezyVet, what makes them tick, their role and life outside of ezyVet.
Meet Emily Chamberlain, Support Specialist, UK.
What made you want to join ezyVet?
I have always wanted to be a Vet from a very young age. When I was unable to study to become a Vet, I decided to study Zoology instead which I absolutely loved. After university I drifted away from this passion and became really miserable, I really missed it. When I saw the ezyVet advert online (sounds corny) but I was ecstatic - it was my dream job, the element of travel, the involvement in the Veterinary industry and the perks.
How would you describe your day job to a 3-year-old?

Helping Vets behind the screen.
In 3 years, what do you hope to have achieved at ezyVet?
To have implemented ezyVet to multiple clinics across the globe, to have helped this company grow in the UK.
What motivates you?
Helping others and solving complex issues. There is nothing more satisfying than working really hard on a ticket or project and managing to solve the 'mystery'.
How did you get to where you are today?
Blood, sweat, tears and student debt.
If you could do any other job for one day, what would it be?
Food critic or anything that involves eating good food.
If you could pick anyone, who would you pick as your mentor?

David Attenborough - he is my inspiration.
What do you like to do outside of work?

I love to explore new food places in London, waste money in Zara and binge on TV shows.
Do you have any pets, what are they like?
I have a 3 year old cockerpoo named Womble. She's almost too human it hurts, a real pampered pooch who loves playing hide and seek with treats. Unfortunately she lives with my family back in Suffolk so I miss her a lot.
What is your favorite quote?

Not all those who wander are lost - (Gandalf) J.R.R. Tolkien
Do you have any advice for people thinking of applying to work for the company?

If you love the veterinary industry/software systems, working with amazing people & sausage dogs - It'll be the best decision you will ever make

Interested in a career with ezyVet? Explore roles here.