Booking Calendar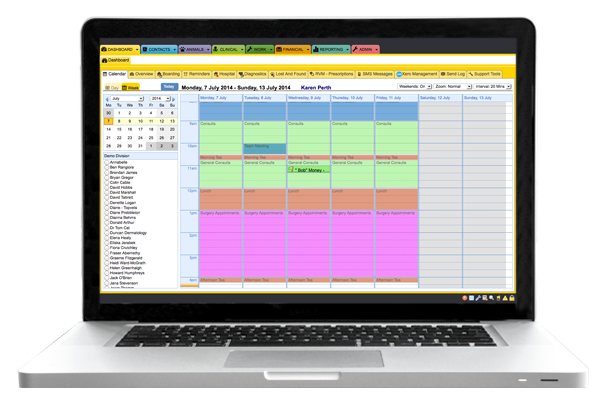 Book appointments with ease using coloured appointment types, status flags and icons to alert staff as to the stage of the patients' appointment and their progress through the practice.
The calendar has been designed to display appointments in a way that makes it easy to swap appointments between staff, and change booking times quickly. It provides staff members with real time data on appointments, statuses and what is happening with the day's appointments in a simple overview. Users can set their preferences to view the appointments in week view, day view and with different zoom levels. The calendar is a key component of the dashboard and is used by all users to get their days planned and the business organised.
The calendar planning guide makes it easy for front of clinic staff to book appointments at the correct times. The Hospital tab shows you a quick view of patients you have in your hospital and flags and notes can be written on appointments. All calendar entries are colour coded for ease of recognition.
Appointment Tool Tips
ezyVet has a really useful feature. When you hover over an appointment, it displays the key relevant information you need to know in a tool tip. Tool tips are very quick and effective to gain information without having to actually click into a particular record.
Billing Icons
Each appointment in ezyVet displays a number of different icons, which indicate at which point in the billing progress the appointment is at. An hour glass icon is displayed for a clinical record with an open unapproved invoice, a green dollar symbol for an invoice that's approved awaiting payment and a silver dollar symbol for a completed fully paid invoice.
Dashboard Features
The ezyVet dashboard encompasses the calendar and also ties together the Reminders Dashboard, Memos, Lost and Found, Hospital Screen and Boarding Module.