You've never seen a veterinary facility like this. The PARC is a 25,000-square-foot airy, open space with plenty of natural light. It's designed from the ground up to comfort and reassure pets and their parents, with mostly-glass walls, so you can see what's happening with your pet even when they're out of your arms.
Previously, Hulen Hills Animal Hospital was your quintessential local street corner clinic, tried and tested, but tired. Steve had a vision of transforming it into a cutting-edge animal hospital, with revolutionary facilities and technology, to provide the best possible care to his patients. Customers are also treated to the best of modern veterinary technology, including ezyVet, the leading cloud-based practice management software powering the operation.
The PARC's journey – the philosophy behind the transformation
Steve's 100-strong team has long offered expert care to pet owners and their pets, for everything from 24/7 emergencies, illness and injury, to wellness, vaccines, grooming and boarding. As his successful practice has grown, it's evolved, embracing new technology and best practices.
"I wanted to communicate a vision that we really care about people, we're veterinarians who love animals, and our entire staff wants to connect with people and patients. The PARC stands for 'people, animals, revolutionary care'. Our new facility is an all-glass environment because we have nothing to hide, and that eases fear because people are afraid of what they can't see.
The transformation was seamless, and ezyVet has really helped us provide that revolutionary care."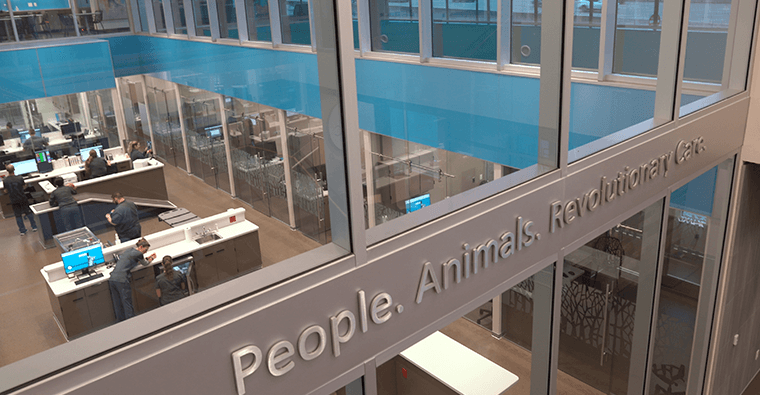 Upskilling and fostering collaboration
Operating in such a cutting-edge environment, having systems in place to keep the team upskilling is paramount. It's little wonder then that The PARC has its own lecture theatre to help train staff and foster the sharing of ideas.
"We designed the Thrive Training Room, because we want our employees to thrive in both their work and their personal lives. To do that, we have to teach not only about treating a diabetic cat, but also our core values and that we're relational and collaborative."
In this regard, the choice of ezyVet is important. "On top of being really fun to work with, ezyVet is relational, easy to work with, and helps us to collaborate. The software is transparent, clear and delivers on its promises. It was as easy for me to learn as it was to teach, and when I want to learn a bit more, the ezyVet user and help videos are extremely informational."