Intense caseloads, exceptional service, maximum efficiency, and cohesive continuous communication with multiple stakeholders. Veterinary Surgical Specialists of Orange County (VSS) is a state-of-the-art surgical practice operating within the Advanced Veterinary Specialty Group (AVSG), a large cohesive group of independent specialist practices, including Internal Medicine, Emergency, Dermatology, Dentistry, Imaging and Oncology.

VSS treats a high caseload of small animal surgical patients, in orthopedic, general surgery, surgical oncology, and neurosurgery. They are dedicated to exceptionally high standards in surgery, patient and client care and overall service. Efficiency is a high priority and providing excellent direct and written communication to their colleagues both in AVSG and their referring veterinary community has been key to their success.
In a common situation for specialty practices, unstable and stagnant software was causing major disruption. VSS diligently searched for and implemented a solution that would solve their immediate problems and ensure long-term benefits and growth for their practice. Today, staff at VSS are enjoying working in a practice that minimizes repetitive recording tasks and capturing records in a rapid logical crisp format, putting focus back on providing the best care.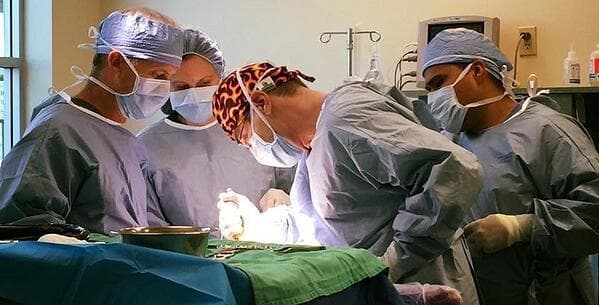 The Situation
Case volume had been increasing for many years. To cope and increase both efficiency and level of service, VSS improved many facets of the practice by implementing evolving technology. Their practice management software, however, was not evolving with them and had remained stagnant for the last 10 years with an unstable database causing frequent outages. Sending communications to clients and referring veterinarians was a strictly manual process through email, and only one staff member could access a patient's record at a time.
VSS was fully paperless, but the opening of scanned attachments was laborious with multiple redundant steps. Radiographs were stored in an entirely separate un-integrated PACS system and manual patient data entry needed to be performed for any ancillary testing within the clinic. There was a growing need for integration and automation was sorely needed all around.
VSS wanted a solution with up-to-date optimized features and a commitment to ongoing planned evolution. They needed multiple users to access records simultaneously, and a simple interface to view the entire medical record in one screen, without having to close in and out of different components. Integrations that allowed collaboration between connected systems, departments and partners along with a stable cloud-based database was essential.
Ultimately, they needed a solution that would keep VSS functional and efficient.
Finding a Solution
Dr. Tony Cambridge BVMS DipACVS and the VSS team began an exhaustive search for a software solution, attending multiple demonstrations with different options. Some had a poor portfolio of features unsuitable for a specialty practice. Many others only offered fixed solutions that would force VSS to bend their needs to fit the software. And none of the options provided both simplicity and comprehensiveness in record review and record completion.
One software did stand out. ezyVet was a solution that had the ability to be configured for their unique and specific needs. A solution that offered a quantum leap in efficiency through automation and robust integration with both in-house and third-party tools.
"ezyVet listened to what we wanted, rather than tell us what we needed"
An important and major differentiating factor in their assessment of ezyVet was that VSS could customize and access ezyVet's demo-site, 24/7. Being able to make real-time adjustments to the software and review all functionality in-depth helped Tony & the team to understand how the solution would work for VSS.

The endless list of questions and potential scenario conflicts that VSS had were answered by expert operators with a deep knowledge of the system's functions. VSS were also put in touch with a network of practices that had already transitioned to ezyVet and were willing to share their experiences. This was all before any contract was signed or commitments made, clearly differentiating VSS' top pick.
A Daunting Transition
Having finally found their solution, VSS braced and took the plunge into transitioning to a radically new system with new functionality. The team had to learn to confidently use the new software to its full potential and transfer over 20 years of records while the practice was still operating at full-pace.
The entire team at VSS needed preparation well in advance, clear communication with their committed ezyVet implementers, Josh and Cordi, and the courage to take on the huge task ahead.
Key staff were identified to shoulder the brunt of the responsibility and champion the project. Working alongside ezyVet they took VSS' wish list and turned it into reality. ezyVet provided tools and training materials that allowed those staff to become VSS' own in-house "ezyVet Gurus", who are still implementing new automations and expanding features to improve workflow.
During the transition, an opportunity arose for VSS to change their mode of financial operation. Against great initial resistance but to their long-term benefit VSS were persuaded by ezyVet to enhance their billing workflow; rather than operating from and making adjustments to an estimate, VSS now utilize event-driven billing that integrates into several third-party systems in and outside the practice. Bills are now automatically generated at the time services like radiology, in-house lab and medication delivery are requested or administered. With assistance, VSS developed billing templates for common surgeries with automated pick lists that give staff quick options to choose things like sizes of anticipated implants. Simultaneously inventory used is logged and billed at the same time those specific metrics are entered into the patient medical record.
"ezyVet's enthusiastic employees genuinely wish to assist with concerns or difficulties and appear to understand the significance of the impact when challenges with features are encountered"
Integrations with other partners like Vet Rocket, Smart Flow, Abaxis, Antech and Idexx were also facilitated to reduce redundancy in requesting tests, and allowed VSS to incorporate and capture data from electronic treatment sheets and anesthesia charts.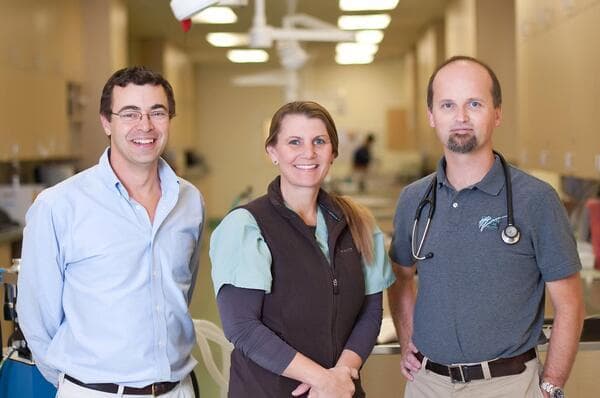 "Job done, no regrets!" - Tony Cambridge, BVMS DipACVS, Diane Craig, DVM DipACVS, and Peter Sebestyen, DVM DipACVS; The surgical team at VSS
VSS Today
Today, VSS strive for ongoing improvements in efficiency by minimizing time spent on administration, automating repetitive processes and data entry while maintaining accurate medical recording.
Day-to-day record keeping is far more efficient. Multiple staff can work on records simultaneously. Radiographs, lab results and treatment sheets automatically populate the medical record, allowing additional methods of distributing results, and email and SMS communications can be automatically triggered. Two-way SMS has eliminated a significant number of hours of phone confirmation; client responses now trigger confirmation notifications within the patient appointment window. Features like shorthand can be customized from a practice, department, and individual user level. The staff and doctors at VSS can now customize the system how they wish at individual level including what components of a record are displayed in which windows and have greatly improved the speed and ease of record completion.
"ezyVet appears to thrive upon making the product better, future feature requests are not simply dreams, they will work through them methodically, remove glitches and turn them into realities in short order"
VSS are currently collaborating with ezyVet developers to automate CURES reporting (California's Prescription Controlled Drug Monitoring Program), which is a substantial labor cost for many practices. VSS are looking forward to helping ezyVet continue to evolve the software to the benefit of other veterinary practices using the system.
ezyVet software is ideal for all types of veterinary clinics that are looking to become more efficient and profitable. Read more about them here:
Thinking about switching? Talk to us and we can put you in touch with other clinics like yours who have already gone through the transition.