The journey of how Ruby Duey, co-owner and hospital administrator at Kingman Animal Hospital, ended up with ezyVet is one most practices can relate to. We caught up with Ruby as she wanted to share her story to those who were in a similar position as she was. Established in the 80s, Kingman is the go-to hospital for all animal types, including exotic, equine and farm animals. Based in rural Arizona (not far from Las Vegas), they are one of the top animal hospitals in the area.
Ruby joined Kingman in 2000 as a Certified Vet Tech and jumped at the opportunity to purchase the business with her best friend (and Head Vet) in 2007. Having gone through three Veterinary Practice Management systems in nearly 20 years, Ruby says "we know what works and what doesn't."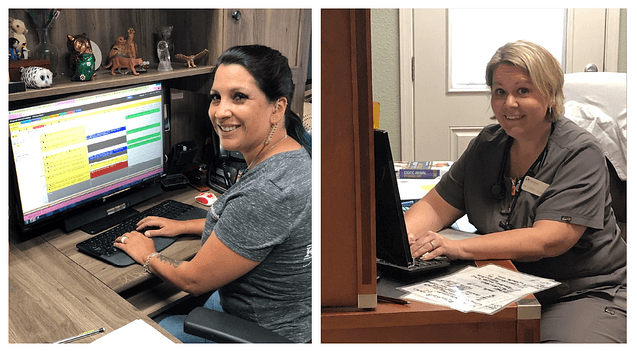 The Situation
In 2012 and a few years into practice ownership, Ruby decided it was time to upgrade their antiquated Veterinary Practice Management software, one that was set up well before her time. Ruby settled on a software run by a large conglomerate, a decision Ruby says she looks back on with regret, "This was my first ever software transition and we were basically thrown in the deep end to familiarize ourselves with our new software."
Ruby remembers they got off to a terrible start. The trainer came onsite for three days but spent half that time setting up the server. The remaining time was spent trying to train 20 staff all by himself, with the focus on how to check patients in and out. The trainer left the team at Kingman to their own devices, leaving them to figure out how to use inventory and modules, workflows integral for the hospital to run smoothly.
After making a big investment in hardware and set up costs, Ruby felt stuck with this software, and things went from bad to worse over the next five years. Unhelpful customer service, slow system speeds and frequent system freezes were the main issues Ruby had to contend with. It did not end up being as paperless as they had hoped; patient charts still needed to be completed on paper as the system could not keep up. After five years with the system, the team at Kingman still did not know how to use half the modules and weren't able to use the whiteboard feature for surgery. Ruby had enough and wanted to start fresh.
Determined to put the negative experience and second system behind them, Ruby and her Practice Manager spent the better part of 2018 going through all Practice Management options with a fine tooth comb, determined not to be stuck with another badly supported software.
Ruby contacted every viable solution she found online to talk through her requirements. The main criteria for their new system was for it to be cloud-based and one they could grow with. They even created a large binder that held all their research notes and info collected during demos with various companies.
The next stage was to visit other practices to observe how the software applied in real-time. During her hunt for the best solution, Ruby visited a total of four other practices dotted around the state of Arizona. Two of the systems were ruled out for being too basic as Ruby thought to herself, "It was never going to make it at our busy practice". ezyVet ended up being one of her top two contenders. They visited a beautifully set up animal emergency center 3 hours away in Scottsdale to review ezyVet in action and realized the potential to grow with this solution.
The final decision came down to which option Ruby thought had the best design look and feel and ease of use. Flipping back and forth between two companies' demo sites on her browser tabs helped Ruby decide which she liked the look of better. Compared to ezyVet, the layout of the other option seemed much busier, less pleasing to the eye and Ruby could not picture herself working with it at all.
"ezyVet was just prettier and nicer to look at, more organized with 3 levels of tabs, and looked pretty easy [to use]".

The Transition That Followed
Unsurprisingly, Ruby was nervous on how the implementation and training would run and whether it would be worth the added time and money to bring the ezyVet team onsite.
This was alleviated by the thoroughness of the ezyVet implementation team's training, and their thoughtfulness as multiple assurances were made throughout the set up process that it would be a problem free transition. There were also initial concerns on the speed of internet in her small town, but this has not proved a problem at all in the 6 months since their Go-Live.
Most importantly, Ruby is impressed at how well her entire team has rolled with it. The biggest noticeable difference to her day-to-day is that the number of staff queries and questions on how to use the system had dropped off, even after only six months with ezyVet. This was a refreshing change as the previous system saw her inundated with questions and problems she had to resolve. Even the new hires that come on board have had little problem picking things up with ezyVet's intuitive interface compared to the previous one. Kingman now uses as much of every feature and module of ezyVet they can, unlike the previous system where they did not know how to use half of what was available. Furthermore, the customer service of the ezyVet's Support Team exceeds what they use to receive.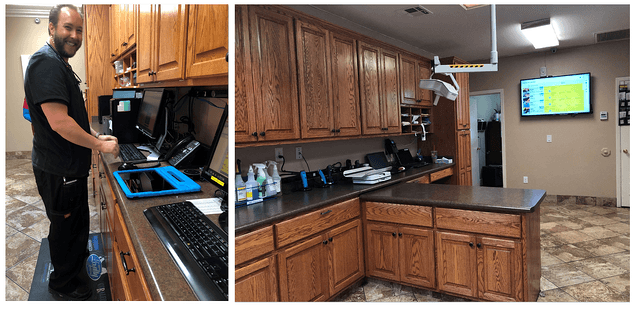 Kingman Animal Hospital Today
Ruby breathes a sigh of relief at her decision to set up with ezyVet and is thankful her diligence during her search phase had paid off. Ever since switching to ezyVet, Ruby has noticed her practice running more efficiently, and feels she is getting better value now she is able to use all aspects of the software as opposed to only half of the features.
She feels Kingman Animal Hospital's future is bright with ezyVet and looks forward to integrating upcoming features and being included in the journey. Her team are currently looking forward to the post card integration and have jumped on board to be part of the pilot team to test this new feature.
"[ezyVet] been very easy to use, and we use every bit of it, including all the modules we can."