For 35 years, Best Friends Animal Society has been running the USA's largest no-kill sanctuary for companion animals, building effective programs that reduce the number of animals entering shelters. We spoke to Medical Director Dr. Erin Katribe, Veterinary Technician Team Lead Betsy Kidder, and Clinic Operations Manager Norman Retes about their organization's incredible vision, and how they use ezyVet to create efficiencies that support sanctuary efforts.

Can you tell us about Best Friends Animal Society?
Dr. Erin
The vision of Best Friends Animal Society is a better world through kindness to animals. Our mission is to bring about a time when there are no more homeless pets. We are committed to accomplishing this by the year 2025.
We want to end the needless death of animals in shelters only because there are not enough homes for them. Here at the sanctuary, and particularly in the medical department, we accomplish this by developing innovative solutions to help special needs animals. We have the resources here and the unique situation where we're able to really address those animals. As you can imagine, many animals with special needs are the ones losing their lives in shelters across the country. Certainly, there are challenges with the work we do every day, but everything we do goes to help save the life of an animal – which can make a big difference in the world.

Norman
Partnering with the local community is super important for Best Friends to help drive our mission, so we support them in a couple of different ways. We provide spay-neuter for our local shelters and rescue organizations in our city and surrounding areas as well as offering vaccine clinics, microchips, and low-cost care for the public. In the event that there's an animal that needs us, we'd like to provide that support.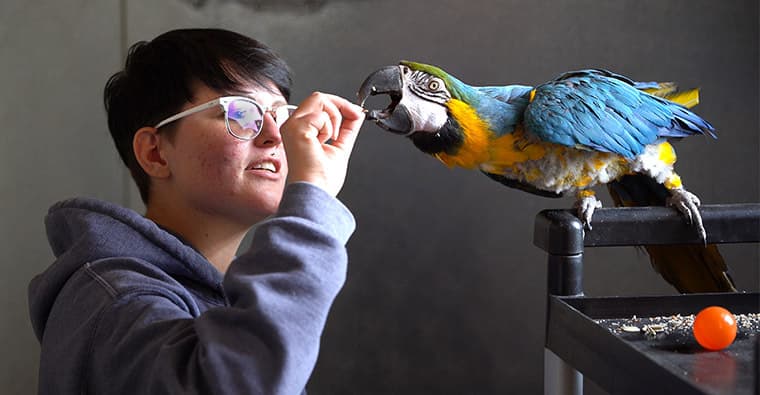 What brought you to ezyVet and how have you found it so far?
Norman
Our previous software couldn't keep up with the unique challenges we were facing at Best Friends. Our server kept crashing, which required a lot of man-hours to upkeep. Being cloud-based was an appealing factor of ezyVet, plus we had a really great implementation team that worked with us side-by-side to solve problems and come up with solutions to meet the needs of our unique situation.
Betsy
What's amazing about ezyVet is its ease-of-use and the fact we can take it anywhere. This is phenomenal as the sanctuary itself is very large, so even just to do our rounds we have to move all over the property. We can do a blood pressure check and enter it in real-time – and when we're pulling blood, we can simply enter it into the system and run that blood immediately upon return. It's already there for us, ready to go – which makes our job so much more efficient.
Norman
We have about 1,700 animals under our care at any given time – which means there are a lot of treatments and care that animals require consistently. We were able to leverage ezyVet's Standard of Care functionality outside of its conventional vaccine and deworming reminders so staff can easily stay on top of this.
The medical department was also really excited by templates that provide discharge instructions to keep animal care employees in the know and provide the best care possible for patients at any given time. For example, we had a bad weather situation recently where all surgeries for the day were canceled. Working remotely, it was easy to do some quick shifting without too much disruption.
I would say for anybody that's looking for a practice management solution that can be customized to their unique application and scalability, ezyVet would be a great product to explore.

Betsy
Once I got a text message from my boss at 7am about upcoming surgeries for the day. Because I have ezyVet on my phone, I was able to access the surgery calendar, make some quick shifts and send some memos in no time. Once I got to work, I could get on with my day immediately and focus on patients, as ezyVet let us move things around and still have a full load of surgery scheduled. And this was all at 8am before I'd even started my day!
Dr. Erin
ezyVet absolutely helps us accomplish our goal of lifesaving for all the pets we care for. The software makes things more efficient, which saves us time and resources, which means we can save more lives.