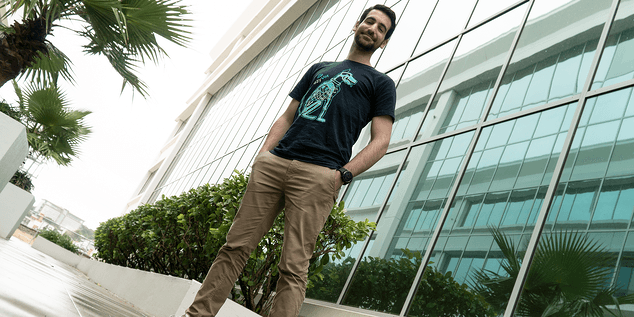 Welcome to What's Quacking! A meet-and-greet series with our awesome humans. Get to know the people at ezyVet, what makes them tick, their role and life outside of ezyVet.
Meet Yif Swery, Development Team Leader, Auckland.
What made you want to join ezyVet?
After having worked on my own for a year, I realized just how much I value the social aspect of working along side others. I was seeking to join a company that takes its people and their culture as seriously as they do profitability and business growth. After a catch up and later an interview it was apparent that ezyVet is made up of the most amazing, fun, and smartest people, a team which I wanted to be part of!
What gets you fired up?
Working in a team to get s*** done every day is what gets me excited and fired up! I want to make a positive change for people when ever and where ever possible!
How would you describe your day job to a 3-year-old?
I play with computers 🤓
In 3 years, what do you hope to have achieved?
I want to help and to see my peers grow, whether its technically, getting them to think differently or even something as simple as raising confidence in what they do everyday. In the next three years, if I could enable my colleagues to grow to do what they truly enjoy it will be the biggest win I could ask for.
How did you get to where you are today?
Creating and tinkering with pet-projects (what a pun!) is what kept giving me continuous exposure to new technical challenges which forced me to learn. But it never felt like "learning" since it was always solving problems that I was passionate or excited about in my spare time.
Also, Youtube.... It taught me just about everything I know today.
What are your biggest achievements to date – professional or/and personal?
I am super proud of my competitive archery achievements - having held a world record for three and half years and having competed in multiple world championships when I was a teen.
If you could do any other job for one day, what would it be?
I would love to go to Antarctica (not just for a day but for a full season) to be something like a communication engineer. Working in such a remote and unexplored continent would be a life changing experience!
If you could pick anyone, who would you pick as your mentor?
My older sister, Elinor.
What do you like to do outside of work?
I am a massive fan of the outdoors, going to amazing and beautiful places where not many have been before. Also I am getting into recreational photography - check out my creative Instagram account at: https://www.instagram.com/adventuroussimplespoon/ (shameless plug)
What is your favorite quote?
"You're progressing on something and that's what it's all about. You wanna keep moving, having a progress in your life." - Ueli Steck