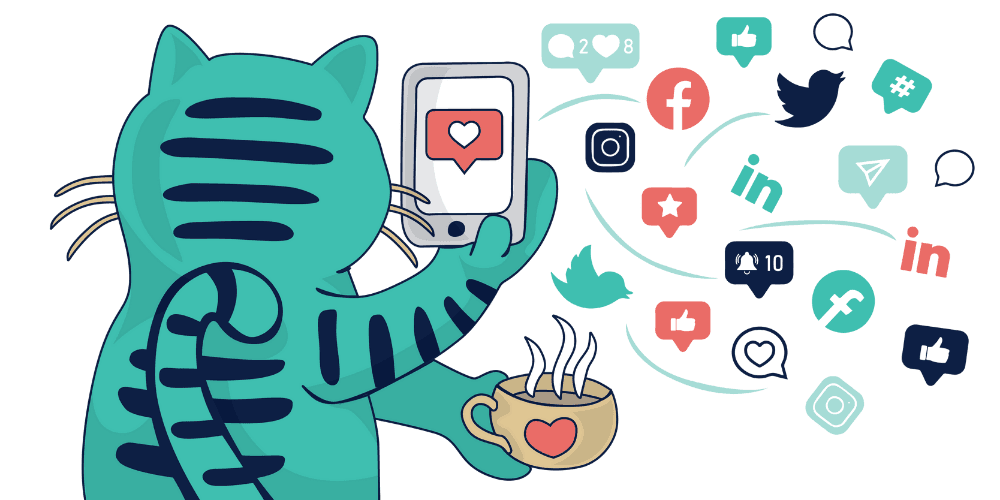 Let's start with one simple fact: your business needs a strong social media presence. A whopping 3.96 billion people use social media and on average have 8.6 accounts across multiple platforms like Facebook, Instagram, Tik Tok. With these kinds of numbers, having an active online voice is paramount.

Indeed, the first digital footprint of many veterinary businesses is setting up a Facebook page, even before creating a business website. However, keeping the fire stoked is often an afterthought. To help you better manage your content creation, we have put together 4 key tips that your practice can use to thrive in a digital world:
Tip #1: Plan ahead ⏰

Decide when & where to post
Think about which platforms you'll be on, and how often you can post. Social media is all about frequency so there is no point setting up accounts on Twitter, Instagram, and Tik Tok if you aren't able to create content regularly. An inactive account is akin to a closed shop – if your latest post is 9 months old, you'll need to reconsider.
Confirm who's doing the work
If you delegate this to a team member who is a social media superuser, it is best to include it as part of their job description. Set aside time for them to schedule drafts and post to ensure it's not a rushed task, as social media management takes more time than it seems. It is recommended that goals are set (frequency of posts, follower growth, engagement growth through likes and comments) as these targets help separate posting for work vs posting for leisure.
Establish the type of content you will be sharing
Content planning usually begins with creating content theme pillars. Examples include an employee of the month post, patient success stories, capturing the journey of a client/patient, educational posts, and deal offers. Map out key holidays or events for the year and tie in seasonal offers such as spring, summer, or dental month.
Tip #2: Clever scheduling 📅
Create a social media calendar (Free)
You can use free online calendars as an easy way to keep on top of content. Start by assigning a topic each week on your social media calendar and gradually increase it to twice a week. This way, you're not having to rush around to find content at the last minute.

Facebook Business Manager (Free)
Use Facebook's Business Manager, which provides access to the Creator Studio, where you can draft and schedule future posts on both Facebook and Instagram.

Social Media Scheduling tools (Paid)
If you want to take it to the next level, there's a myriad of social management tools that help manage multiple social accounts from one platform. This means you can create a single post but publish it to multiple platforms at the same time, all from one place. Popular platforms social media managers use are Buffer, Hubspot, and Agorapulse


Tip #3: Be genuine 📸
Share behind the scenes content
Customers love to see what clinic life is really like behind closed doors and veterinary practices often have awesome content at their disposal. Capturing and sharing real-life images of their pets brings your customers along the journey with you, it's also a great way to create engagement as customers love seeing their furbabies in the spotlight.

Capture great images
A picture speaks a thousand words, so put in a bit of time and effort when capturing the perfect image. Is it blurry? Did you capture the essence at the moment? That top 5% of detail is what makes a big difference.
Don't use stock images
We recommend against using stock imagery as it's probably been used somewhere else before, so get creative and start using your patients as the stars of the show.

Permission to post
Don't forget to get approval from both staff pet parents. Some clinics even choose to have this on the consent form so it's a point of conversation when the patient is being checked in.
Tip #4: Keep engagement up 🧑🏻‍🤝‍🧑🏻
Connect with your customer
It is not enough to simply post on social media. Finding ways to boost engagement and connect with your audience is a way to maintain a long-lasting relationship with your customers and build trust and openness with your practice. Simple ways you can engage with your customers can be: joining in on conversations, answering questions, replying to comments, and running special giveaways, polls, or competitions.

Respond to all reviews
If someone has taken the time to write a review, you should thank them personally for their time. A lot of businesses put a lot of effort into dealing with the few negative reviews and forget to address the plentiful positive ones. Turn happy customers into repeat customers by offering them an incentive for their next visit.

As you can see, it's not all about knowing the buzz words or having a huge following. When used effectively, social media can help you educate clients, reach new customers and keep existing customers engaged. Practices of all shapes and sizes can leverage the power of social media to create their own loyal following.
Want to learn more about tips on marketing your practice?
Continue reading 7 ways to turbocharge your marketing with ezyVet