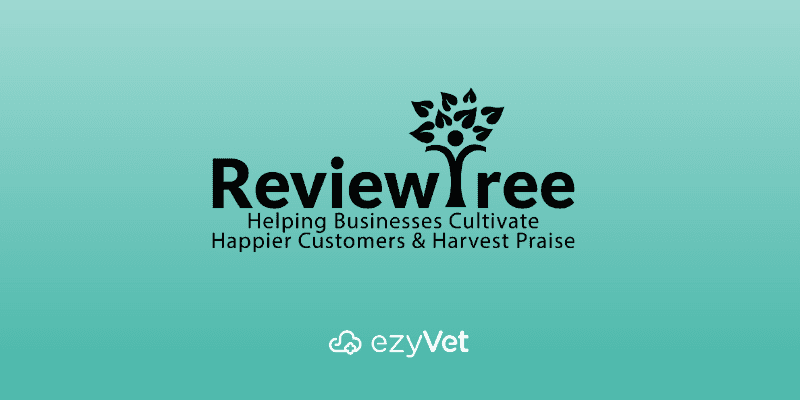 ezyVet has partnered with ReviewTree, an online tool that makes it easy for veterinary practices to manage their referrals, recommendations, and reviews all in one place. Like businesses across all industries, veterinary practices are familiar with the power of Word of Mouth (WOM) and the advantages it can bring. With the ReviewTree integration, ezyVet customers will find it that much easier to evaluate client feedback, enhance client experience and build up their reputation in a predominantly WOM industry.
What does ReviewTree do?
ReviewTree helps your practice automatically collect client feedback, generate online reviews, and calculate Net Promoter Score (NPS), with no extra work for you or your staff. You can easily monitor your practice's performance from real-time feedback, get new online and offline clients, boost local search rankings, and drive the success of your practice.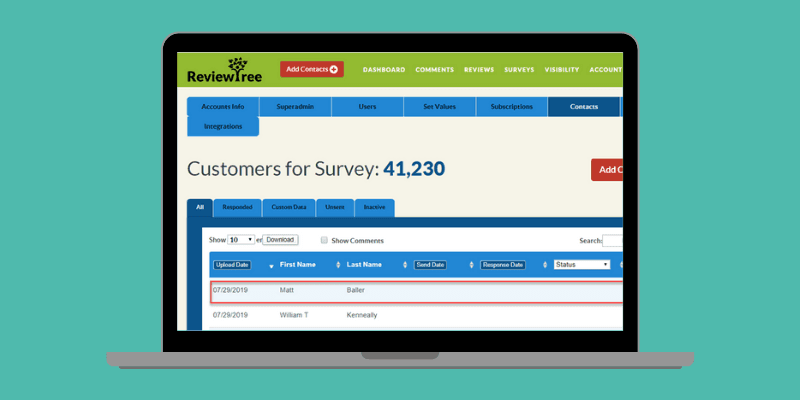 ReviewTree makes it easy for your clients to share their great experience with others.

Why you'll love ReviewTree
ReviewTree will help your practice acquire and retain customers.
Automate your feedback collection process – no manual work!
Never miss a chance to follow up with a client.
Resolve client problems faster.
Help your clients post their positive reviews with a single click.
Build a great online reputation and visibility with more positive reviews.
Increase staff morale and accountability; have staff feel appreciated and recognized by positive client feedback.
Grow your practice with ReviewTree
Veterinary practices that currently do not have a review generation solution in place see a 15 to 30x increase in positive reviews and recommendation when they implement Reviewtree. Where those with a manual solution in place see a 5 to 10x increase.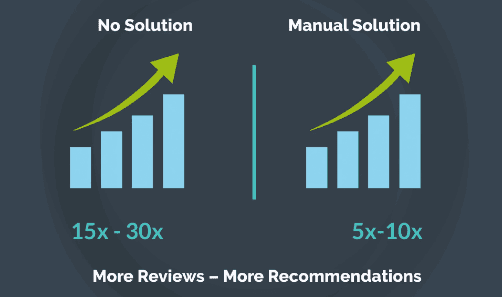 "Before integrating ReviewTree with our ezyVet account we used another (manual) system to generate reviews. We saw 10x of responses and reviews with a lot less work for our staff. We now never miss a chance to get feedback. Staff accountability and morale is also higher as every day they see our client's feedback about their work. We also identify client issues a lot faster and can provide better service with ReviewTree."

Warren Taylor, Operations Director, ZippiVet
How the integration works with ezyVet
Through ReviewTree, you are able to simply select which appointment types you'd like to survey, and how frequently. After a matching appointment is marked 'Completed'* in ezyVet, the ReviewTree integration will pass client contact information** from ezyVet into ReviewTree. ReviewTree will then automatically send a satisfaction survey to the client via SMS or email, collect feedback from the client, determine their satisfaction, and help connect happy clients to share positive reviews about you publicly.

Client feedback and satisfaction ratings will remain in the ReviewTree dashboard, from which you can review and report on performance. Your practice will also get an email or SMS notification when a new rating comes in.

* You can opt to use 'Complete', 'Departed' or a custom status instead.
* Client contact information is only used to generate feedback and reviews for your practice; it is never used for any other purpose nor shared with any third party.
All ezyVet practices receive a free 30-day trial of ReviewTree, plus the first 5 practices to register for a free trial each month will also receive a $100 Amazon Gift Card to go towards Staff Appreciation at your hospital. Simply register your interest here and reference "Staff Appreciation" during your setup call with ReviewTree!