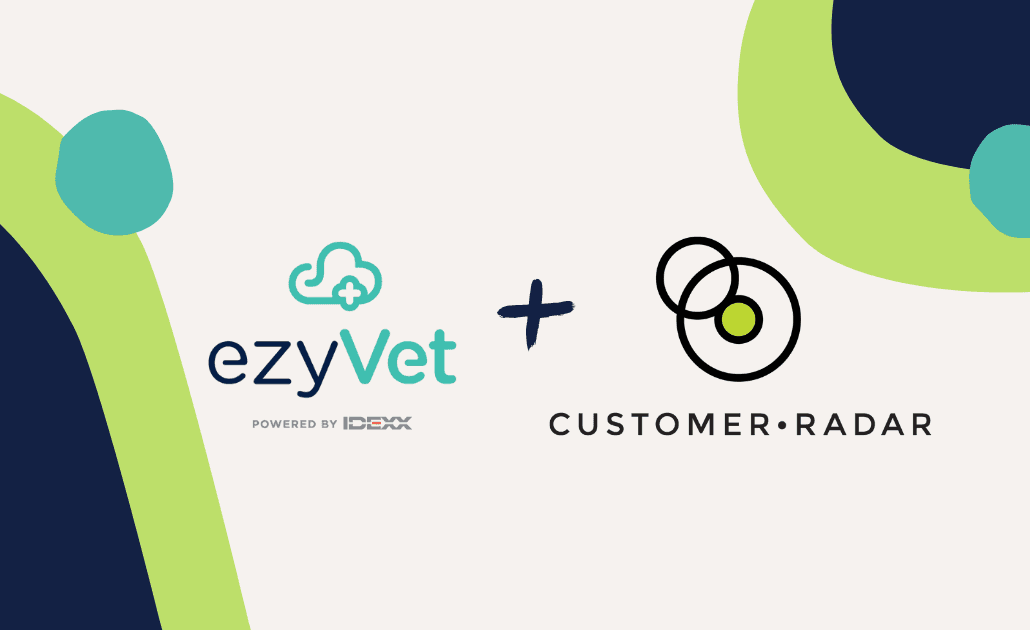 ezyVet and Customer Radar are excited to announce a brand-new integration that helps veterinary practices effortlessly request, manage, and respond to customer feedback.
What is Customer Radar?
Customer Radar is a real-time customer feedback and Google reviews platform. It helps bridge the gap between practice and client, giving veterinary clinics the tools they need to resolve issues before they make it online, deliver awesome service, and grow their Google reviews automatically.
Developed with busy people in mind, Customer Radar is intuitive and easy to use, so you can focus on delivering great experiences that your clients will love.

Customer Radar makes it quick and easy for your clients to give feedback. Clients are asked just two simple questions: how likely they are to recommend your practice, and why.
The feedback is straightforward and gives instant insight into what your clients think about your veterinary practice based on their experiences.
Here are four ways the Customer Radar integration can help your practice grow:
1. Stop losing customers unnecessarily
It costs a business up to 25 times more to get a new client than to retain an existing one. The trickiest part is that 96% of clients won't complain - they just won't come back. So, what can you do? The fix is easy enough: make it easy for your client to tell you what they think about your practice, and use this feedback to strengthen the overall customer experience.
2. Catch issues privately before they escalate online
With Customer Radar and ezyVet, it's easy to communicate with clients directly and privately.
With real-time alerts, you'll be notified as soon as feedback comes in. You can email or text message the client directly from within the platform, and quickly find the right response using a selection of handy reply templates. Team members with the correct permissions can also reply to customers, leave internal notes, and close feedback tickets to show that the client has been looked after or issues have been resolved.
3. Automatically grow your Google Reviews
As you'll no doubt know, Google is the first point of contact for many people looking for a new vet, which makes it critical for engaging new customers. With 90% of consumers now trusting online reviews as much as personal recommendations, it pays to have a strong online reputation so you can attract more clients.
Customer Radar automatically invites your clients to give a Google review after they've left feedback. Getting more reviews, more often, is key to growing your online reputation and attracting more clients.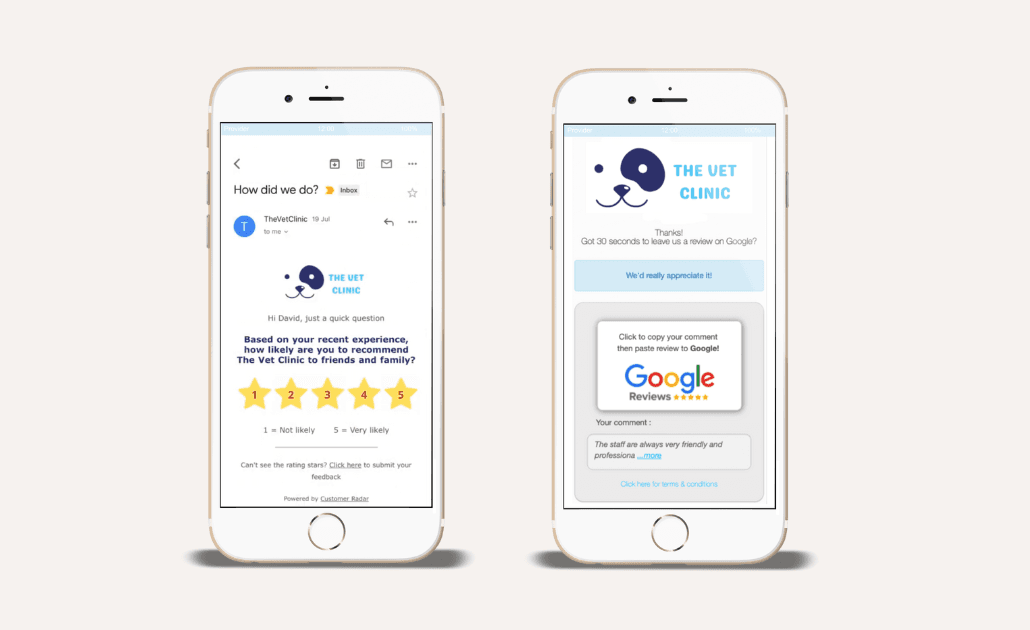 4. Empower your team to think like a customer
By sharing customer success metrics like Net Promoter Score, discussing client feedback, and celebrating Google reviews, you're actively keeping the customer at the center of your vet practice every day. Celebrate team members that are providing great experiences, and coach those who can up their performance.