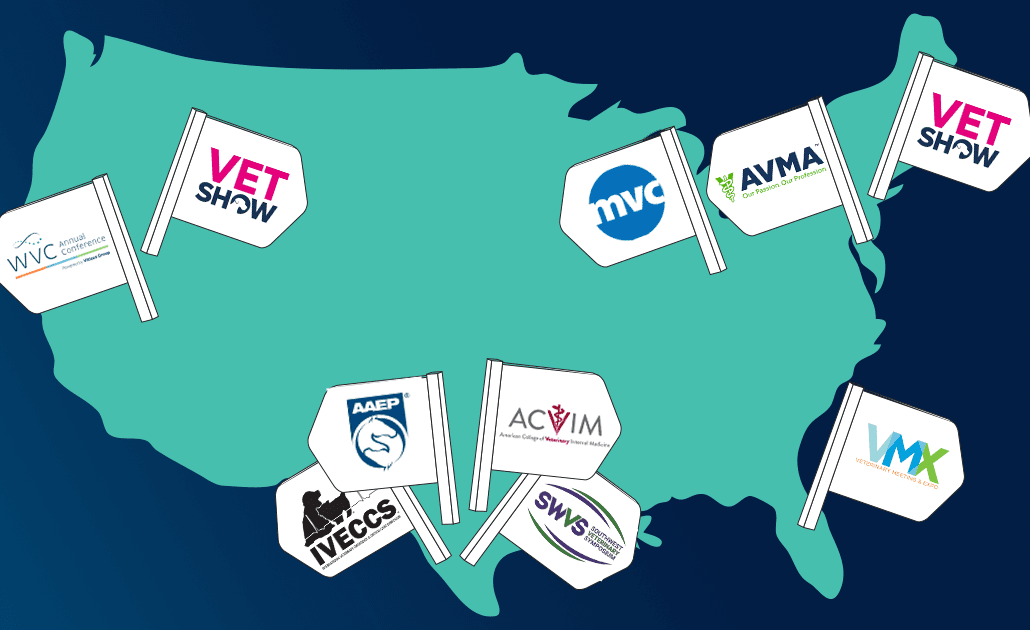 No matter your role or level of experience, there's a veterinary conference out there that's right for you! From radiologist conventions to exotics events and everything in between, we've rounded up a full list of conferences for every member of your veterinary team.

Veterinary Meeting & Expo (VMX)
VMX is the largest conference for animal healthcare professionals in the world and a popular destination for every member of the team - including veterinarians. The five-day event offers a truly world-class education program, with more than 940 hours of CE to choose from and hundreds of program tracks led by some of the brightest minds in the field. At VMX, you'll also discover a vibrant Expo Hall, brimming with hundreds of exhibitors waiting to solve your problems with a massive array of ground-breaking products, services, and equipment on display.
Want to revisit an exhibitor or explore exhibits that you didn't get the chance to interact with? VMX boasts an all-new virtual platform dubbed VMX Virtual, which allows you to engage with exhibitors all year round.
Florida Veterinary Medical Association (FVMA) Annual Conference
The FVMA Annual Conference delivers a stellar lineup of continuing education opportunities for every veterinary role, and vet techs are no exception! The annual conference offers hundreds of hours of CE sessions, lectures, wet labs, and workshops, along with a lineup of distinguished speakers and over 100 exhibitors showcasing the latest in veterinary technology. In 2023, the FVMA Annual Conference will be held at the beautiful Signia by Hilton Orlando Bonnet Creek, located just minutes away from the magic of Walt Disney World Resort.
American College of Veterinary Internal Medicine (ACVIM)
Interested in veterinary internal medicine? This is the event for you. The ACVIM Forum is an annual event where members of the college's six specialties - including cardiology, large animal internal medicine, neurology, nutrition, oncology, and small animal internal medicine - can connect with other specialists, general practitioners, technicians, students, interns and anyone else interested in internal medicine. The four-day event is jam-packed with outstanding educational sessions, as well as abundant networking opportunities and a buzzing exhibit hall showcasing the latest developments in the veterinary world.
ExoticsCon
The Association of Avian Veterinarians (AAV), the Association of Exotic Mammal Veterinarians (AEMV), and the Association of Reptile and Amphibian Veterinarians (ARAV) have joined forces to host ExoticsCon 2022. One of the few veterinary conferences dedicated to exotics, the five-day event attracts hundreds of avian, exotic mammal, reptilian, and amphibian veterinary professionals, who gather to learn, network, and meet potential new vendors. Catch ExoticsCon at the Sheraton Denver Downtown Hotel, located in the heart of downtown Denver.

International Veterinary Emergency & Critical Care Symposium (IVECCS)
IVECCS is one of the largest veterinary specialty conferences in the world. In 2022, the event will take place at the Henry B. Gonzalez Convention Center, a beautifully decorated facility located in downtown San Antonio, Texas. The event offers veterinary professionals more than 39 hours of industry-leading CE, an array of workshops, labs, and lectures, and a lineup of incredible speakers from across the veterinary industry. Don't miss the exhibit hall, where you can get hands-on with some of the latest products and technology from the industry's leading innovators, or get involved with the many events on offer, including a 5K and fun run, morning yoga sessions, CPR battle, and a whole lot more.
Veterinary Hospital Managers Association (VHMA) Conference
The VHMA Conference is one of the few events aimed squarely at practice managers. In 2022, the event will be hosted at Renaissance Orlando, a family-friend resort situated within the SeaWorld complex. Here, you'll have the opportunity to hone your management skills through a plethora of educational sessions, panel discussions, and networking events, with the possibility of earning up to 16.5 CE hours over the three-day event. Be sure to check out the Exhibit Hall Happy Hour, where you can enjoy some complimentary drinks and snacks while exploring the latest and greatest veterinary innovations.
Annual Conference of the American Association of Bovine Practitioners (AABP)
The conference calendar often looks a bit empty when it comes to production animal programs, but the Annual Conference of the AABP is one event you won't want to miss. As one of the most comprehensive events dedicated to cattle disease and production, the conference offers 22.5 hours of continuing education and dozens of sessions spread across a wide range of topics, including beef, clinical skills, dairy, general, joint beef/dairy, students, and veterinary practice success. One of the highlights of the conference is the live auction held during the Friday night social event, with all proceeds going towards the premier student scholarship program of the AABP.
Veterinary Dental Forum
The Veterinary Dental Forum is the largest conference of its kind and a popular destination among veterinarians, veterinary technicians, veterinary students, and other veterinary staff with an interest in animal dentistry. Each year, the Veterinary Dental Forum is held in a new location, giving regular attendees the opportunity to explore the country and do some sightseeing. In 2022, the event takes place at Peppermill Resort in Reno-Tahoe, where you'll have the opportunity to take part in a wide range of presentations, labs, and lectures under the tutelage of renowned industry experts. The Veterinary Dental Forum also provides an Exhibit Hall, a practice exam to assist people engaged in veterinary dental training programs, an annual Fun Run, and a whole lot more.
Passionate about veterinary surgery? Here's one event you won't want to miss. The annual ACVS Surgery Summit is a celebration of the art and science of veterinary surgery and delivers a world-class program of continuing education for the entire veterinary team. This year, the event will be held at the Oregon Convention Center, one of the largest event venues in the Pacific Northwest. Here, you'll have the opportunity to learn from industry-leading presenters in a range of seminars covering the latest developments in veterinary surgery, including patient care, diagnosis, pain management, and anesthesia and analgesia, as well as preoperative care and postoperative care. Enjoy complimentary refreshment breaks and lunch inside the exhibit hall and take some time to network with fellow attendees during the Scientific Poster Session Reception on Thursday evening.
American College of Veterinary Radiology (ACVR) Annual Scientific Meeting
ACVR is the leading conference for veterinary radiologists. After two years of operating as a virtual-only meeting, ACVR is back as a live event, hosted in Reno, Nevada at the Silver Legacy Hotel. The four-day conference offers a full program of thought-provoking radiology-related continuing education, including in-person sessions that you might have missed in 2020 and 2021, as well as plenty of opportunities to network and socialize with industry peers. Learning materials will also be made available on-demand for those who are unable to attend the event in person, as will all scientific abstracts and keynote sessions.
The AAEP Convention is a must for any veterinary professional interested in equine medicine. Now in its 68th year, the convention is the most comprehensive equine-specific veterinary event, with more than 100 hours of practical continuing education, a buzzing calendar of networking and social events, and a lively trade show featuring more than 300 suppliers exhibiting the latest industry innovations. In 2022, the five-day convention takes place at the Henry B. Gonzalez Convention Center in San Antonio, Texas.