May & June Product Release Video
Watch the latest Product Release update video and stay up to date with key changes to ezyVet
Tune in for the newest way to get information about changes and improvements to ezyVet, to keep you up to date with what we've been working on. Learn more about Feature updates, new Integrations, Marketing Guide, and more!
Product Enhancements:
Invoice Updates

Static Pricing Section
ezyVets new static pricing function will allow you to continuously see the invoice totals without scrolling from version 35.1. When you move the page horizontally, the section that shows invoice totals does not move, making it easier to ways see the invoice total information.
Delete Approved Lines
You can remove an approved line item directly. It is not necessary to unapprove/unlock the line item before you remove it. Version 35.2 introduces a trash button to line items. Use the trash button to remove a line item.

Editing Staff Member
New changes to invoice settings mean that you can set the invoice staff member and not have it overwritten by any changes to the clinical record.
Reinstated total cost & mark-up columns
We have reinstated the total cost & markup columns and total invoice cost back into the invoice. Add total cost and markup to your invoices to see the cost per product as well as the added markup via the customize invoice column setting. The cost is now static from the time it is an approved line on an invoice, so reporting will correctly show the cost of the product at the time it was invoiced. Please note, that only staff with permission to 'view cost price' will have access to this additional information.
Diagnostic Updates
NEW Terminology
We've updated the diagnostic terminology in version 35.0.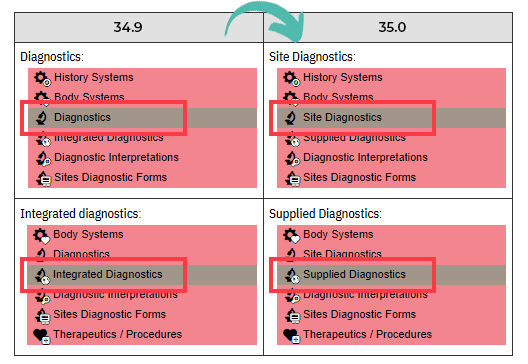 Diagnostics has been renamed Site Diagnostics. This is because you can control diagnostic test settings including name and code.
Integrated Diagnostics has been renamed Supplied Diagnostics. This is because they are supplied by a diagnostic integration locking the name, code and supplier fields.
Introducing Custom supplied diagnostic tests, this new functionality allows you to group together multiple supplied diagnostics tests for one diagnostic billing trigger.
Diagnostic Integration Settings
Both supplied and site diagnostics now have a field for the Primary Billing Trigger. This is to highlight which product is a direct link to the diagnostic. A Primary billing trigger must have the loop between product and diagnostic as well as a matching code.
Diagnostic integration auto-update settings changed

For a diagnostic integration that supplies diagnostic tests, we have simplified the configuration to ensure customers with multiple of the same integration type understand what the integration is aiming to do.
The integrations of the same type will now share settings if the diagnostic has a one-to-one relationship with the integration or a billing trigger.
These settings are the Supplier, Product Group, Customised Name, Prefix for Codes, Auto-update supplied diagnostics names when imported from web service, auto-enable new supplied diagnostics when imported from web service
Auto-create products for supplied diagnostics
Update products for supplied diagnostics
Product markup and update
New Product Category
All diagnostics now appear under the diagnostic category Product property settings have been reduced the property type of diagnostics. This will allow you to select either a site diagnostic or a supplied diagnostic from the diagnostic list.
Diagnostic Test Warning
Warning when submitting a diagnostic request when you don't have an integration configured for that department. 
We have added a warning to highlight when you have made a diagnostic request for a department that does not have an integration available for the chosen supplier and requesting vet department.
Vet Radar: Selective Product Sync
The upcoming Vet Radar release introduces new functionality for controlling which products are searchable within Vet Radar.
Integrations
VetSnap
VetSnap, our newest partner integration, is a DEA-compliant digital controlled drug logbook.
VetSnap helps your practice:
Save time on managing controlled drug logs by 50%!
Save time on painstaking entry log admin and reduce manual error.
Save time with automated log entry reconciliation.
Wibbi
Enhance the after-care client experience with veterinary approved and curated content including:
Educational Articles
Video tutorials you can send to clients as part of take-home care
Canine rehab solutions - home exercise programs prescribed to clients to follow
Trupanion Update
Managing claims: send and view claims directly from the patient records in ezyVet.​

Pre-Approvals: provide clients with peace of mind by letting them know what will be covered.
The Complete Guide to Veterinary Marketing
In today's competitive veterinary landscape, passion alone isn't enough to guarantee business success - you're going to need a marketing plan. Our new FREE fully comprehensive marketing guide is now available for download through our website.