Introducing a better way to invoice with Version 30
Invoicing is integral to running a veterinary practice, but at times it can be complex, time-consuming, and downright frustrating. Version 30 (V30) introduces a better way to invoice, increased customization, and improved functionality to make day-to-day use quicker and easier for your team. We've put together the new invoice screen's 5 key improvements that will create even more efficient workflows to save you time.

What you can expect with Invoice Screen updates in V30
Simple drag and drop functionality, giving you the freedom to reorder invoice columns to your own preference
Color and overall format changes
Increased visibility on the invoice's status in the top right-hand corner
Customizable columns; no more scrolling customizable invoice subline visibility
Have total control over what the client sees on their invoice
Bulk edit view – You can now choose what invoice lines you would like to apply a bulk discount to.
Direct billing trigger access
V30 Improvement #1: Approved button has a new home
One small change that's making a big difference is moving the Invoice Approved button to the top of the screen, making it always accessible no matter the length of the invoice.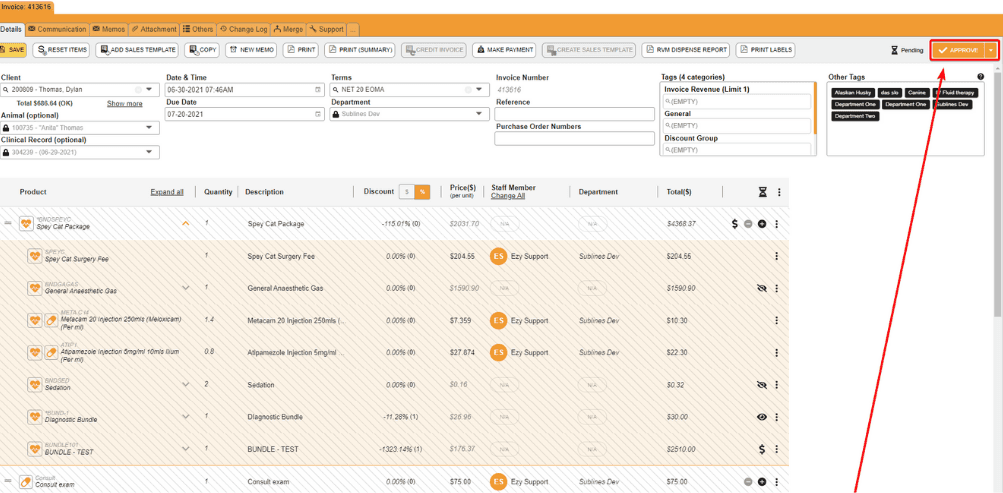 V30 Improvement #2: Moving Not Ready For Billing
Version 30 changes the Not Ready for Billing functionality to be included in the invoice status, simplifying the Not Ready for Billing workflow.
Move the invoice from Pending, Not Ready for Billing, Approved, and Disabled with ease.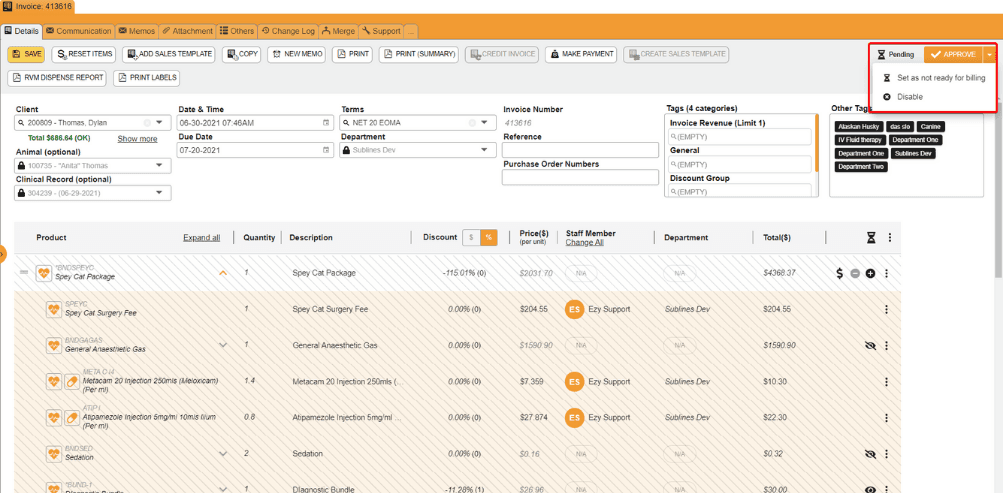 V30 Improvement #3: Customize your invoice layout
Have full control of the invoice screen layout by defining what you want to see, and with less scrolling. Your setting preferences will be saved, so you'll find it exactly the way you set it every time you open the invoice screen!
On the invoice header, select the ellipsis (three dots), and select Customize Invoice Columns
Tick to select columns you would like to see on the invoice. Untick any columns that aren't relevant. Select Save, and when you navigate back to the invoice screen, your invoice columns will have updated to reflect your changes.
Note: With ezyVet admin credentials you can configure a default invoice column layout for all staff. Once configured staff will be required to select Reset Table if you want to revert to the default invoice column layout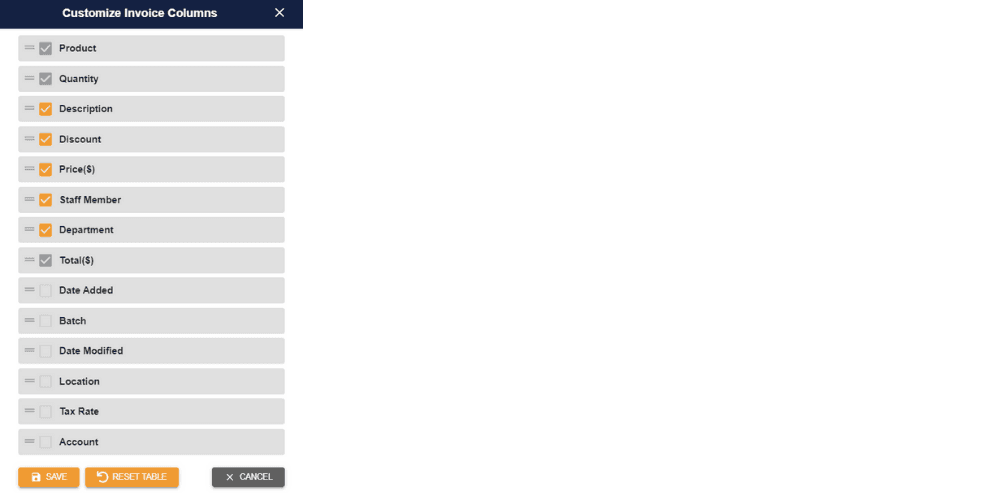 V30 Improvement #4: Applying bulk discounts:
New flexible discounting puts your staff in the driver's seat; with the ability to apply discounts by the bundle, per individual item, or even the whole invoice, all directly from within the invoice screen.
Select the ellipsis (three dots) in the header and select swap to bulk edit mode.
Make your way down the invoice using the checkbox, and select everything you want to be discounted (or select all)
Select the orange 'Bulk Actions' button then select 'Discount All'
Select your reason from the list
Select your discount percentage amount
Then hit Apply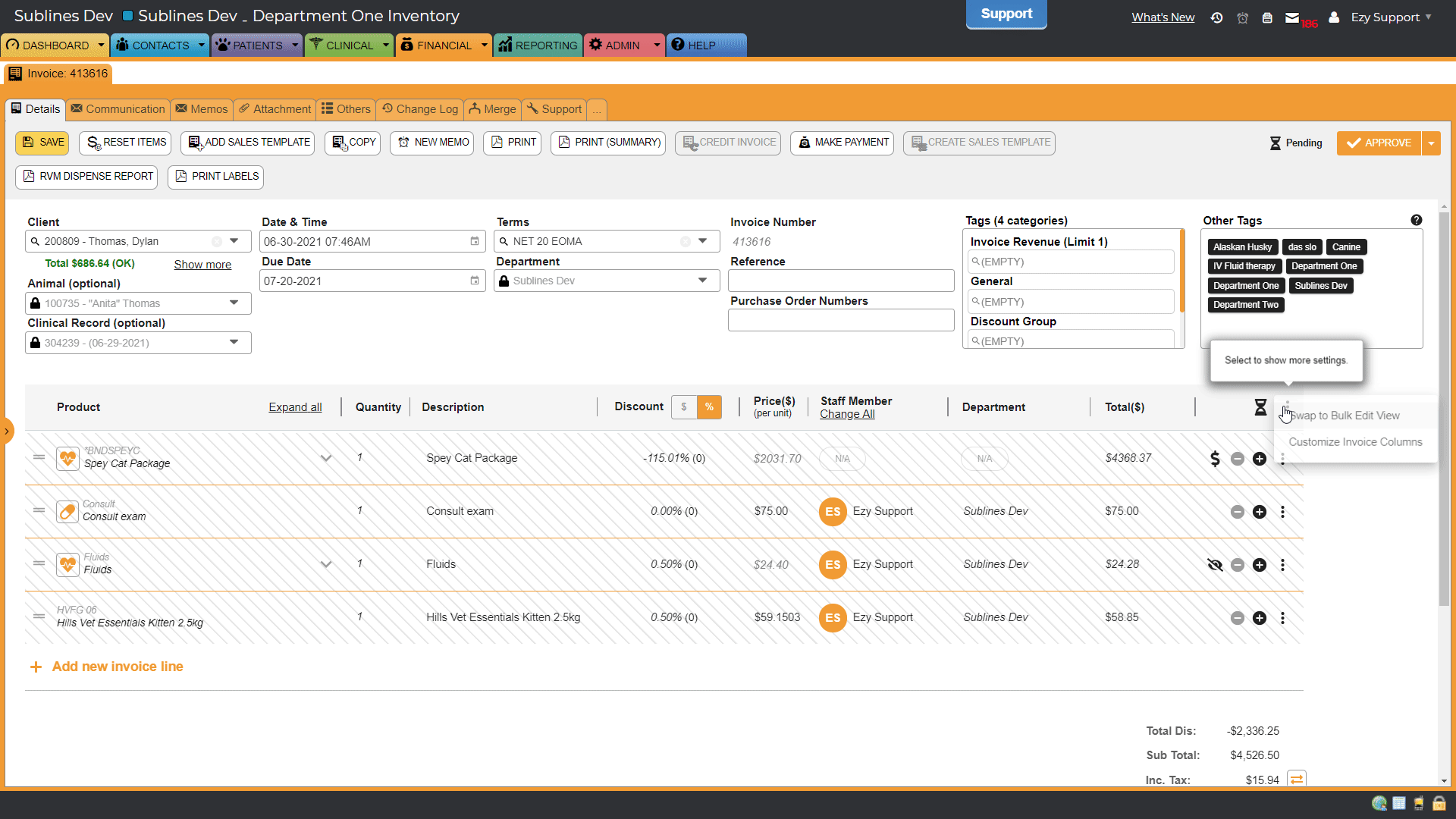 V30 Improvement #5: Locked invoice line
The last improvement we've made is making it easy to identify if an invoice line is locked. We have updated locked invoice lines to have slanted lines across the invoice line. Clearer distinction over a locked or unlocked invoice means no more frustrating moments spent identifying the difference or editing a locked line.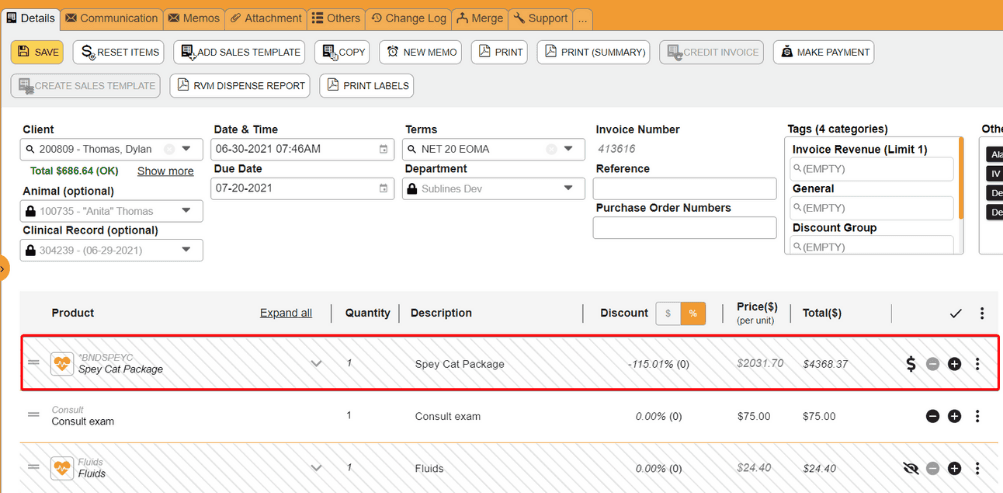 These updates might seem like minor improvements but it's all about shaving seconds from your workflow with fewer clicks, more flexibility, and control for you and your clients.

Want to learn more about Version 30?
Continue reading the Version 30 starter pack, which breaks down key new features and changes.