Can you work smarter not harder by using task automation?
It's no secret that technology has completely changed how we live and work. Over the past decade, we've seen a huge shift with technology becoming more readily available which has helped us create more efficient lives by automating many of our daily activities.
Have a think about how you may already be using automation at home, have you set up automatic payments to pay bills? Do you have your heating set to turn on at a specific time of the day? These are just a couple of quick examples of how you may have already started to automated tasks at home, and it's no different at work - more specifically work within a Veterinary practice, utilizing technology to automate tasks can remove the manual component required for repetitive jobs.
During the peak of Covid-19 household pet ownership saw a huge rise, to an all-time high of 70%, according to Steve King, president, and CEO of the American Pet Products Association (APPA). To help keep up with the ever-increasing demand placed on veterinary practices, it's imperative that practices look to automate mundane, repetitive tasks, not only to help save time but to ultimately be able to continue providing gold standard of care whilst servicing higher volumes of clients.
What is Task Automation?
Task automation eliminates the human element from repetitive tasks. As a busy veterinary practice automating many of your administrative tasks is vital to streamlining daily clinical life. Task automation helps to;
Save time – By removing these repetitive admin tasks your team can focus on the more important tasks at hand.
Reduction of costs – By utilizing technology to automate tasks, you no longer require manual effort from your team. Let's have a look at how ezyVet can help with task automation at a busy veterinary practice.
Keep reading to find out how ezyVet can help you eliminate mundane & repetitive jobs, by setting up task automation.
Automated Reporting
Automated reporting allows you to have key financial information at the tips of your fingers without having to do a thing. Automated reporting is one way you can use ezyVet to help automate tasks.

1. Head over to the ADMIN tab.

2. Next select Automated Reporting.

3. You will now see the New Scheduled Report screen.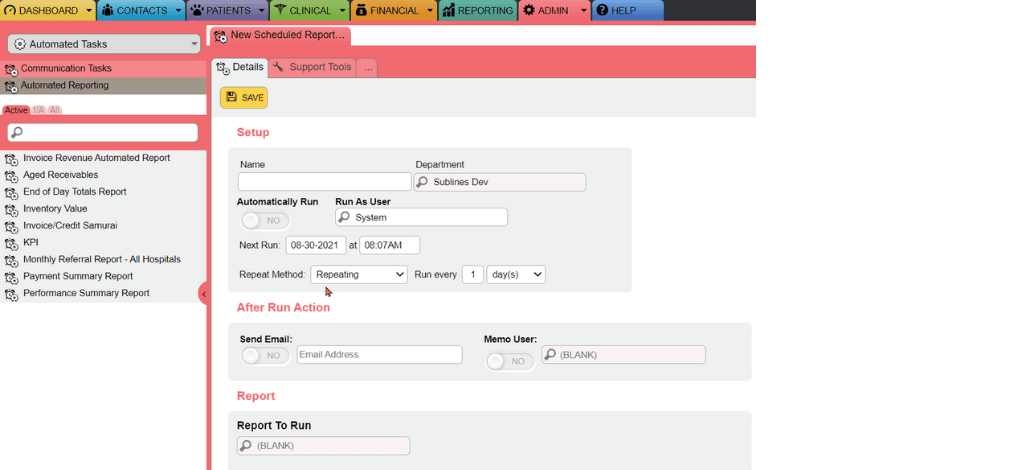 4. Start by entering the Name for the automated report. (Select a department if applicable)

5. Following this you can then set Automatically Run to YES – This setting sets the report to automatically run by ezyVet. The setting uses the date configured in step 7.

6. Select the ezyVet user account that you would like ezyVet to run the report as this may be the owner or practice manager.
(Note: This will default to system as the user)

7. Enter the date that ezyVet will initially run the report.


8. Choose the frequency that you would like the report to run from the dropdown menu Repeat Method.

Shown below is a breakdown of what the Repeat Method values mean.
Repeating - You can specify the frequency of the report in days, weeks, months, or years.
Last Day of Month - The report automatically runs on the last day of the month.
9. Next you can choose to have the automated report emailed or sent Via a Memo or both if needed – simply toggle to YES and enter the relevant email address and team member to send through memo.

10. From the search box select the report that you are wanting ezyVet to automatically run.
Note: Not all reports are available.

11. Once you have selected a report, ezyVet shows the related filters and settings of that particular report. The filters and settings of each report are different. This example shows the Invoice Revenue By Group report: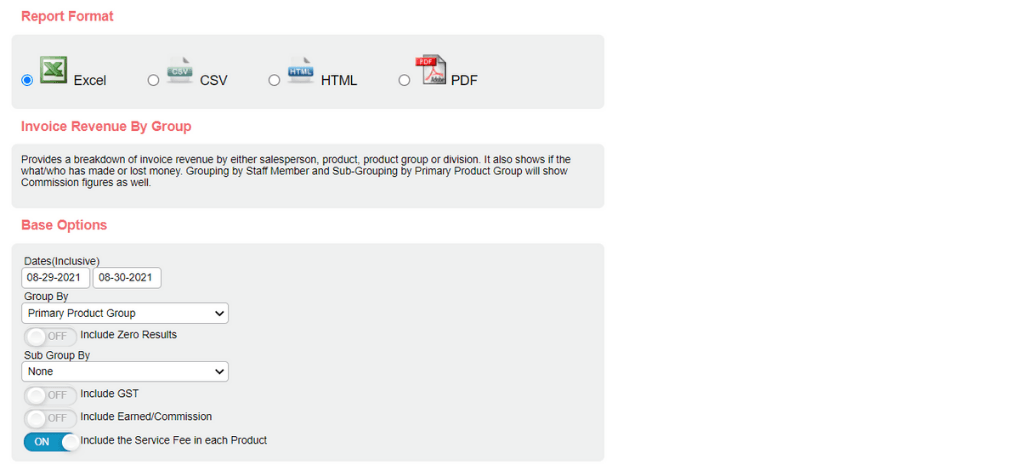 12. Configure the relevant filters and settings of the report.
13. And the select SAVE.

Automated reporting may seem like a simple form of automation, but ultimately, it's all about shaving seconds from your workflow, meaning your team is not wasting time on mundane and frequent tasks, freeing them up to keep up with the increasing demand and to focus on the important tasks - caring for patients.
Want to learn more ways you can automate tasks within ezyVet?
Continue reading Protect your practice from potential bad debtors