Take your practice further
ezyVet Go is an app that simplifies and automates the consult workflow for large animal and equine vets using ezyVet, ensuring notes and charges don't get missed.
Already with ezyVet?
Interested in hearing more about ezyVet Go? Simply fill out the form and our team of experts will organize a demo with you.
Access
Offline access to your appointments and patient information allows you to make better informed decisions while you're on the go.
Capture
Easily capture your notes and charges while you're on the go, avoiding missed revenue.
Automate
Your notes & charges are automatically added to a draft invoice, ready to sync back to ezyVet when you come back online.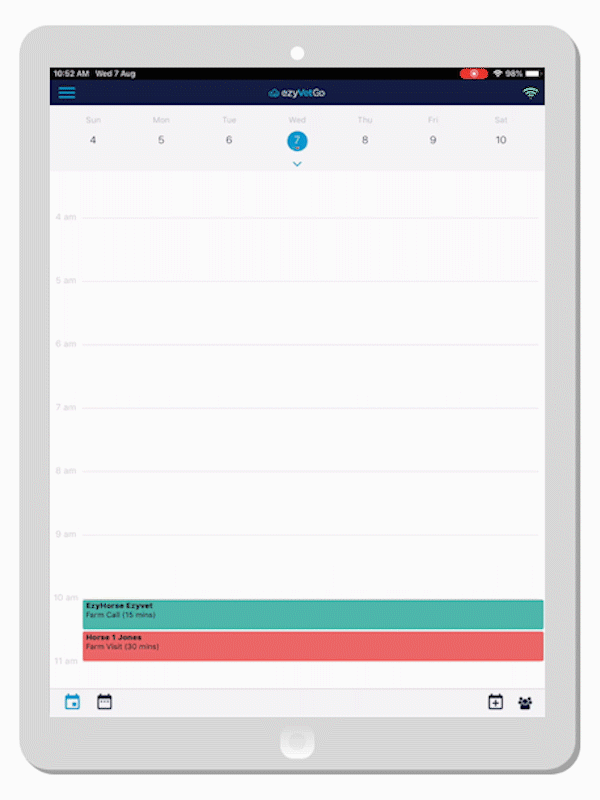 View and create appointments
Download and view appointments created in ezyVet to see your calendar 2 weeks prior and 2 weeks ahead. Create any emergency or future appointments in ezyVet Go while out in the field, and sync those appointments back to ezyVet later.
View patient clinical and financial history
For appointments downloaded to ezyVet Go, access your patient's clinical history (up to 12 months) and your patient's financial history (up to 12 months).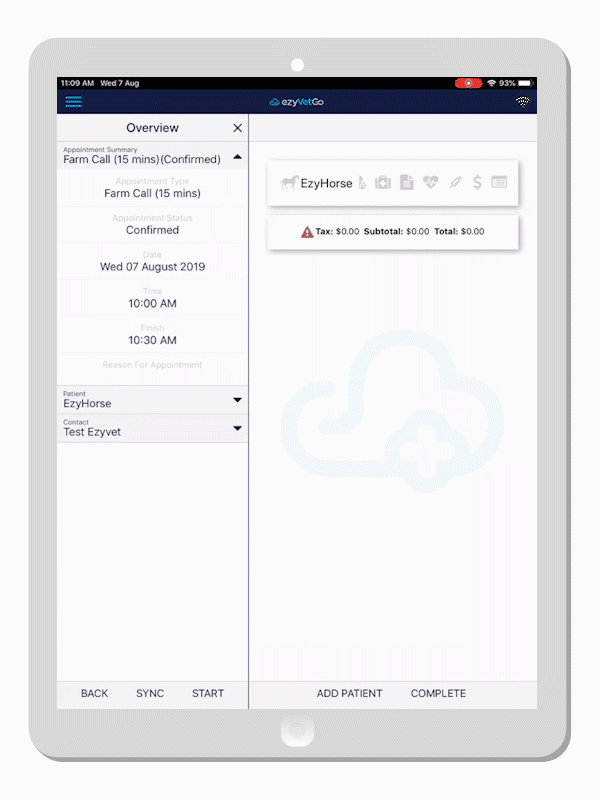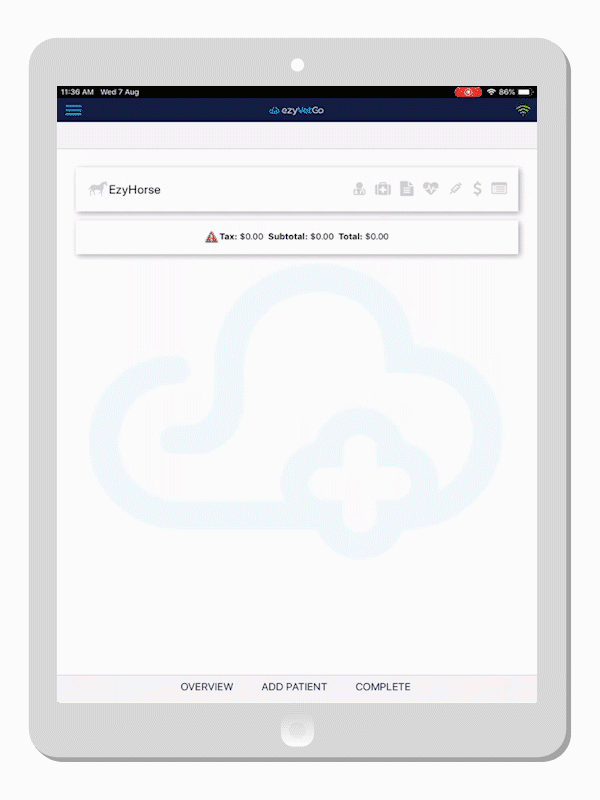 Multiple patient control
Add multiple patients to your appointments, allowing you to add the same notes or treatments to a group of patients in one step, and view the appointment invoice total for all patients seen.
Capture Notes and charges
Type your exam notes or use your device's built in voice dictation to add your patient notes while you're on the go.
Add medications, vaccinations, procedures, and other misc. products to your consult, which all get automatically added to the invoice.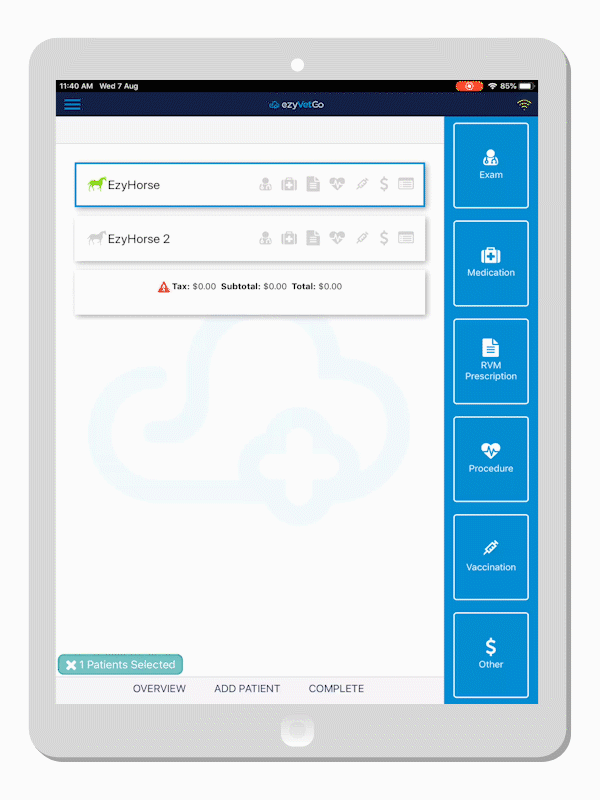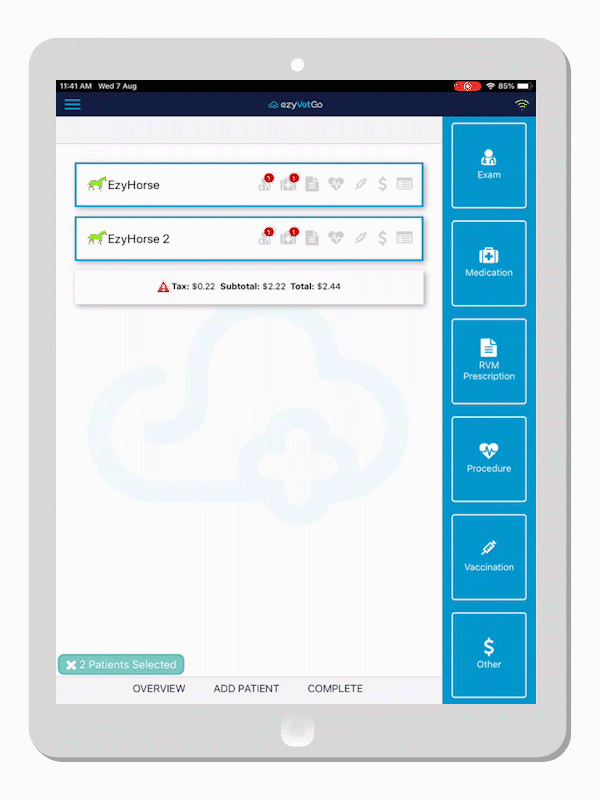 View draft invoices totals
Once you're appointment is complete, you can view the draft invoice totals for your appointment. This allows you to see approximate costs for the customer.
Sync data back to ezyVet
Once your appointment is complete, you can finalize your appointment with your notes and charges so that they're ready to sync back to ezyVet once in range.
Once synced up to ezyVet, your notes and invoice will be waiting for you in ezyVet.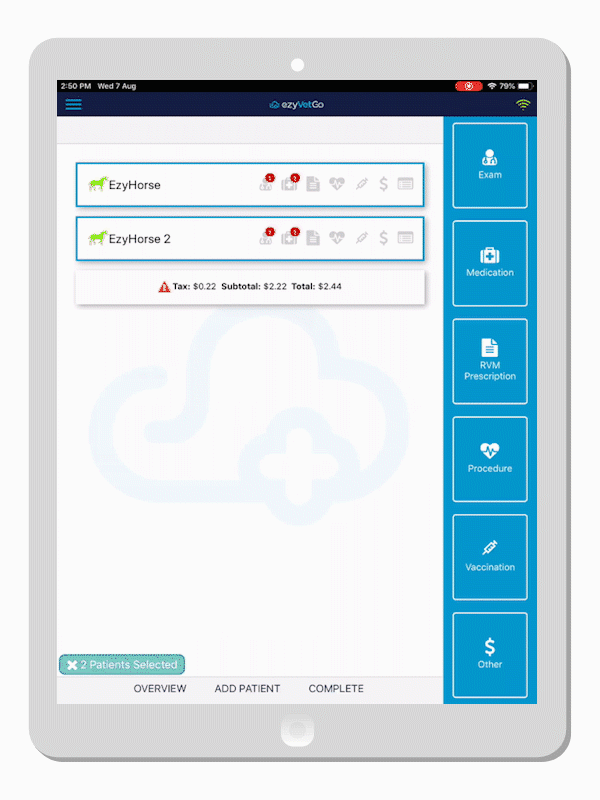 Latest App Release: Version 2.2
The latest ezyVet Go app release includes improved in-app support, making it easier for you to get help directly from the app, plus a bunch of other cool new features.
This app release includes the following new features:
You can access ezyVet customer support and product documentation from the app directly.
If the password of a person's ezyVet user account changes, ezyVet Go shows a dialog box that tells you to enter the new password.
When you make an appointment, you can only select patients that are not deceased.
ezyVet Go clearly shows items that you have selected in the applicable appointment screens.
After you make an appointment, you can change the initial patient by selecting a different patient.
If you add multiple patients to an appointment, the app checks the address of the additional patients against that of the original patient and correctly syncs the data with ezyVet.
For appointment types that don't need a clinical record or patient when the appointment is made, ezyVet Go tells you when to add this information and will generate a clinical record.
Read the full release notes here.
See the App Store (iOS) or Google Play (Android) to update your app.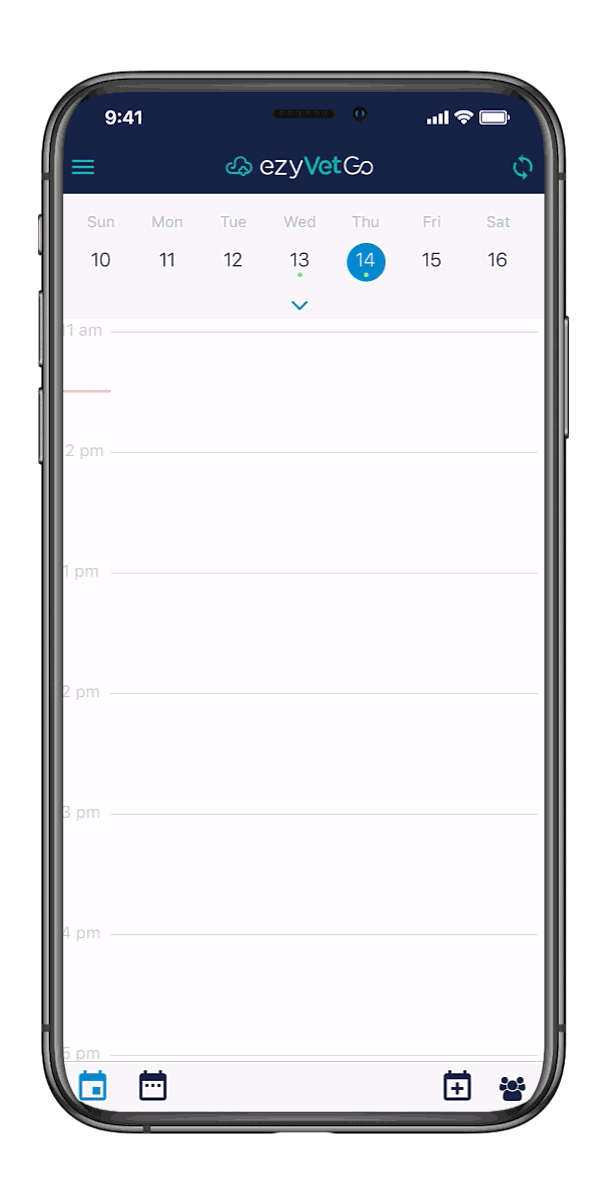 Get Started
ezyVet Go is a paid add-on available to ezyVet customers. Please see our pricing page for more information.
Already with ezyVet?
Adding ezyVet Go to your account is simple and you can do it all yourself in a matter of minutes.
Not with ezyVet yet?
If you're not using ezyVet, book a demo with our team to learn more about what ezyVet can do for your practice.
Users
Price
Per User

NZD $

25