Reminders Interactive Dashboard
ezyVet has a comprehensive way of dealing with reminders through an interactive dashboard. It's really easy to remind your clients of vaccinations, appointments or follow ups or alerts such as product re-ordering. This is done by effectively utilising client information to determine how they wish to receive these communications, and allowing your practice to create customised, editable templates to easily remind clients.
You can add reminders to any record on ezyVet, and manage them using the Reminders Dashboard, an interactive dashboard that allows you to treat your reminders as a daily task. Team members seem to respond really well to the interactive dashboard and get more involved than traditional report based reminder systems.
You no longer need to mail merge your letters, personalise your SMS messages or spend hours managing emails, ezyVet manages these tasks for you through easy to create and edit customised/personalised templates.
Integrated e-commerce tagged reminders automatically triggering from product sales allow the ability to drive the return orders for key lines like prescription pet food and flea treatments.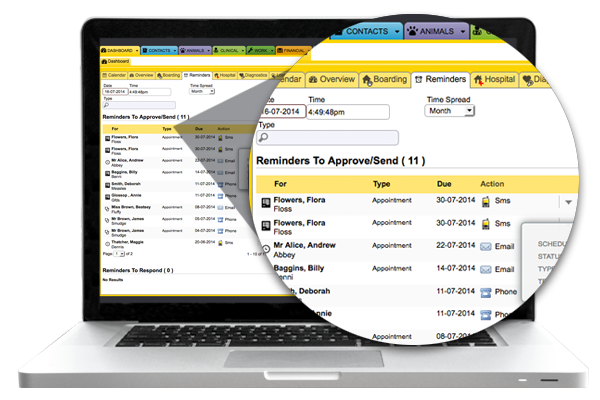 Standard of Care
With Standard of Care, ezyVet is smart enough to figure out what treatments/vaccinations an animal needs and will send out reminders accordingly. All based on the details you've entered!