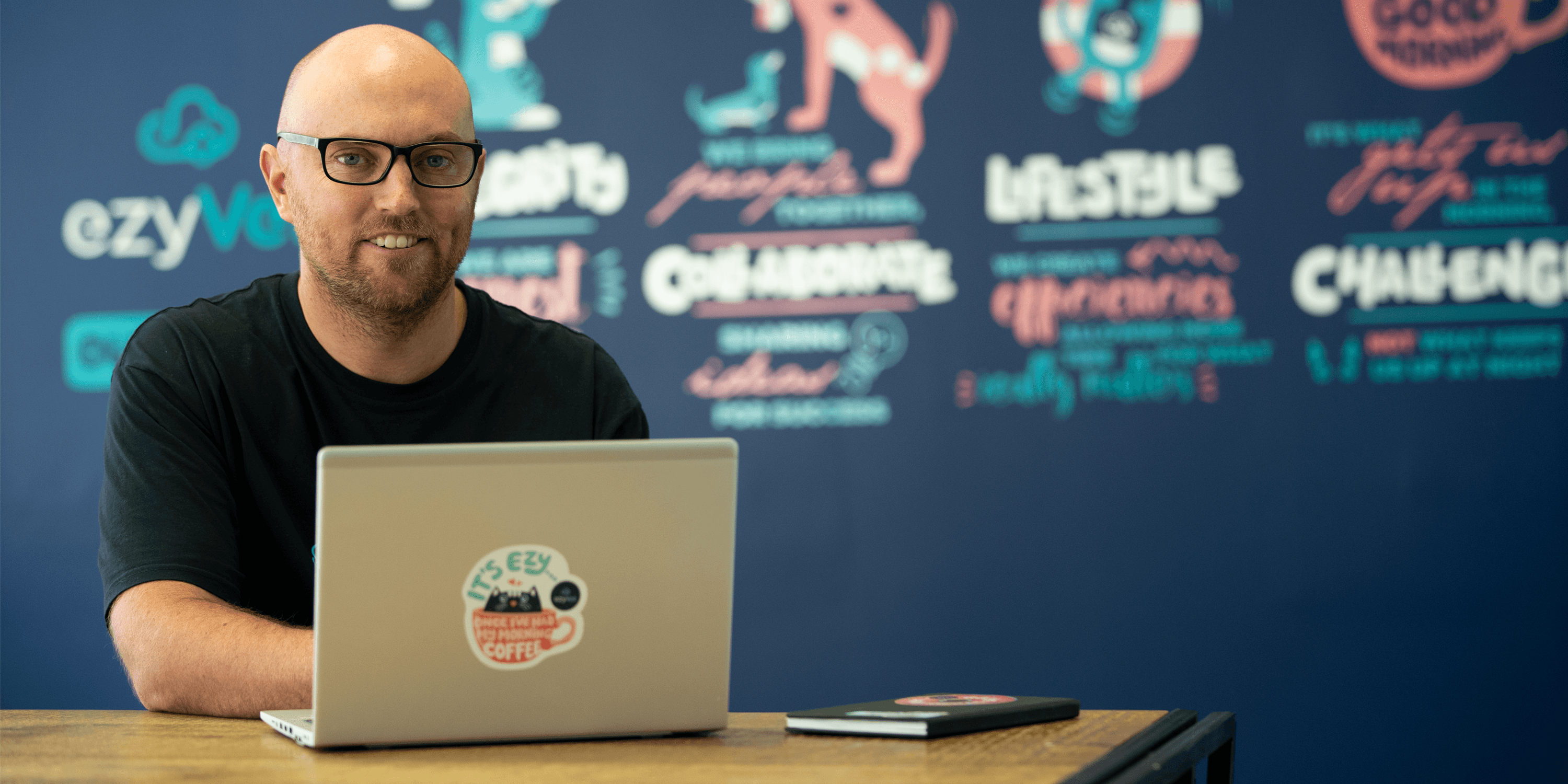 During the turbulent times of COVID-19, ezyVet is hiring. Instead of laying off staff we're bolstering our teams. Pete Buckthought joined ezyVet during the first New Zealand lockdown as Global Head of Implementation. "Bucky" previously lead professional services at Prophix Software in Toronto.
At ezyVet, he will lead the implementation teams in Auckland, London and Dallas who are responsible for the onboarding and training of new ezyVet customers. CEO and Founder, Hadleigh Bognuda, said "From the first interview we knew Pete was going to be a great fit. Changing your Practice Management Software is no small feat for our customers, so we're excited to have someone with Pete's experience in change management heading up the team."
Pete says, "The role here is very similar to my previous role in Canada, with ezyVet being 12-18 months behind the same journey we'd been on, so I'm coming in fully appreciating the challenges and opportunities ahead. Also being part of a disruptive company in the industry was really important to me and I believe I've found that at ezyVet."
The Implementation team and role is unique to ezyVet, attracting ex-veterinary professionals who have a comprehensive understanding for a veterinary practice's daily workflows, the problems they face in their business and how to solve them. The process of implementing ezyVet is different for each business with some implementations seeing 100 plus veterinarians learning to use the software.
With travel restrictions in place due to COVID-19 our teams have been focused on improving the capability for remote implementations. We have also launched an online Learning Management System to improve the onboarding and training experience for new ezyVet customers.
Pete says "I'm not trying to reinvent the wheel here. I see my role as bringing some balance and direction to all the hard work that is being put in. It's more about refining processes and providing guidance and direction as we scale."
About ezyVet
A true kiwi success story ezyVet was founded in 2006 and now employs more than 130 staff globally. The cloud based enterprise practice management solution is live in over 1,500 locations across 15 countries and the company has averaged triple digit revenue growth for the last 6 straight years. Our cloud-based software improves the lives of vets, pets and people through automation. Clinical workflows and integrated partnerships capture all charges electronically and allow vets to concentrate on modern medicine as opposed to administration. With ezyVet, customers report less stress, happier staff, better financial outcomes, improved customer service and a higher standard of care for animals.
Check out ezyVet's job openings here.