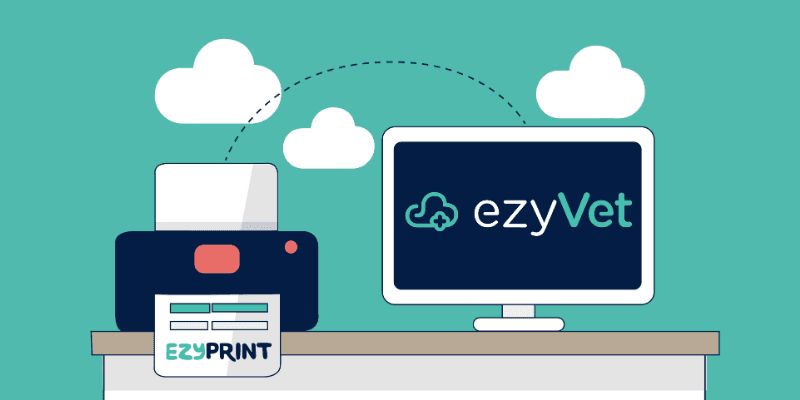 In late 2019, Google announced their cloud-based printing solution would be phased out by the end of 2020 and that all users would need to find an alternative option. Many ezyVet customers were left in the lurch on how to move forward, as Google Cloud Print was their only viable option to connect their printers to the internet, which enabled them to print from anywhere.
Conscious of the fact this looming change would impact nearly 50% of customers, ezyVet's Product and Development team rolled up their sleeves and got to work. The end goal was to build a permanent solution, one that would not only replace Google Cloud Print but be a much-improved alternative.
From this, the ezyVet team is excited to announce ezyPrint – an in-house solution that allows practices to send print jobs from all computers to any printer in their clinic with just one click in ezyVet.
ezyPrint offers a one-time setup integrated printing solution – here's how it will streamline printing for veterinary practices:
Faster printing – practices can send a document or label to their printer in a single click, without the need to generate a PDF document prior to printing from ezyVet


Enjoy the same great technology – practices can still connect to their printers across multiple devices, print from computers on a different network, or physically connect to a printer


A more centralized experience – where a printer is already recognized by a practice computer, this will be available to print from directly in ezyPrint, as a third-party cloud-based connection is no longer required


Easily select a preferred printer – it's possible to set a default document and label printer in ezyVet and adjust as needed, to streamline printer setup for practice staff
With this purpose-built solution, ezyVet is also better placed to service and support customers with their printing needs – and best of all, it's completely free to set up and use!
Originally I was dreading the change from Google Cloud Print, but switching was extremely easy and straightforward to do. This will be a godsend for clinics with multiple workstations and departments. There are just a few small things to double-check like templates and label sizes, but overall I find it way more intuitive.

— Shawn Graves, Paws Around Town Mobile Vet Hospital
Switch on ezyPrint now to minimize disruption to your practice
Be prepared before Google discontinues Google Cloud Print from December 15th 2021. You can switch on ezyPrint today and revert back to Google Cloud Print anytime if there are any final settings to iron out.*
ezyPrint is super simple to get up and running, here are some resources to get you started:
Search 'ezyPrint' in the Help tab in ezyVet
This is available for both Windows and MacOS users. Keep in mind that only one Windows device is required to install ezyPrint and connect to selected printers, while all other Mac devices on the network will be able to print documents from ezyPrint once set up.

The ezyVet team was excited to take on this opportunity to delight and support users – with more exciting enhancements and features to share in the coming months.
*Note: Keep the Google Cloud Print integration switched on if you'd like the option to change back. Just switch ezyPrint on and off to navigate between the two systems.