People are busy these days! Between juggling work and trying to find time to relax, everyone is glued to their mobile devices. Most people open text messages very soon after they receive them, making them a great marketing tool for veterinary practices. Effective use of SMS has the potential to drive sales and increase revenue in many different ways, as well as offer better patient and client care.

Here are 7 ways to boost revenue with SMS marketing in your veterinary practice:
1. Promote Products
A simple courtesy message about products that are on special, back in stock or a reminder about refills can easily result in an appointment being booked. The key to effective promotion is putting the message in front of the customer when they are ready to buy. Take advantage of seasons, holidays and trends to offer the right solution.
2. Appointment and Surgery Bookings
Beat your clients to it and be proactive by using a reminder program. Tell clients when their next appointment is due, that their pet requires a catch up or when it is time for a vaccination . Simply include a link to your online booking portal to offer one click instant results.
3. Confirm Appointments
It's easy to forget appointments. A simple reminder will not only improve your service and professionalism, but can reduce missed appointments. Using automatic confirmation via replies (e.g Yes to confirm), instantly confirm the booking in your practice management system. No administration required.
4. Keeping Customers Loyal
In an industry that thrives on customer loyalty, keep on top of the game and provide your customers with service that goes above and beyond. Share patient updates, notify customers when you will be closed, or issue health alerts. Veterinary practices that communicate well achieve higher levels of client satisfaction.
5. Save Time to Spend on Other Things
With automation, directly communicate with your customer without lifting a finger. Save time and resources by automating reminders based on appointments or standard of care. Give yourself more time to spend doing what you do best.
6. Pay the Bills
A decent flow of clients through the door won't matter if you can't get them to pay their bills. Use SMS to remind your clients of an overdue account or an available invoice. Using a link shortener, send your patients straight to where they need to pay.
7. Drive Consumption of Products Faster
Remembering to administer medication is hard enough for clients to remember, let alone monthly flea treatments. Do them a favor and take away the issue of forgetfulness. Reminders will not only increase customer satisfaction but will also keep them coming back for more.
Effective communication is an important component of overall care. It is also a key element of successful veterinary practice management. If you are looking for a simple way to improve communication with your clients, consider developing an SMS program.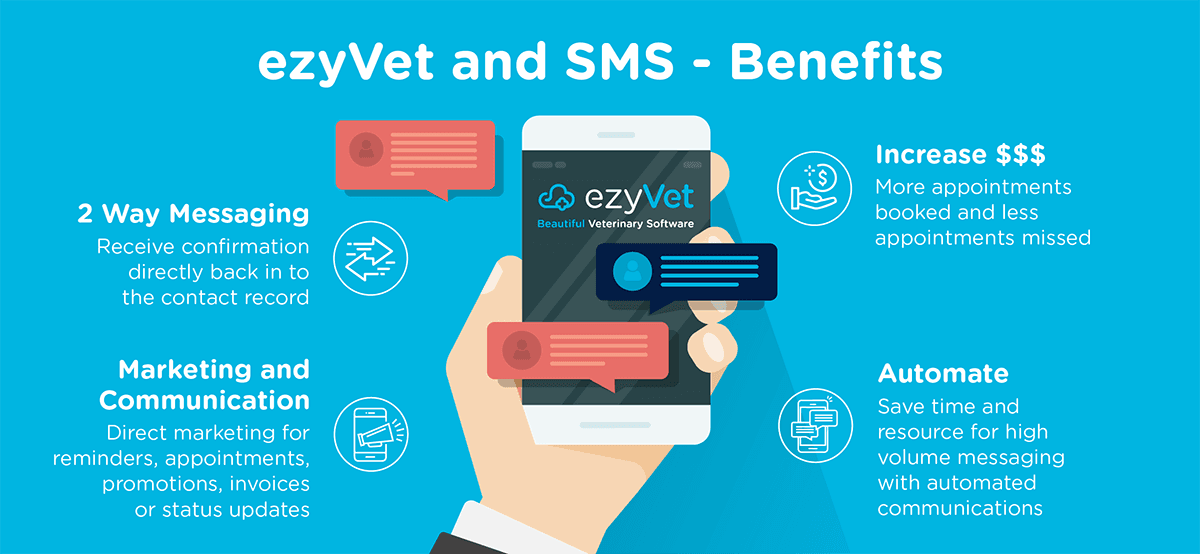 SMS in ezyVet Veterinary Practice Management Software
ezyVet beautiful veterinary software offers an affordable in-house 2-way messaging system. You can include a link in the SMS to open ezyVet's online booking portal for a total integrated solution.
Using ezyVet's SMS system offers you the ability to add a personal touch by including information directly from the patient or clinical record.
Automatically send SMS messages without having to leave your page. Replies will attach directly to the customers contact record, ensuring that all communications are located in one place.
Using ezyVet's automatic appointment confirmation, customers can confirm appointments using a response - "Yes"/ "Ok"/ "C". Once confirmed, the appointment is automatically updated with a green flag icon, indicating the confirmation.
To start using SMS out of ezyVet it's as simple as setting up your templates and sending away! The best part is that texts received from your customers are free!
Want to know more about ezyVet veterinary practice management software? Sign up for a demo of ezyVet today.