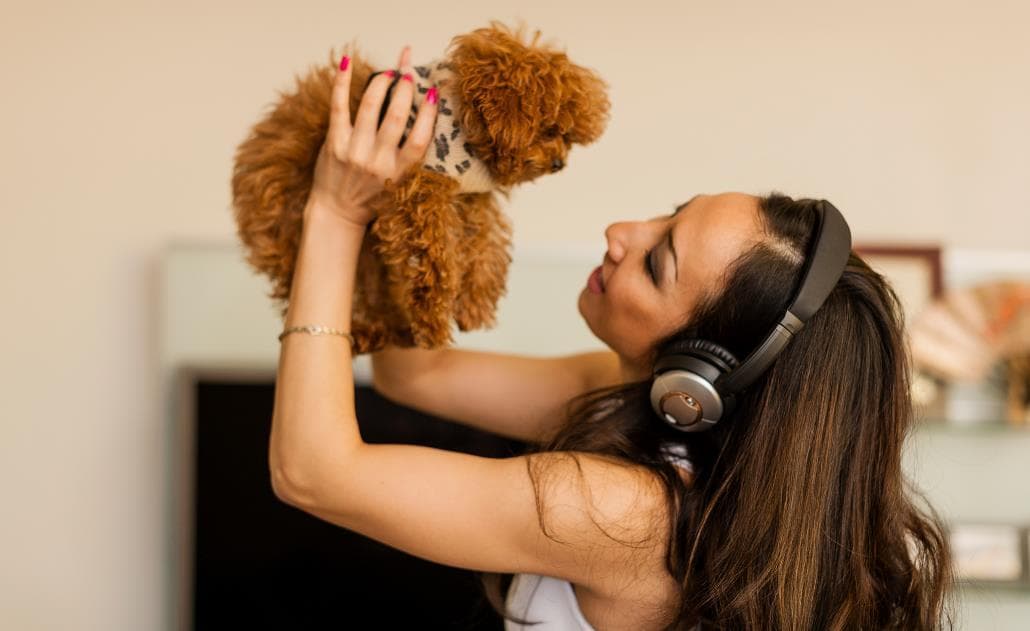 Whether you're navigating the daily commute or doing some chores around the house, podcasts have quickly become the go-to soundtrack for modern life.

While murder mysteries and celeb gossip might reign supreme in the podcast world, there are also some very talented people making fascinating content in the veterinary space - perfect for expanding your clinical knowledge, learning new business tips, and decompressing after a long day.
Looking for your next must-listen? You've come to the right place. We've rounded up 12 of our favorite veterinary podcasts of 2022.
The VETGirl Veterinary Continuing Education Podcasts provides RACE-approved online continuing education for time-poor veterinary professionals. There's a huge back catalog to explore, including more than 550 episodes, along with a thriving VetGirl online community if you want to get more involved with the show. With most episodes clocking in at less than 30 minutes in length, this is a great podcast if you want to keep learning and upskilling while working around a tight schedule.
Recent episodes:
The Royal Veterinary College (RVC), one of the top-ranked veterinary schools on the planet, also produces one of the world's most popular veterinary podcasts. In each episode, Dominic Barfield, with the technical assistance of Brian Cox, talks to a different member of the RVC team to discuss a broad range of complex clinical topics and practical tips that you won't find in any veterinary textbook.
Recent episodes:
Aimed squarely at practice managers and owners, the Uncharted Veterinary Podcast covers all the uncomfortable aspects of running a veterinary clinic that people don't like to talk about. Take a deep dive into all sorts of sensitive (and highly relatable) subjects like how to survive toxic coworkers, navigating tricky money conversations, resolving workplace conflicts, and a whole lot more.
Recent episodes:
Passionate about veterinary dermatology? This is the podcast for you! Hosted by the ever-knowledgeable Dr. Ashley Bourgeois, The Derm Vet Podcast shines a light on the weird and wonderful world of veterinary dermatology while providing practical tips you can apply to your practice.
Recent episodes:
Disease Du Jour is designed for anyone interested in equine veterinary medicine, including veterinarians, vet students, vet techs, and other industry professionals. First launched in 2019, the podcast - which recently released its 98th episode - investigates the latest research and current best practices for a variety of equine health problems, with each episode running for about 30-60 minutes.
Recent episodes:
As the name implies, the Internal Medicine For Vet Techs Podcast is a weekly podcast dedicated to veterinary professionals who are passionate about internal medicine. Hosted by veterinary technician specialists Yvonne Brandenburg and Jordan Porter, the podcast gets deep into the nitty gritty of internal medicine, including interesting diseases, client communication tips, and advice on realizing your potential as a veterinary professional.
Recent episodes:
Feline fanatics rejoice: this is the podcast for you. In the Purr Podcast, prolific author Dr. Susan Little and world-renowned surgeon Dr. Jolle Kirpensteijn join forces for a sideways look at the fascinating world of feline veterinary medicine. It's fun, educational, and highly engaging, with most episodes weighing in at around 30 minutes.
Recent episodes:
In the VetChat Podcast, Webinar Vet Founder Anthony Chadwick talks to various experts from the veterinary community to get the scoop on interesting clinical cases and debate some of the industry's most pressing issues. Most episodes are around 30 minutes long - ideal if you're looking for something to listen to on your commute or while you're getting ready in the morning.
Recent episodes:
If you're looking for an Aussie perspective on veterinary medicine, don't missTwo Vets Talk Pets. Veterinarians Dr. Lewis Kirkham and Dr. Robbie Anderton mix witty banter and expert veterinary insight to produce an engaging podcast that's equal parts hilarious and insightful. Expect easy-flowing conversations and genuine laugh-out-loud moments throughout the 60-minute episodes.
Recent episodes:
Veterinary Pulse is the brainchild of the VIN Foundation, an organization committed to providing veterinarians with the resources they need to thrive. The podcast explores a broad range of topics that are close to the heart of the veterinary community, including mental health, vet school, career advice, and so much more.
Recent episodes:
In Blunt Dissection, Dr. Dave Nicol - veterinarian, author, speaker, and one of the best conversationalists in the biz - interviews thought leaders from the veterinary sphere and beyond to get their unique perspectives on veterinary medicine. The podcast takes an endearingly informal approach to the interview format, with plenty of crack-a-smile and laugh-out-loud moments. The episodes typically run for around 90 minutes, giving you plenty of time to unravel the stories and thought processes of the podcast's remarkable guests.
Recent episodes:
Hosted by veterinarian Dr. Ernie Ward and registered veterinary technician Beckie Mossor, the Veterinary Viewfinder Podcast is dedicated to tackling some of the industry's toughest topics. Insightful, educational, and entertaining in equal measure, the podcast covers the whole gamut of veterinary medicine, from current events to employee wellbeing and everything in between. The episodes are easily digestible, weighing in at around 30 minutes.
Recent episodes:
As the name suggests, the Vet Thrive Collective Podcast is all about equipping veterinary professionals with the knowledge and resources they need to thrive. In each episode, long-time ezyVet collaborator Dr. Megan Alderson is joined by thought-leaders and change-makers from across the industry to discuss practical wellbeing strategies that enable veterinary carers to keep on caring. Having launched in August 2022, the podcast is still in its infancy, but we can't wait to see where it goes in the future!
Recent episodes:

Conclusion
Veterinary podcasts are an amazing source of entertainment, clinical insight, and industry news - and whatever floats your boat, there's sure to be a podcast out there that inspires you! Grab your headphones, start listening, and get ready to discover your next favorite podcast.
Looking for more great veterinary content? Subscribe to the ezyVet newsletter to stay in the loop!