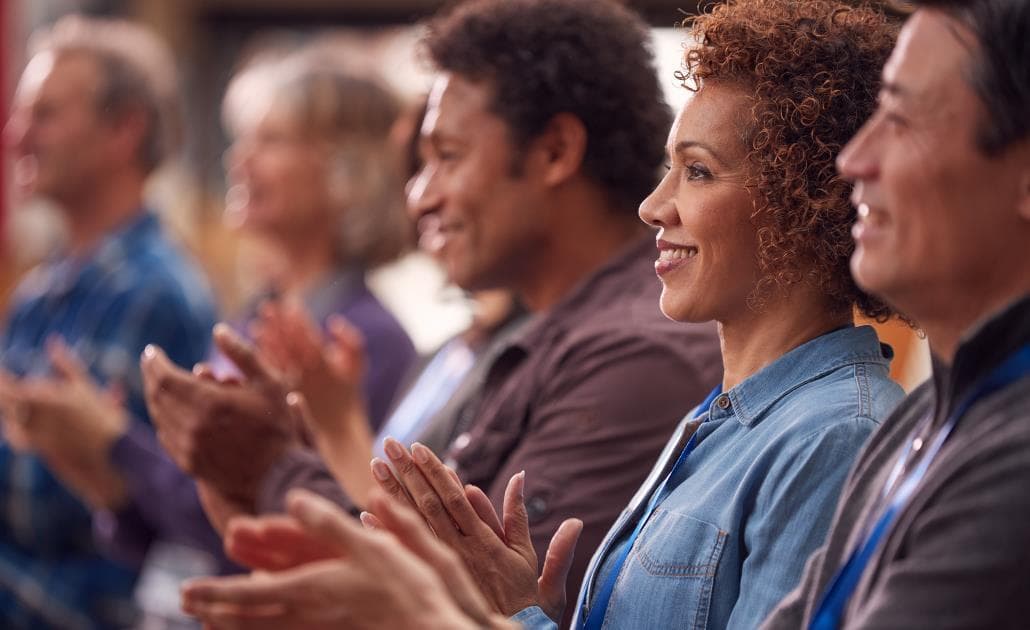 Veterinary conferences are chaotic in the best way possible. Brimming with fascinating talks, cutting-edge industry technology, and a plethora of networking opportunities, veterinary conferences offer a ton of value for convention newbies and seasoned veterans alike.

But to successfully navigate the mayhem, you're going to need a plan of attack. Here are seven tips to help you get the most out of veterinary conferences in 2022.
1. Reach out to attendees ahead of the event
Veterinary conferences are busy. With attendee numbers often measured in the thousands and such a broad range of things to see and do, you're unlikely to cross paths with specific people by chance.
Don't leave networking up to fate. Before attending any conference, identify any speakers and attendees you'd like to connect with and make it a point to reach out to them ahead of the event. Even if your schedules don't line up, you'll have at least broken the ice, which will make it easier to connect with them further down the track.
2. Map out your conference schedule
Some conferences offer hundreds of hours of lectures, labs, presentations, and workshops, all happening simultaneously in dozens of different rooms spread across a massive venue. You could just impulsively bounce around from event to event, but to really make the most of the conference experience it's a good idea to put together a bit of an itinerary before the event.
Convention organizers usually release the schedule long before the conference takes place, so be sure to check it out and jot down the events that you think will add the most value to your practice, patients, and career. While you can always adjust your schedule when you're at the conference, going into the event with a rough game plan ensures that you won't miss out on anything important.
3. Create a plan of attack for the exhibit hall
Most conferences boast a bustling exhibit hall, where you'll have the opportunity to get up close and personal with suppliers showcasing a staggering range of the latest veterinary tech and innovative products.
It's easy to lose track of time when you're shuffling from booth to booth. Stay focused by putting together a list of the exhibitors that you're most interested in meeting and prioritize them before you inevitably get sidetracked. Vendors often offer attractive discounts and details that are only available at conferences, so schedule some time to talk to distributors. And no exhibit hall experience is complete without walking away with a mountain of swag – just remember to save some space in your suitcase for the trip home!
4. Network, network, network
You're going to be surrounded by hundreds, if not thousands, of fellow veterinary professionals, so make sure you make the most out of it! Register for the various networking events, introduce yourself to new people, and hand out your business cards to everyone you meet.
Many conferences offer social events outside of regular conference hours, which can be an excellent way to meet people in a more relaxed environment. If you're interested in furthering your professional relationships, take a moment to follow up with your new connections after the conference with a quick email.

5. Understand your remote learning options
Many conferences moved to a virtual format in response to COVID-19 and the need for social distancing measures. Although in-person events are now back on the menu, some conferences (particularly the larger ones) are still providing virtual events, giving you the option to attend remotely or in person.
If you're not quite ready to travel, or if you like the convenience of accessing learning resources online and experiencing things at your own pace, remote attendance may be the way to go. Bear in mind that the events, schedules, and CE opportunities provided at an in-person conference may be different from those available virtually; check out the details before the event to avoid disappointment.
6. Book in some time to relax and unwind
Veterinary conferences are jam-packed with things to do - but that doesn't mean you need to be rushing about every day from dawn till dusk. Sure, you'll naturally want to take in as much as you can while you're at the event, but conferences are also a good opportunity to take some to relax, recharge the batteries, and get reacquainted with your passion for veterinary work. So, make sure you deliberately leave some space in your schedule to just breathe and take it all in.
7. Share your learnings with the team
If you've been productive and managed your time well, you'll walk away from the conference with a bunch of new ideas to enrich your practice. Once you're back in the clinic, book in some time with the rest of your team to share your key takeaways from the event and discuss how these insights could be applied to your practice. Sharing your knowledge helps solidify what you've learned and elevates your team - both of which contribute to running a more profitable practice and delivering exceptional patient care.
Takeaway
Attending a veterinary conference is the perfect opportunity to learn, network, and rejuvenate. Equipped with the tips in this article, you'll be fully prepared to get the most out of your next veterinary conference in 2023.