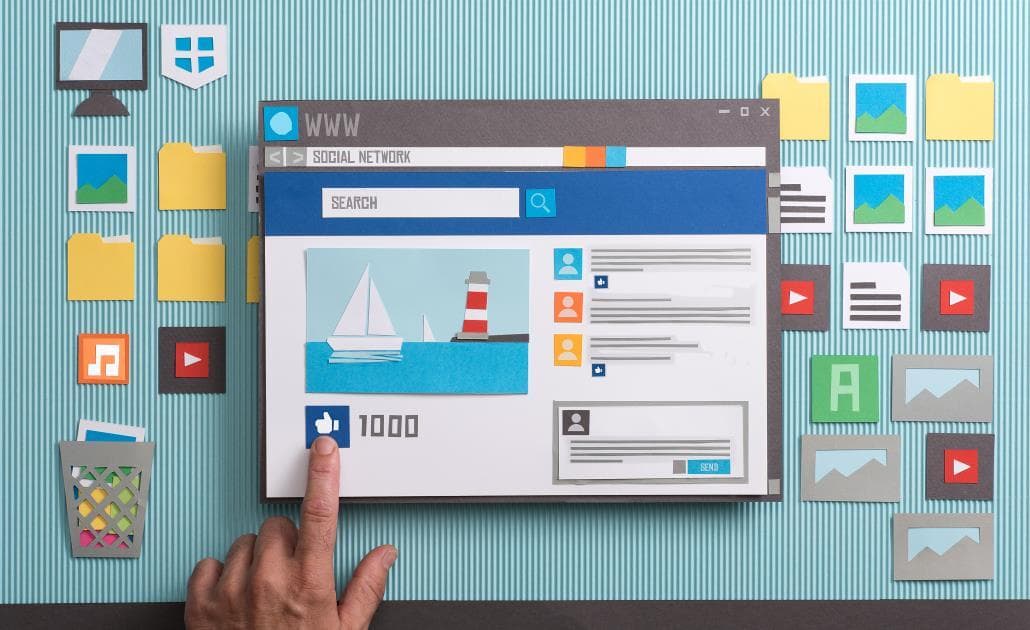 Like it or not, a strong social media presence is more or less a must-have in today's competitive veterinary landscape. A critical part of your veterinary marketing strategy, social media allows you to reach new audiences, cultivate your relationships with existing clients, and strengthen your brand.

Depending on the platform(s) you use, you should aim to post a few times per week. However, coming up with ideas for posts is sometimes easier said than done.

Looking for content to fill out your veterinary social media calendar? This article is for you. We've rounded up 41 veterinary social marketing ideas you can use to drive engagement, increase followers, and find new clients.

Veterinary social media marketing ideas
Cute patient photos: Yes, it's low-hanging fruit. Yes, it works. Snap some cute photos of your photogenic clients and share them with your followers. Just make sure to ask the client before posting.
Behind-the-scenes content: Give your followers a glimpse of what goes on behind the scenes of the business. Photos of birthday parties, team-building activities, and business-related travel are all great ways to let the personality of the business shine through.
Your own blog posts: Already maintaining a blog on your website? Sharing your blog posts on social media is a smart way to generate views and drive more traffic to your website. Just add a relevant picture and you're good to go.
Pet care tips: Show off your expertise and help your clients be the very best pet parents they can be by sharing educational pet care tips.
News stories: There's always something animal-related in the news to share. Posting topical news stories gives you the opportunity to be part of the conversation and encourages engagement as readers discuss the article in your comments section.
Holiday-themed content: Get in the holiday spirit by sharing photos of your decorations, holiday-themed pet care advice, or some simple well wishes. Take things to the next level with a themed banner and/or profile picture.
Animal trivia: Entertain your followers with interesting trivia about unusual animals, pet care, and other quirky fun facts.
Important practice information: New opening hours? Closed for the holidays? Carrying out some renovations? Social media is a smart way to communicate key information to the masses.
Educational infographics: Pet care advice and how-to guides can be packaged into easy-to-digest infographics. Infographics are more visually engaging than plain text posts and easier to produce than video content.
Contests: Social media competitions are an easy way to drive engagement and increase followers. Make sure the competition is simple to enter and be clear about the terms and conditions of entry.

Special offers: Boost sales and appointments by occasionally offering exclusive discounts or coupons to your followers. This is an easy way to incentivize clients to follow you on social media and expand the reach of future marketing campaigns.
Awareness days: From Give a Dog a Bone Week (August 10-16) to Ginger Cat Appreciation Day (September 1), there are dozens of animal-related awareness days you can celebrate on social media.
Share others' content: Share high-value content from authoritative sources like The American Veterinary Medical Association, The American Animal Hospital Association, The American Pet Products Association, etc.
Team takeover: Let a member of your team post content on your behalf to give your audience a more personal look into life at your veterinary practice. Takeover content should be temporary (e.g. Facebook and Instagram Stories) so it doesn't interfere with your brand.
Client testimonials: What your customers have to say about your business holds more weight than what you say about your business, so don't be afraid to occasionally share a testimonial when a client leaves you a glowing review.
Ask a vet: Host a live video chat where viewers can ask pet-related questions. This can be an effective way to interact with your audience, showcase your expertise, and discover new clients. Advertise the event a few times in the days leading up to the chat to maximize engagement.
Community events: Use social media to promote any community events that you're attending. Afterward, celebrate your involvement with a couple of photos and a short description of how the event went.
Lost and found pets: Help distraught clients track down their fur babies by posting a photo and a brief description of the missing pet. Be sure to follow up with another post when the missing pet is reunited with its family!
Staff spotlights: Build trust and help clients get to know the real people working at your veterinary practice by shining a spotlight on your staff! Action photos, portraits, biographies, and interviews are all good options for showing off your team.
Guess the breed posts: Give your audience the chance to show off their pet knowledge. Simply upload a photo of a cute pooch and encourage your followers to guess the breed.
Adoption posts: Help get the word out about pet adoption opportunities by posting a photo and a summary of the animal's background.
Staff appreciation posts: Keep morale high and help your clients get to know your team better with regular staff appreciation posts!
Arrival of new products: While most of your social media content should be non-promotional, it's okay to occasionally share products that you think might interest your audience.
Unusual patient posts: You can never tell who's going to walk (or fly, or climb, or hop…) through the clinic doors. When you see a particularly unusual or interesting patient, take a moment to share the occasion with your followers (with the client's permission, of course!).
Ask a question: Start a conversation with your followers by posing an open-ended question. Where's your cat's favorite sleeping spot? Who's the best cartoon animal? If you had to describe your dog in one word, what would it be?
Ask for name suggestions: Seeing a puppy or kitten that hasn't been named yet? Ask your followers for suggestions!
Create a poll: People love a good poll. Whether it's something fun ("Does this puppy look more like a 'Charlie' or a 'Theodore'?") or something serious ("If we were to expand our opening hours, would you want us to 'Open earlier' or 'Close later'?"), expect high levels of engagement.
Pet memes: Pet-related memes and quotes are always an easy crowd-pleaser. Don't go overboard with the silly content, though - most people are coming to you for your expertise and passion, not your jokes!
Lookalikes: Do you have any staff members or clients who bear an uncanny resemblance to their pets? Post evidence for all the world to see!
Training tips: Put together a series of bite-sized training tips for new dog parents. This can include things like dog body language, puppy-proofing the home, effective use of treats, canine behavior, positive reinforcement, and more.
Service insight: Help your clients prepare for their next appointment by giving them some insight into your services and treatments.
Animal quizzes: Put your followers' knowledge to the test with some fun animal-themed quizzes. Make sure to follow up the quiz with a post the next day revealing the answer(s)!
Product recommendations: Pet parents are always looking for new products to enrich the lives of their fur babies. Make their life easier by sharing some product recommendations.
Dog walk recommendations: Post some of your favorite walks and dog parks in the area and encourage your followers to suggest some of their own in the comments.
Holiday-themed pet costumes: Who doesn't love animals in fancy dress? Snap a quick pic of costumed patients and share it with your followers for some easy engagement.
Breed spotlights: Educate followers on the unique traits and quirks of specific breeds. This could be an ongoing series, with a few posts focusing on a different breed each month.
Staff pets: Give your followers a glimpse of the pets behind the people! Photos, videos, and funny stories of staff pets are all examples of great content to share on social media.
How to prepare your pet: Share some practical tips on what your clients can do to make their next vet visit as smooth as possible for their pets.
Pet owner resources: Share books, podcasts, articles, videos, and other resources that you think would interest pet owners.
New equipment: Invested in some new equipment that you're proud of? Share your new state-of-the-art gear with your followers and highlight how it benefits your patients!
Case of the week: Give people a taste of veterinary life by sharing your most interesting clinical cases. Remember, most of your followers probably aren't veterinary professionals, so try to keep the stories light and accessible.
Takeaway
Social media marketing is a potent tool for business growth. Aim to find that sweet spot between entertainment and education and post consistently to keep your audience coming back for more.