Your Data Is Powerful With Our Veterinary Practice Management Software
ezyVet is a feature-rich Veterinary Practice Management Software. Packed full of tools and features to make your practice function to its full potential. The data you can collect in ezyVet can be extremely useful in helping you make important business decisions. Because our package offers multiple levels of data backups and security, you can relax knowing that all these technical aspects have been taken care of for you and that all your data is safe and secure.
Cloud based
Because ezyVet is a web based vet software solution, you can access it anywhere, anytime with any device. Work from home, work on the road with your tablet, work at the client's site with a mobile – cloud makes life easy.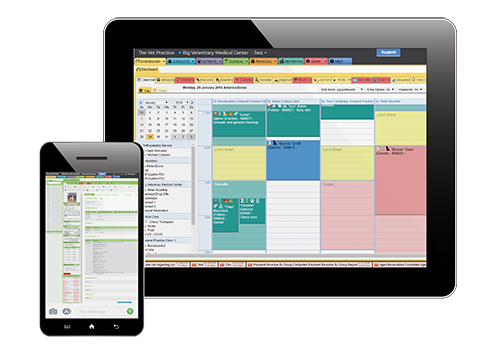 Clinical Module
Our world class clinical module has been developed closely with experienced Vets. ezyVet is excellent at recording the details in a customized, easy to report and communicate format.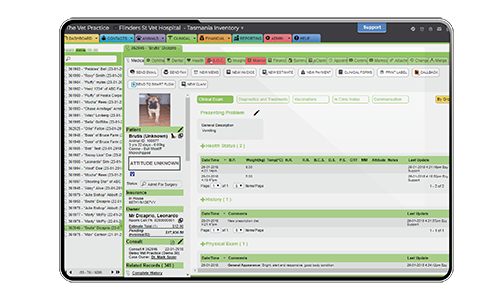 E-Mail, E-Faxing, & 2-Way SMS
Send SMS appointment reminder to clients and receive responses directly in ezyVet. ezyVet allows custom variable driven template messages to be sent straight from the system. Sending Emails or E-Faxes for clinical, financial or stock records is easy too and can be sent directly from                           the relevant screen.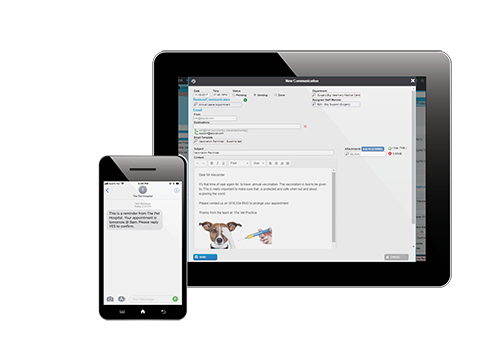 Advanced Reporting
Report on finances, clinical history, appointments, stock and customer information in a range of formats including Microsoft Excel, Adobe PDF, HTML and XML and import your data into other applications. Automated reporting allows you to schedule and deliver a                                report on a regularly scheduled basis.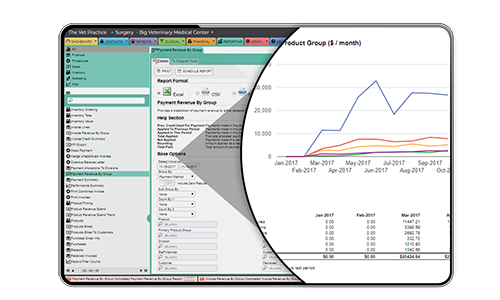 Reminders
A unique modern and interactive reminder system which allows multiple triggers from appointments and products. Pre-define what an animal needs at what age with Standard of Care.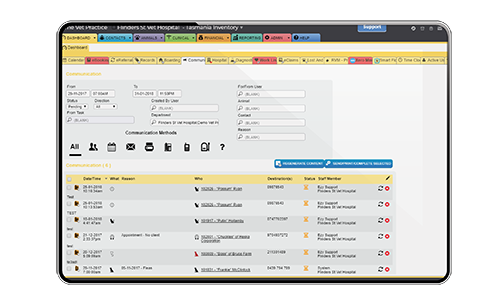 Smart Flow Integration
Replace your whiteboard with a screen and your treatment sheets for an electronic format viewed from any computer and iPad. No more revenue leakage and clinical compliance issues!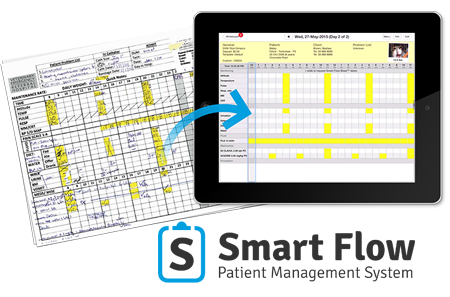 Calendar Schedule
Manage your time more effectively and set up functional appointments with our calendar planning guide to achieve increased clinic outputs. Easily access key information through simple icons and colors.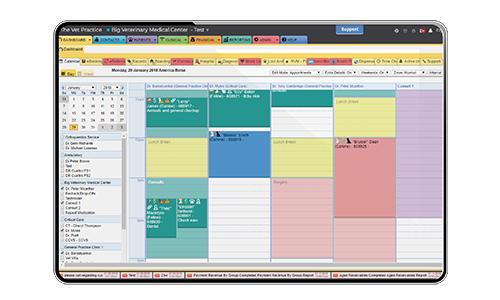 Integrated HELP Section
We are ready to help! Message us directly from ezyVet at any time or suggest features in our noticeboard. An all in one vet software!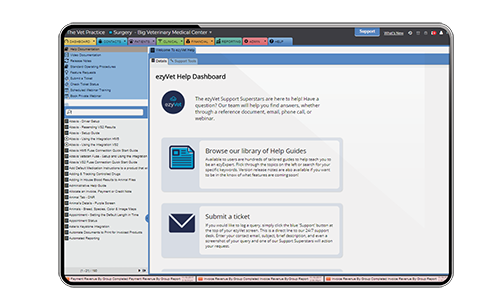 Statements
ezyVet makes it simple to send statements and invoices to your customers. With automated invoices and emailed statements. Charging interest, incorporating marketing and debtor management – ezyVet has you covered.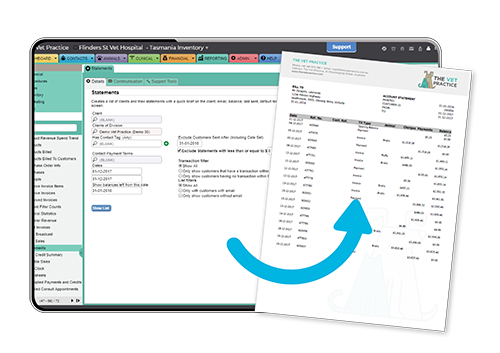 Change log
At ezyVet we don't delete any data, we merely change it and put it in a change log. This is fantastic as it creates an easy audit trail on nearly any record that is easily accessible from any relevant screen.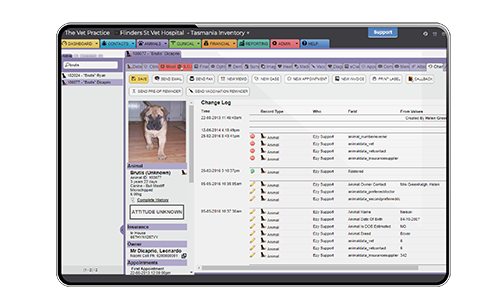 Customer Portal / Online Bookings
With ezyVet's integrated customer portal it's quick, easy and simple to give customers the ability to access their clinical data, financial history, make appointments, pay invoices and order key products online.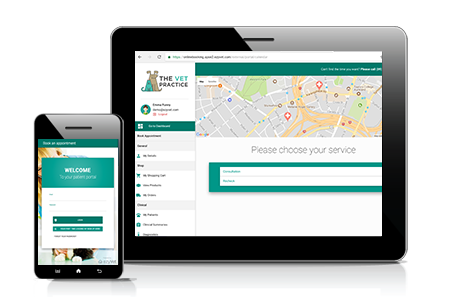 Syndicated / Split Billing
ezyVet has a super easy Syndicated billing feature which allows the management of syndicates and the billing breakdown to each syndicate member for their share. Credit and re-allocate syndicate invoices with ease as the syndicates change ownership.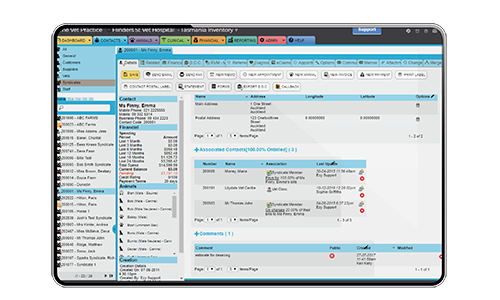 Xero integration
ezyVet's two-way integration with
XERO
 is the most amazing accounting platform integration for vet clinics. No more double handling when issuing invoices, receiving money or entering supplier's invoices.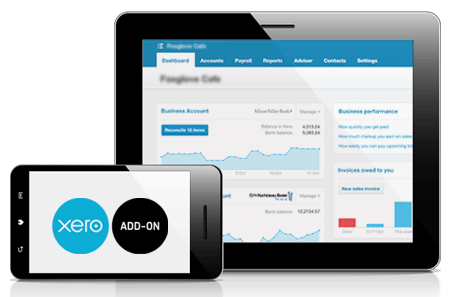 Comprehensive Template System
Our templates automatically enter in all the information you would normally have to tediously input every time! Save time with Clinical, Product, Reminder, and Animal templates. Use pick lists and shorthand to speed up your clinical exams.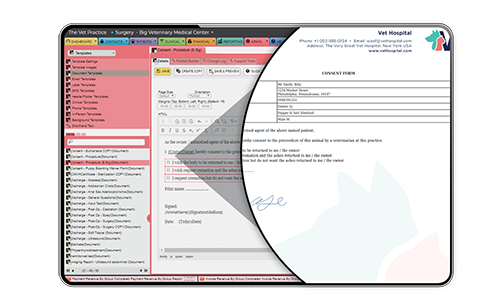 Abaxis In-House Lab Integration
The two way interface from Abaxis lab equipment and ezyVet allows the seamless transfer of lab results into the clinical record.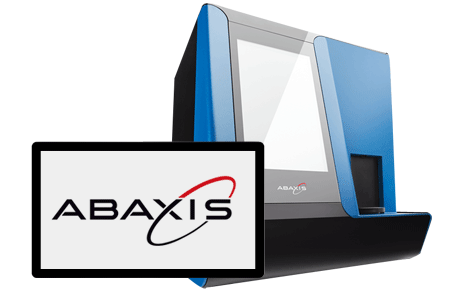 IDEXX In-house Lab Integration
The two way interface between an IDEXX Vet Lab Station (IVLS) and ezyVet allows for the seamless creation of test requests, automated billing and transfer of results directly back into the clinical record.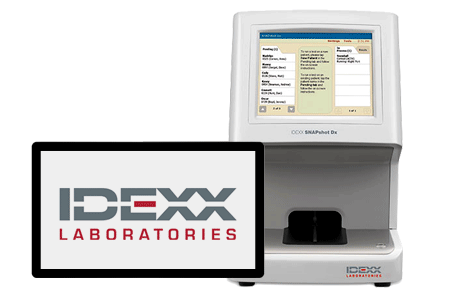 Automatic Billing
ezyVet's Automated Billing system means no more double handling of information you've already entered clinically into invoices. The billing process will be automated for you.          No more missed charges!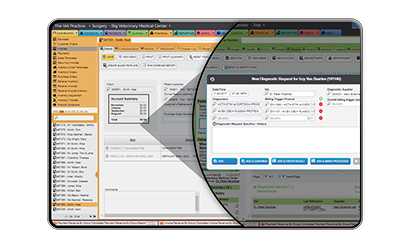 External Lab Integration
Save time and increase efficiency by having lab forms automatically filled out and results entered into clinical records! Two-way integrations with Antech, Idexx and more.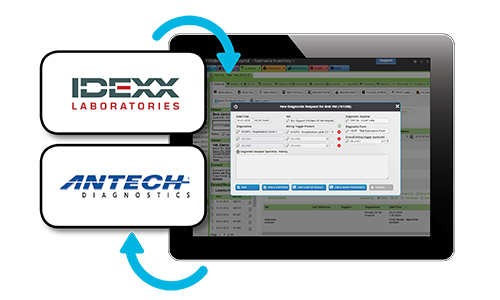 PACS Integrations
ezyVet integrates with multiple PACS (Picture Archival Communication System) systems to provide two way service for requesting diagnostics and receiving images.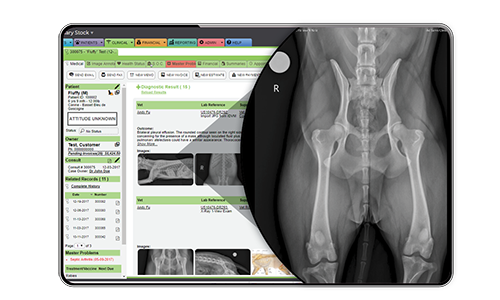 rVetLink Integration
rVetLink creates a seamless experience through direct communication between specialists and rDVMs, enabling faster communication and increased referral rates.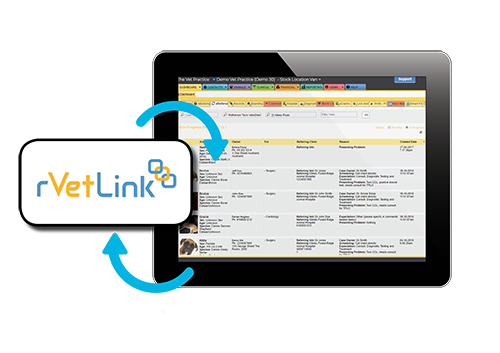 Multi Location Functionality
We understand every company has unique requirements. Linking practices or overseeing business operations has never been easier.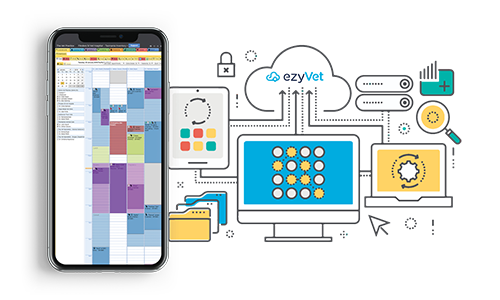 Integrated Suppliers
Sync product details automatically between ezyVet and your local supplier, wholesaler or distributor. Place orders, check prices, receive invoices, automatically receive price updates and more.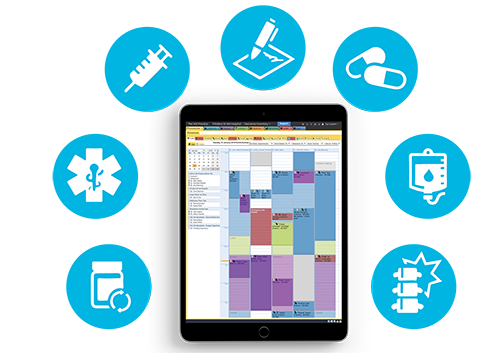 RVM Module
ezyVet's RVM (Restricted Veterinary Medicines) module assists in ensuring bulk medication is managed correctly for large animal practices. Comprehensive reporting and summary functionality is available for auditing purposes.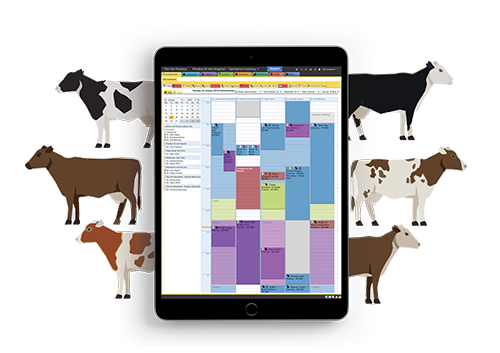 Clinical Summaries
Automatically generate clinical summaries using templated layouts. Save time with automatic referral letter generation.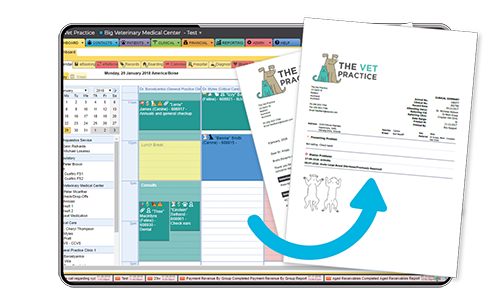 Payment Processor Integrations
No more double handling payments with ezyVet's payment processor integrations. Streamline your reception by taking payment right out of ezyVet.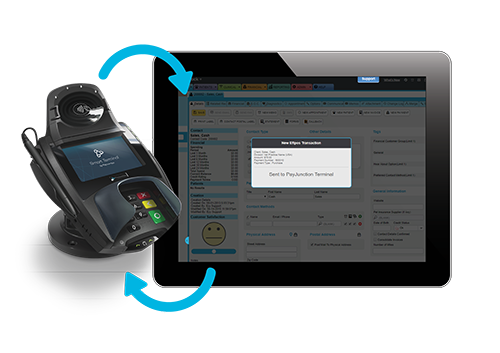 Voice Recognition
Reduce or eliminate the need to type and spend more time doing what you love. Using
Dragon Veterinary
, dictate directly in to any ezyVet field.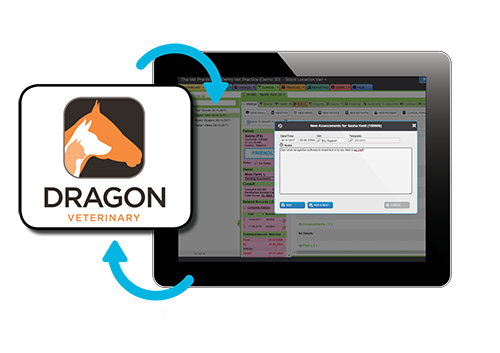 Self Check-in Kiosk
ezyVet's self-check-in kiosk is convenient at reception and is especially valuable during peak business hours. Give your customers the ability to create a new contact, animal, and appointment as well as check-in for appointments.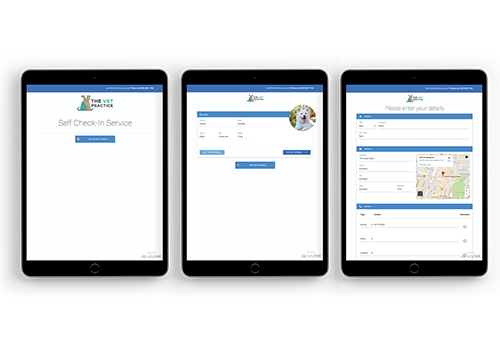 Insurance Integration
Say good bye to manual insurance claims. Create and send insurance claims directly to your supplier within ezyVet.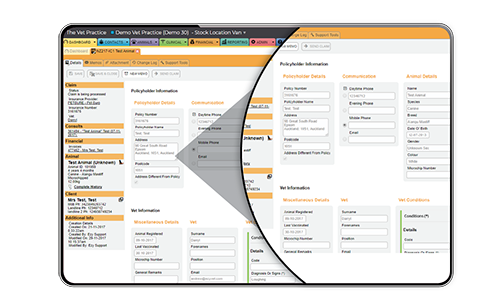 Boarding Module
ezyVet makes managing boarding a breeze, giving you a clear picture of bookings and available cages. Plus, charges will be automatically added to the invoice!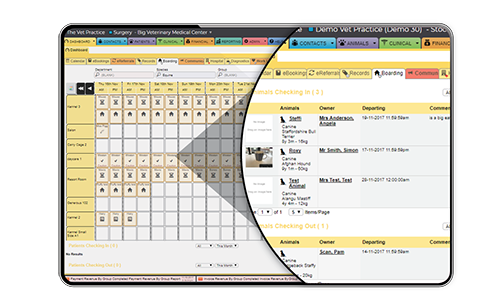 Attachments
Easily drag and drop documents, images and even small videos directly into the client or animal record!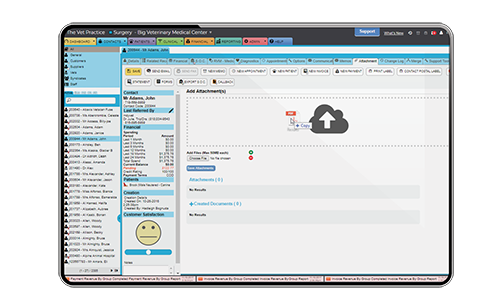 Free Automatic Updates
There are always improvements and new features available from our development team. ezyVet is released through a structured release programme around 30 times per year, the software is evolving and changing quickly and effectively all the time.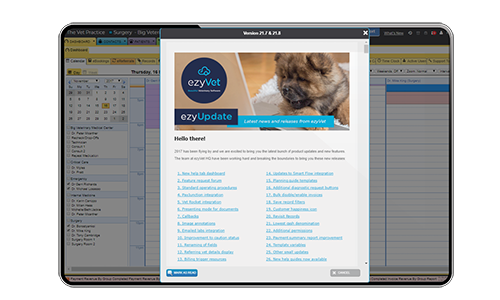 Automatic Stock Order Generation
ezyVet helps to automatically track used and on-hand stock, and automatically generate orders when you fall below the minimum level!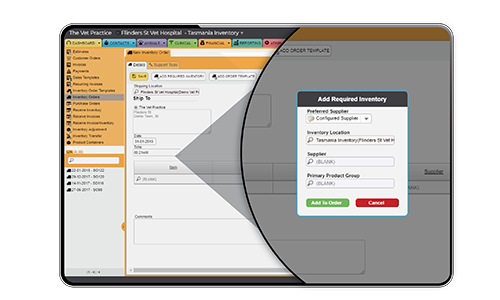 Tagging
ezyVet makes reporting a breeze! Easily generate a list of animals that meet any combination of criteria in the system for either reporting or marketing purposes.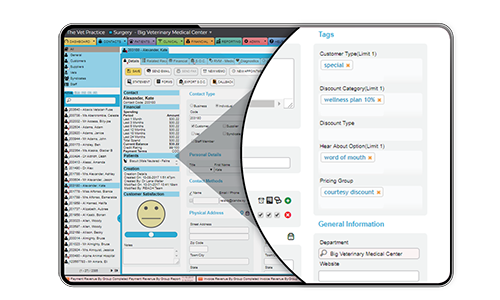 Paperless
Transform your practice into a paperless environment with E-Signature capture! Present authorization forms to your client and capture their signature directly in ezyVet.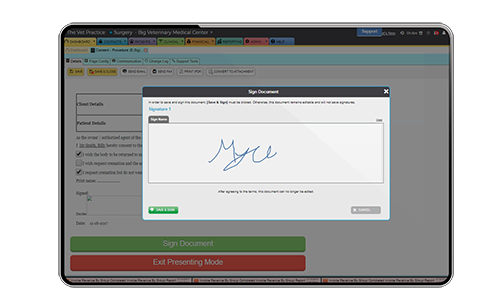 User Specific
Easily set what access and authority each user has according to the tasks they perform.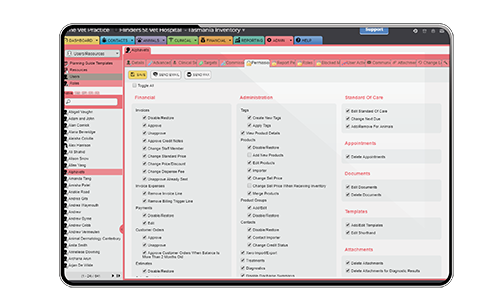 SSL Encryption
ezyVet has been designed with bank level security so you can rest assured all of your data and information you send over the internet and store is secure. All data sent over the internet is encrypted with RSA and SSL technology.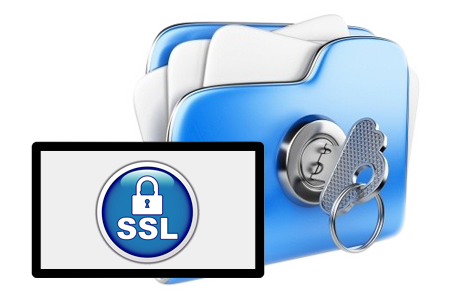 Amazon AWS Environment and Offsite Database Replication
All software packages need to be backed up. ezyVet operates through the Amazon AWS cloud and has an automated backup that replicates your data.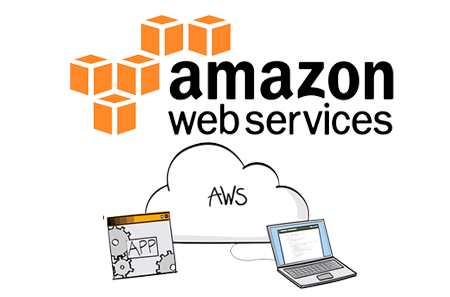 Marketing
ezyVet helps you to easily capture how clients heard about your business and allocate resources accordingly, or even target specific animals for a campaign!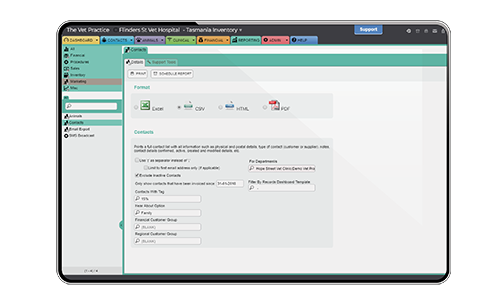 Cubex Integration
ezyVet's integration with
Cubex
increases security and reduces risk for medication and controlled substance management.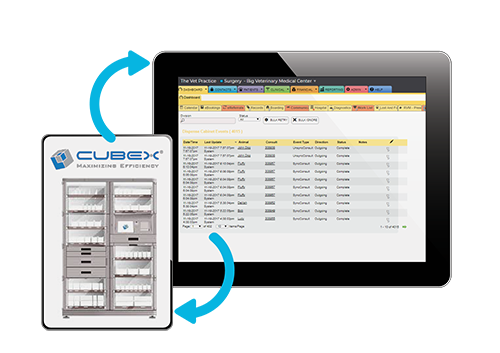 Wellness Module
ezyVet now offers a module for managing your wellness plans, built in collaboration with veterinary hospitals to ensure we have what you need in a good wellness platform. Configure your plans, sign your patients up, and let ezyVet do the tracking.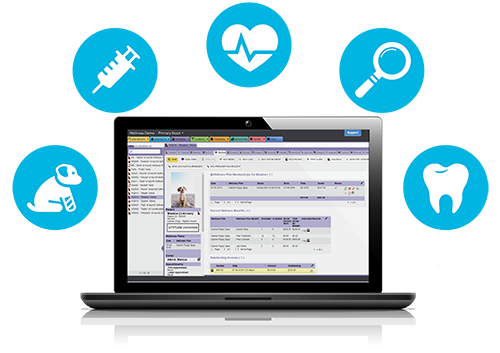 Records Dashboard
Use the Records Dashboard search function to filter information and produce a desired set of results. Export the results or action any mass changes that may be necessary. Manipulate the data for marketing and data analysis.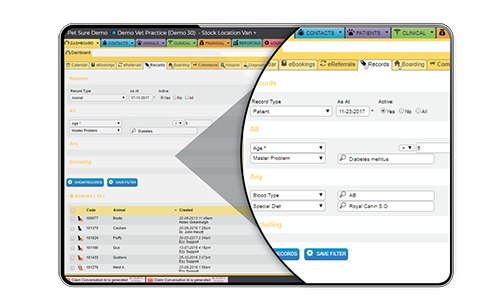 Internal Memos
Instantly communicate with your team using our internal memo tool.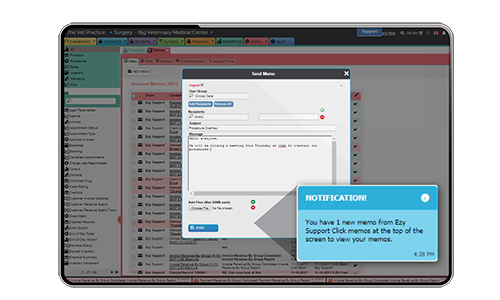 Open API
ezyVet can easily share information by interacting with your favorite veterinary tools.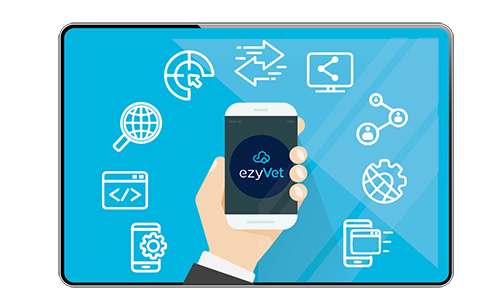 Time Clock
Manage your team through ezyVet. Record and report employees hours using our integrated time clock tool.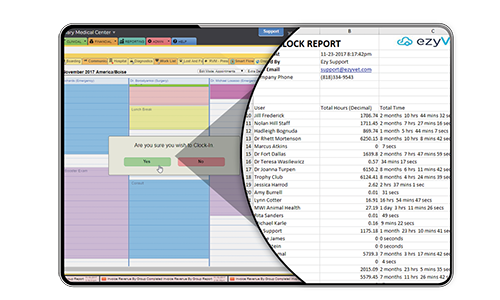 ezyVet Go
ezyVet Go is an app that simplifies and automates the consult workflow for large animal and equine vets using ezyVet, ensuring notes and charges don't get missed.