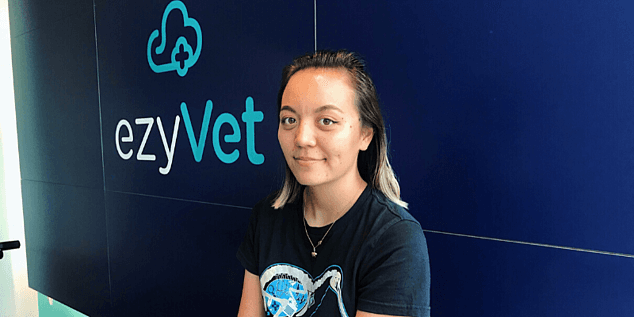 Welcome to What's Quacking! A meet-and-greet series with our awesome humans. Get to know the people at ezyVet, what makes them tick, their role and life outside of ezyVet.
Meet Leah Mitchell, Product Designer, Auckland.
What made you want to join ezyVet?
ezyVet seemed like a great place to work, with a great crowd of people and lots of benefits. The job I applied for really appealed to me and so far, it has given me the opportunity to do my best work. I also loved that my work would be helping those who help animals, that was a big part of why I applied.
How would you describe your day job to a 3-year-old?

I help make the lives of people and animals easier by drawing pictures.
What is the most interesting thing about working here, and about the work you do?

The most interesting part of my job is learning all about the veterinary space. I had never been exposed to this world before, it has been a huge learning curve. I've been given many opportunities to meet people using ezyVet and that has helped me understand both how our product is helping and what we can still achieve. Seeing my work being made by developers is very exciting and getting customer feedback has really helped me grow as a designer. I can't wait to show off what I've been working on!
What motivates you?
The best designers improve the lives of everyday people. I'd like to think that I have been given the opportunity to do that for the people in the veterinary world, so they can spend time on what really matters, the animals.
Do you have any pets, what are they like?

Yes! I have a cat called Felix. He's a Scottish Fold with lots of fluff, a chubby face and an attitude problem. In all seriousness he's the best cat in the world. I've had him for almost fourteen years and he never fails to bring a smile to my face especially when he sits in his Buddha pose. He can also sit on command! (Life hack for training cats: they do listen they are just extremely food driven).
If you could pick anyone, who would you pick as your mentor?

Jessica Walsh - co-founder of the design agency Sagmeister & Walsh and CEO of her new company & Walsh. Although she's not specifically a product designer, Walsh has a huge reputation in the design world for being one of the best in branding, graphic design and digital web design. Her drive to succeed and her success to date, at only 33-years-old, is super admirable. She has a big interest in female empowerment and providing outlets for female creatives to share ideas. To even spend 10 minutes with her learning about design principles, techniques and inclusive user experience would be an incredible opportunity.
What do you like to do outside of work?

I love house plants! I've got an indoor vine that has grown 2 meters in the past year and a cactus named Bartholomew (Bart for short). I take care of my cat, hang out with friends and rock climb with my fellow ezyVet climbers. I can't wait for summer so I can start going to the beach again.
What is your favourite quote?

"Do the work that feeds your soul, not your ego" - Jessica Walsh
Do you have any advice for people thinking of applying to work for the company?

ezyVet is full of great people from all different backgrounds, but we all have something in common as we're all very passionate about doing our best work. Be prepared to go the extra mile and, as corny as it sounds, be yourself.