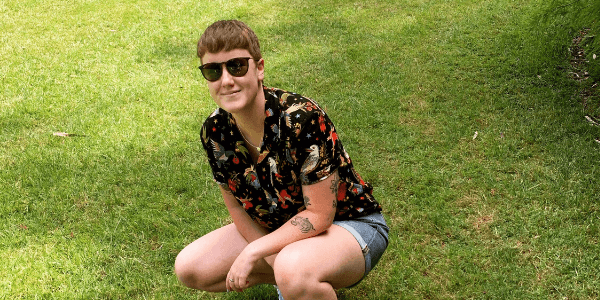 Welcome to What's Quacking! A meet-and-greet series with our awesome humans. Get to know the people at ezyVet, what makes them tick, their role and life outside of ezyVet.
Meet Fiona Mackenzie, Support Specialist, Auckland, NZ
What made you want to join ezyVet?
I was excited when I came across the opportunity to work for a homegrown, success driven company that offered huge growth opportunities professionally and personally. I have always enjoyed down to earth, work hard play hard environments where I am encouraged to exceed expectations. 💪
How does your day to day work help ezyVet customers?
Being a front line representative for ezyVet, I'm here to help our customers through in-the-moment struggles as well as help build their ezyVet knowledge for long term reward for their practices.
Was there a memorable moment with a customer?
The sigh of relief we so often get when we help a customer work through a tricky question or complete a big task is always rewarding. Our team loves sharing the wins we achieve with our clients with each other and there are always those names that elicit another team member coming out with an "Oh I love talking to them!"
What big projects are you working on? (at ezyVet)
I have been heavily involved in supporting our new Invoice Sublines project, which comes with major improvements to our financial module, templating, and product configuration possibilities. Being a contributing customer-focused voice in a project with such large implications for the next phase of ezyVet has been a challenge I have really enjoyed.
How would you describe your day job to a 3-year-old?
I help people who help animals with computer stuff.
In 3 years, what do you hope to have achieved at ezyVet?
I hope that in 3 years I can look back and say I made a difference both in the ezyVet team and to the ezyVet product. I hope I am someone known for bad jokes, good snacks and having my team's back. I hope I have taken onboard everything I have learnt from our customers and done everything I can to help our software meet all their needs and wild "what if we could…" ideas.
How did you get to where you are today?
I have always worked in customer facing jobs, most recently working in the Shore Excursions department (on land tours) on cruise ships. 🚢 I spent two years travelling around the world facilitating and selling the tours guests could take once the ship docked in each port. I was very good at 'quality assurance' – taking tours alongside our guests to make sure we had an optimized product. Some highlights were taking helicopter rides to land on top of glaciers in Alaska and watching the ballet in St Petersburg.
If you could do any other job for one day, what would it be?
My childhood dream was to be 'the stop-go man' at roadworks, so that feels like the right choice.
If you could pick anyone, who would you pick as your mentor?
Sue Bird is a professional basketball player who has been at the top of the game for 18 seasons, and has been a hugely successful leader and advocate for causes she believes in throughout her career. She leads with the respect of her teammates and shows genuine love for the people around her. 🏀
What do you like to do outside of work?
I am a little out of practice but I love boxing training and painting. I am a huge water person, and am constantly at the beach throughout summer and go scuba diving when I can.
Do you have any pets, what are they like?
My family has a cat who hates everyone unless she is actively being fed. I am a aspiring dog owner and will achieve that dream one day.
What is your favorite quote?
"What to do". It's a saying I picked up on ships that boils down to, if you can't fix it (and it's not worth fighting for) don't let it hurt you. When I read this question I had to ask a friend what my favorite quote was before she reminded me I actually have it tattooed.
Do you have any advice for people thinking of applying to work for the company?
Come with passion, ideas and ready to learn. As someone who had no prior experience in the veterinary world, I had set big goals I set for myself in terms of gaining knowledge. The team were hugely important in helping me achieve these goals, and now I get to start passing on this knowledge to the newer team members. The ezyVet environment is fast paced, collaborative and rewarding - come and get stuck in!
Interested in a career with ezyVet? Explore roles here.