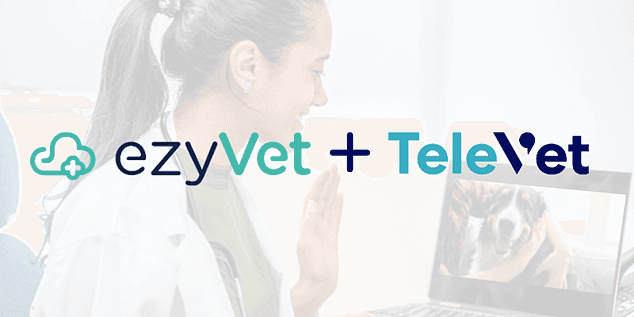 Although telemedicine has been knocking at the veterinary professions' door for nearly a decade, it has taken a global pandemic to pry it open. As 2020 unfolded, the COVID-19 pandemic has upended the rules. Gone, for now at least, are many of the regulatory barriers that hindered widespread adoption of veterinary telemedicine. ​
With intensifying concern around COVID-19, use of telemedicine has become an important way to protect and monitor the health of veterinary patients and veterinary teams.​ There has never been a more important time that emphasizes the need for rapid adoption of technology.
That is why ezyVet has integrated with TeleVet, a telemedicine application that allows customers to effortlessly connect with their clients through a robust platform. Vets can operate a traditional clinic from anywhere, facilitate prescriptions, create, update electronic health records, collect payment and more. TeleVet saves practices time and creates revenue opportunities as well as providing the latest in professional care.
How ezyVet and TeleVet work together
Centrally manage clients and patients – Easily create consultations from your ezyVet client list and set up patient accounts via a custom link, which also works as an email invite for the client.
Real-time calendar sync – TeleVet consultations automatically appear in the ezyVet dashboard calendar to streamline scheduling.
Streamline clinical records – Consultation summary and details flow through to the patient clinical record in ezyVet—with a link to begin a TeleVet virtual consultation from the 'Presenting Problems' section—and once virtual consults are complete, a recording is saved in the clinical notes for future reference.
A true telemedicine tool vs (DIY) video conferencing
Safety and security – Meetings occurring through TeleVet are always secure and private between the pet owner and veterinarian only.
Stable connections – TeleVet provides consistent stability for clear communications. Other video conferencing systems may be prone to failures and fluctuations in reliability.
Video isn't always the way – Not every situation calls for a video call. Around 20% of TeleVet consultations can be resolved through text functions on the TeleVet platform. TeleVet provides the flexibility to switch between video, text, and phone calls, all tied to the same consultation log.
Easy access to your notes – TeleVet keeps a clear record of your notes, videos, photos and client communication within the consultation log, which can be synced into ezyVet.
Purpose – Built for telemedicine operations – TeleVet provides all the tools necessary to conduct a complete and effective revenue-producing veterinary consultation.
VCPR Compliance – Compliant with AVMA Guidelines for maintaining the Veterinarian-Client-Patient-Relationship.
You can view our comparison table for a full breakdown of features.
For a limited time, TeleVet is offering all ezyVet users a free 3 month free trial.
Sign up here with TeleVet.
Once you have signed up, log in to your ezyVet account to turn on the integration. You can find the instructions here.